ALL REVIEWS BY GREG KING
UPDATED APRIL 23 2016.
REMEMBERING THE MAN.
Timothy Conigrave's memoir Holding The Man, published posthumously in 1994, is one of the touchstones of queer culture here in Australia. Widely regarded as a seminal novel about being gay, love and life in the time of AIDS, the novel was a poignant story about his long time love for John Caleo. The pair first met when they were schoolboys at the prestigious Xavier College in Melbourne in the 1970s and began a relationship that lasted some sixteen years. The story about a pair of star crossed lovers also dealt with the battle against prejudice and parental disapproval, as well as the spectre of AIDS. Holding The Man has since been adapted into a successful stage play and an award winning film. But this revealing and lovingly made documentary celebrates the love story between Conigrave and Caleo and fills in many of the blanks and gives us more insights into the relationship and the time.
Remembering the Man comes from veteran director Nickolas Bird (a documentary filmmaker whose works have screened on television) and frequent collaborator Eleanor Sharpe (Ballroom Rules, etc), who spent five years assembling the film. They have drawn upon a wealth of previously unseen material to shape this touching tribute. They have used a deft mix of archival footage, home movie footage, student films, intimate personal photographs to chart this rich emotional journey. There are also affecting candid interviews with some of the people who knew both Tim and John, and who are respectful of their memory.
But even more revealing and poignant is hearing Conigrave's words in his own voice. Bird and Sharpe have been able to access some rare recordings made in 1993 by James Waites who was compiling interviews for the Australian Responses To AIDS Oral History Project, a project aimed at capturing the thoughts of a generation of young gay Australian males who were dying from AIDS. One of those young men interviewed was Conigrave and his deeply personal narration lends the material an eerie quality.
Remembering The Man offers an even more revealing record of Conigrave's life than his own novel, and anyone who has seen Holding The Man in any of its incarnations will find this documentary a wonderfully frank and moving companion piece.
THAT'S NOT US.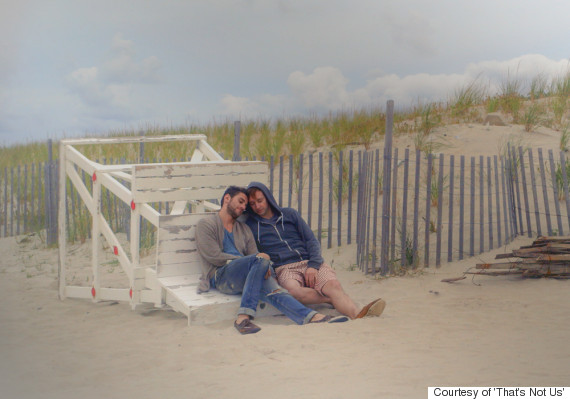 The opening night film for the 2016 Melbourne Queer Film Festival was this genial low budget independent comedy/drama explores the nuances of contemporary relationships, issues of trust and honesty, and miscommunication.
Three twentysomething New York couples – one couple is gay, one lesbian and the other straight – spend the long weekend at a beach front holiday house on Fire Island. But during the weekend, secrets are revealed and relationships are tested. The relationship between Jackie (Nicole Pursell) and Alex (played by Sarah Wharton, one of the film's producers) has become a little stale and the hoped for spark provided by the weekend getaway is not happening. Sex may not be the problem, their lack of communication is. Spencer (David Rysdahl) and James (co-producer Mark Berger) are feeling the strain as Spencer has been given an opportunity to study in Chicago and James worries how this will affect their relationship. And there is tension between Liz (Elizabeth Grey) and Dougie (Tommy Nelms), who are concerned about their future. When she tries to teach Dougie how to ride a bike the anger that arises hints at some deeper frustration about their relationship. Each of the couples are forced to reach a compromise to salvage their relationship.
That's Not Us is the second feature film for director William Sullivan, and it comes across a bit like The Big Chill for queer audiences. Writers Sullivan and co-writer Derek Dodge have drawn upon their own experiences for the script, and this semi-autobiographical nature brings an honesty to its exploration of troubled relationships. The characters seem real and three dimensional and not cliched, and the performances of the largely unknown cast are fine. Some of the dialogue seems improvised, which gives the material a sense of authenticity and a feeling of naturalism. That's Not Us runs for a brisk 90 minutes, but there are places when the pace drags a little. But this genial and sweet natured romantic comedy mixes gentle humour with some strong emotions, and was a pleasant opening night film.
THE DUKE OF BURGUNDY.
This offbeat film explores a sadomasochistic relationship between two women who are tesing the limits of that relationship. The Duke Of Burgundy is largely set within the crumbling country estate owned by Cynthia (played by Danish actress Sidse Babett Knudsen, best known to audiences for her role in the gritty tv series Borgen), a lepidopterist who enjoys a strange relationship with her assistant Evelyn (Chiara D'Anna, from Strickland's Berberian Sound System). The balance of power continually changes until it is fractured altogether. The film is the antithesis of Fifty Shades Of Grey as it explores similar themes and concepts, but in much less sensational fashion. The film concerns itself with sexual politics, the destructive nature of love and obsession, and it delves into the psychological concerns of its female characters. But it becomes very repetitive in nature and many may well find it rather dull.
This film, which is set in an unnamed community of women situated somewhere in Europe, has hit local cinemas in the wake of more sexually explicit films like Blue Is The Warmest Colour and Nymphomaniac, as well as a couple of other more risible films exploring the world of b&d and domination with My Mistress and the immensely popular Fifty Shades Of Grey. The Duke Of Burgundy is the third film from British filmmaker Peter Strickland, whose previous films include the tough slow burn Romanian rape revenge thriller Katarina Varga and Berberian Sound System, a twisted and atmospheric psychological thriller in the style of the Italian Giallo films.
Strickland's influences are many and varied, but they obviously include those masters of style and weirdness David Lynch and Peter Greenaway. The film is also very much in the style of the European arthouse cinema of the 70s, and evokes memories of films like The Night Porter, etc. It is elegant, stylish and enigmatic, but while the film is very sensual and lyrical and the eroticism underplayed, there is a lack of explicit sex and sensationalism. The Duke Of Burgundy was originally intended as loose remake of an obscure film from prolific Spanish director Jess Franco until he became sidetracked with exploring the 70s sexpolitation genre.
The dialogue is sparse. Strickland teases the audience with his slow and deliberate pacing. Imagery and soundscape have always been an important element of Strickland's films, and here he uses the baroque setting to good effect in creating an unsettling and vaguely disturbing atmosphere.
This is mainly a two hander, with a few peripheral characters that don't make much of an impression on the material. The two central performances are intimate and subtle. The film has been gorgeously shot by Strickland's regular cinematographer Nicholas D Knowland, who uses natural lighting and bathes the interior shots in warm hues. It is also quite stifling and claustrophobic at times. Despite the salacious sounding nature of the material, The Duke Of Burgundy is decidedly art house in look and feel, and will not hold broad appeal. There is a methodical repetition and coldness to Strickland's style and the film will not be to everyone's tastes.