ALL REVIEWS BY GREG KING
LAST UPDATED AUGUST 16, 2015
check back daily during the festival for updates
LISTEN TO ME MARLON.
Film buffs will certainly appreciate this revealing and fascinating documentary in which we learn about the reclusive Hollywood star Marlon Brando, who died in 2004. In the 50s, the young Brando blazed a trail across the Broadway stages in plays like A Streetcar Named Desire, before embarking on a film career. He had charisma and a dynamic screen presence that earned him two Oscars. But he also squandered his talents in a number of substandard films, and by the 60s he was largely a spent force in Hollywood. His comeback role in The Godfather made him a bankable star again.
The film unfolds largely in his own words, culled from hundreds of hours of recordings Brando made during his life time. Brando offers up insights into his own methodology and approach to acting, as well as making many scathing comments about some of the filmmakers he worked with over the years. This is a warts and all approach, where we learn about his childhood and his troubled relationship with his father. The film also looks at some of the controversies that dogged his career as well as his involvement in social issues of the era. There is the kidnapping of his teenage son Christian, the later murder in which Christian was implicated, and the suicide of his daughter Cheyenne. There is also his refusal to accept his second Oscar due to his disgust at Hollywood's treatment of Indians in the movies.
With the full cooperation of Brando's estate, documentary director Stevan Riley has been granted unprecedented access to these private recordings. He uses lots of archival footage, rare photographs, film clips, and television appearances and interviews with Brando to paint this revealing and intimate portrait of the man widely regarded as one of the great screen actors. Brando lays himself bare in these revealing tapes, and we get a picture of a complex man uncomfortable with his fame.
The film opens with a digital recreation of Brando's face which lends an almost surreal quality to the material. On the negative side though, there are lots of shots of tape recorders and tapes, which ultimately becomes redundant and unnecessary once we have got the idea that we are listening Brando's more private and intimate thoughts. It's an aesthetic touch Riley could done without. Some of these shots could have been trimmed.
THE SECOND MOTHER.
Like last year's Casa Grande and Sebastian Silva's The Maid, this slow paced but involving comedy from writer/director Anna Muylaert (Durval Discos, etc) looks at the class system in modern Brazil. Val (Regina Case) is a hard working live in housekeeper for a wealthy family in Sao Paulo. Val has raised their teenaged son Fabhino (Michel Joelsas) from a young age and is closer to him than his own mother Barbara (a suitably cold and aloof Karine Teles). Ironically though while she has been nursing Fabhino in relative luxury in Sao Paulo, her own teenaged daughter Jessica (Camila Mardila) has been raised by relatives back home in Pernambuco, and she is estranged from her own flesh and blood. Then Jessica comes to visit while sitting entrance exams for university. She is openly contemptuous of the rules of the family and her headstrong attitude throws the household into disarray, creates plenty of tension, and even threatens Val's position. For her part Val is disapproving of Jessica's more liberal attitude. The dysfunctional relationships, different values, familial tensions, sexual tension and class structures are exploited for some uncomfortable laughs here. The film is anchored by the superb performance from popular Brazilian television star Case, who brings a natural style and world weary quality to the role, although she is matched by Mardila, who brings intelligence to her endearing and brassy performance. Both Case and the film have been picking up awards on the festival circuit.
99 HOMES.
Set in Florida during the housing crisis of 2008, 99 Homes is a tense and powerful character driven moral thriller from Ramin Bahrani (At Any Price, etc). The ripped from the headlines story looks at greed, ambition, and the high price paid, and Bahrani effectively ramps up the tension.
Greed may have worked for Gordon Gekko in the 1980s, but the financial crisis and collapse of the housing market of the past decade has worked in the favour of rapacious and ruthless real estate broker Rick Carver (Michael Shannon, from Boardwalk Empire, etc), who has made a fortune from selling repossessed homes. The housing collapse left a trail of ruined lives and dreams in its wake, but Carver has built a fortune by exploiting the misery of others and he enjoys a fabulous, luxurious lifestyle. Scenes depicting the ruthless manner in which Carver evicts people from their homes are tough to sit through and will make you angry.
Carpenter and single father Dennis Nash (Andrew Garfield, recently seen as the latest screen incarnation of Spiderman) has fallen on hard times as the bottom has dropped out of the house building business, and he is struggling under a mountain of debt. When he defaults on his mortgage repayments, Carver arrives on his doorstep to evict him, giving him and his mother (Laura Dern) only a few minutes to gather up their personal belongings. Forced to live in a seedy motel, Nash reluctantly agrees to work for Carver in an effort to regain possession of his family home. It is a Faustian pact though that has consequences for him and his family.
Shannon has effectively played villainous characters before, and he has an imposing presence. However he is charismatic and charming as the reptilian and predatory Carver, and this is one of his best performances, bringing subtle nuances and shade to the character. His mantra is "America doesn't bail out the losers, it bails out winners!" It's a philosophy that sums up the attitude of greed and entitlement that led to the financial crisis in the first place. Garfield effectively conveys the crisis of conscience his character eventually faces as he finds himself evicting desperate people from their own homes. He matches Shannon with the intensity of his performance.
99 Homes was one of the standout films at MIFF.
THE NIGHTMARE.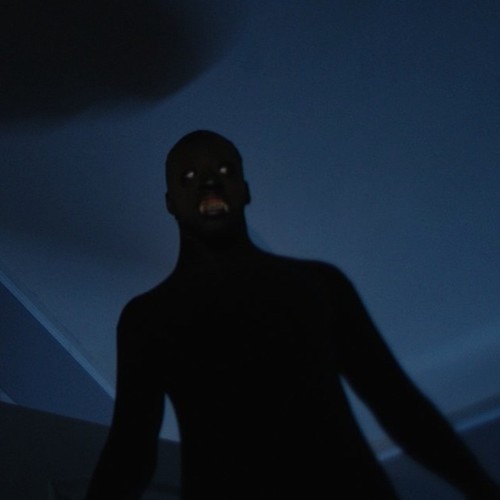 Films like Nightmare On Elm Street and their ilk in which horrific figures that haunt our dreams become real have created nightmarish visions for film goers. But this film dealing with the rare condition of sleep paralysis is one nightmare which is easy to sleep through. Former editor turned director Rodney Ascher (who directed the Q Is For Questionnaire segment in the horror anthology film The ABCs Of Death 2) takes a look at sleep paralysis, a rare condition in which sufferers are unable to move or speak while enduring a nightmare in which they are haunted by eerie premonitions and disturbing visions of mysterious and menacing shadowy men. Initially I thought this was a faux documentary, but as I read up on it I learned that it is a real documentary about a real problem. Ascher himself has suffered from the condition. Ascher interviews a number of similar victims and finds commonality in their stories. Ascher structures the film with lots of talking head interviews and some dramatic reenactments of the various nightmares, which are shot in dark colours with lots of shadowy visuals. But the biggest problem with the film is that it is visually bland, dull, repetitive in nature, and worst of all for a film screening in MIFF's late night slot usually reserved for horror films, not in the least bit scary. Maybe if Ascher had treated the material as a 20-minute short documentary it would have had more impact. Avoid this snoozefest!
RAIDERS! THE STORY OF THE GREATEST FAN FILM EVER MADE.
In 1982 a group of 11-year-old Mississippi schoolboys set out to make a shot by shot remake of their favourite movie Raiders Of The Lost Ark. The project was the brainchild of childhood friends Chris Strompolos and Eric Zala. Making the most of their limited resources the boys spent the next nine summer holidays working on their passion project, faithfully building sets, props and costumes and recreating scenes from the classic Spielberg film. They even recruited Jayson Lamb, a self professed special effects expert to work on the effects and pyrotechnics. But they never got to shoot one scene – the climactic fight at the airfield- due to a falling out, over a girl of all things.
Now thirty years later they are reunited with the aim of completing their vision thanks to a Kiskstarter campaign to raise the necessary funds. But in that time, tensions have seen the former friends lose touch with each other and there are still some deep rifts amongst the three that need to be resolved. And the weather and meagre resources again play a vital role in their race to complete their vision. Strompolos' son remarks at one point: "Spielberg spent $20 million to make his film, my dad did it with his allowance." The creativity demonstrated by the boys is amazing, and one has to admire the can-do attitude of the three dedicated youngsters.
The fan-made film attracted the attention of a number of fellow film tragics like Aint It Cool News' Harry Knowles and horror filmmaker Eli Roth, who have championed the film, which has established an underground reputation. Knowles and other powerful fans have been largely responsible for a few screenings that have received a rapturous reception.
This entertaining documentary from filmmakers Jeremy Coon (the producer of the cult classic Napoleon Dynamite) and Tim Skousen follows their struggle to film that famous final scene. The filmmakers draw upon plenty of archival footage, clips from the boys' film and Spielberg's original as well as lots of informative interviews to provide us with an entertaining look at obsession and filmmaking passion. Some anecdotes from the boys' mothers are very funny.
THE INVITATION.
The Invitation is the new psychological thriller from Karyn Kusama (the superb Girlfight and the awful, messy sci-fi action thriller Aeon Flux, etc) and is a study in delusion, paranoia and suspicion. This is a slow burn horror story about a reunion of old friends that goes horribly wrong.
Will (Logan Marshall-Green, recently seen in Madame Bovary, etc) has reluctantly accepted an invitation to attend a dinner party reunion with some old friends at the house he once owned with his ex-wife Eden (Tammy Blanchard). But since their divorce Eden now lives in the house with her new husband David (Michiel Huisman), whom she met on a retreat in Mexico while recovering from a nervous breakdown. Will is still grieving over the tragic death of his son, and is in a fragile emotional state. He begins to feel that something is not quite right about the gathering, but is he unnecessarily paranoid or does he have reason to be concerned? There are early portents that something is wrong, and a palpable air of uneasiness and distrust soon overtakes the gathering. When the hosts insist on playing a rather unsettling parlour game the awkwardness further enhances the growing sense of uneasiness.
Writers Phil Hay and Matt Manfredi (Crazy/Beautiful, the dire buddy cop comedy Ride Along, etc) have created a cast of oddball characters to add to the creepy atmosphere. Most of the cast is not that well known, which works in the film's favour. John Carroll Lynch has a vaguely sinister and menacing presence as the mysterious stranger Pruitt.
The action is confined to a single location and Kusama makes the most of the claustrophobic setting, slowly ramping up the tension until the film bursts into full on mayhem and carnage. The impact of the final shot is devastatingly effective as the full horror of what is happening is revealed.
MATEO.
This is a gritty but inspiring coming of age story set on the crime and corruption ridden streets of the small port town of Barrancabermeja, in Colombia. Mateo (played by newcomer Carlos Hernandez) is a troubled teenager who is in the employ of his loan shark uncle (Samuel Lazcano) and spends much of his time on the streets collecting money from local stall holders. But he is also in danger of being kicked out of school, much to the chagrin of his mother (Myriam Gutierrez). He is forced to join a local theatre group run by a firebrand priest (Felipe Botero) who rails against crime and corruption from the pulpit. At first reluctant to participate because "acting is for faggots", Mateo slowly finds freedom and and a sense of independence through the group. He is also supposed to spy on the group for his uncle and report back on their activities, which leaves him even more conflicted. Soon Mateo is forced to make a momentous decision about his future direction.
Mateo is the debut feature film for Maria Gamboa, who has drawn upon the real life experiences of troubled kids in Colombia for inspiration, and is a real winner. She directs with a real sense of passion and compassion for the dangers facing the troubled teens forced to eke out a living amongst the crime gangs who rule the streets of Colombia. Gamboa collaborated with a number of real-life community groups and activist groups to give the material the ring of authenticity. Mateo highlights the importance of a community working together to clean up the environment, strong ethical values, and the liberating power of art to turn around the lives of troubled youth.
Some of the characters are cliches, but most of the success of the film is due to the naturalistic performances of the cast, many of whom are non-professionals. Especially good is Hernandez, who has enormous appeal and charisma. He is perfectly cast as the confused young protagonist looking for direction in life and facing a moral dilemma. And Gutierrez is also very good as Mateo's formidable mother.
BEING EVEL.
This is a fascinating, exhaustive and well researched, and entertaining documentary about the flamboyant daredevil motorbike riding Evel Knievel. Born Robert Craig Knievel in Butte, Montana, he became world famous as Evel Knevel, given to dangerous stunts like jumping over buses and through his flamboyant appearances on television. He was the iconic hero America needed during troubled times. He has been the subject of many other documentaries, but unlike previous films Being Evel is not simply a hagiography, but rather offers up a detailed and revealing a warts and all look at Knievel and shows his darker nature and volatile personality. There is his vicious attack on Sally Saltman, his former press agent, with a baseball bat that landed him in jail.
Knievel lived much of his life in the public eye, so there is a wealth of archival material for veteran documentary director Daniel Junge (A LEGO Brickumentary, etc) to draw upon. The film shows many of his spectacular stunts and some sickening footage of his many crash landings. But the centrepiece of the film centres around his much publicised failed attempt to jump across the Grand Canyon in a purpose built miniature rocket, and we get plenty of juicy revelations and speculation about what went wrong here. And a number of friends, family members and colleagues recall colourful and lively anecdotes about the man.
Jackass's Johnny Knoxville is obviously a huge fan, and here he waxes lyrical about the man and his achievements, and acknowledges the impact Knievel had on the establishment of extreme sports. Actor George Hamilton, who played Knievel in an awful 1972 biopic and who is one of the producers of this film, recounts a fascinating anecdote that illustrates Knievel's sense of his own infallibility and his growing paranoia and egocentric behaviour.
One of the more entertaining documentaries screening at MIFF, Being Evel demystifies the complex, complicated and deeply flawed man behind the legend and is a lot of fun to watch!
SPEED SISTERS.
It's rare to see women in the testosterone fueled world of racing cars, and even rarer to find females in the world of car racing in the patriarchal Arab world. But this fascinating documentary from first time feature director Amber Fares introduces us to four fast and furious females from Palestine who feel the need for speed and who live their passion as drift racers. Marah, Noor, Mona and Betty are the Middle East's first female team of drivers, and their manager is the equally formidable Maysoon. They had to overcome a lot of prejudice and entrenched tradition and societal expectations when they set out to prove themselves as race car drivers. Racing opened up a new world for them and their families and provided them with a number of opportunities they may otherwise not have had.
Breaking down barriers, they are regarded as local heroes by some. They race under the auspices of the Palestinian Motor Sports and Motorcycle Federation, which was founded in 2005. Despite being the reigning champion, Marah is the more hot headed of the four and often clashes with the head of the Arab racing federation and has numerous problems with their rules.
But the four also retain touches of their femininity through regular manicures, retail therapy and dreams of marriage and raising a family. Although they are friends, there is also a keen sense of rivalry amongst them as they compete to see who is the fastest. But Fares also takes us for a more intimate look at their personal lives and their families, who are supportive of the girls and their ambitions, and gives us some insights into Palestinian culture that we rarely see. Not just a sports documentary, Speed Sisters is also an exploration of gender roles, changing attitudes and society in the Arab world where some freedoms are curtailed.
Revheads will enjoy the adrenaline charged car racing action, the smell of burning rubber. There is some beautiful cinematography from Fares herself and Lucy Martens, that gives us a strong sense of place. We get a glimpse of life in Palestine itself, a troubled city with its military checkpoints, its hideous wall that divides it, the regular patrols of soldiers, and the constant threat of attack and shelling from Israel.
DOWNRIVER.
This grim but atmospheric drama about guilt, grief, redemption and revenge, and dysfunctional families marks the feature film directorial debut for Grant Scicluna, whose short film The Wilding has been racking up awards at film festivals around the globe. The film centres around James (played by Reef Ireland, from Scicluna's The Wilding, etc), who has been incarcerated in juvenile remand centre for his involvement in the drowning death of a young boy ten years earlier. Mystery still surrounds the incident though as the body has never been found and wild rumours circulate about the nature of the crime. Released on parole, James returns to the small town where he lived intent on finding closure. But his presence is not exactly welcomed, and there are some in the town who would prefer the ghosts of the past are never raised again.
Downriver is at times a confronting film and there is a strong homoerotic tone to much of the drama. Scicluna avoids the neat resolution, leaving it up to audiences to interpret what happens to some of the characters.
In a role written with him in mind, Ireland has a strong presence, and brings a mix of emotions to his complex and nuanced performance. His character is not that far removed from the one he played in The Wilding. Tom Green (Camp, etc) is also strong as Anthony, a local bad boy and James' former childhood friend who has his own secrets, while Charles Grounds brings a hint of vulnerability and naivete to his role as Damien, the local gay boy who lives in the same caravan park as James. Veterans Kerry Fox, Robert Taylor and Helen Morse, making a rare film appearance, round out the cast.
The river is a potent metaphor for Scicluna, and has become a metaphor for the destructive power of both nature and man in a number of films from the classic Deliverance through to The River Wild, etc, and here the river has a palpable presence that overshadows events. The film was shot on location around the Warrandyte area in regional Victoria, and Laszlo Baranyai's evocative cinematography enriches the downbeat material.
FORCE OF DESTINY.
Paul Cox is a perennial favourite of the Melbourne International Film Festival. His 1979 feature Kostas was the first Australian film to open the Festival. The auteur's 47th feature fittingly opens the 64th MIFF. Force Of Destiny is his most personal and intimate film to date as it draws upon his own experiences while undergoing a life saving liver transplant a few years ago. Cox draws inspiration from his book Tales From The Cancer Ward, a diary in which he recorded his fears and confronted his own feelings of mortality.
Cox's surrogate here is Robert (played by David Wenham, a regular in his films), a sculptor who is diagnosed with liver cancer and given six months to live unless a donor organ can be found. While he waits, Robert reconnects with his family on a deeper spiritual level. He also finds a second chance at love and happiness with Maya (Shahana Goswani), a marine biologist who works at the local aquarium and is fascinated with Robert's work. In a parallel subplot Maya's beloved uncle back home in India is also dying of cancer.
Wenham delivers a subtle and nuanced performance as a man confronting his mortality.
Force Of Destiny explores themes of death and mortality, which gives it a sombre note. This also makes it a bit of a downer, especially for an opening night film. But many of Cox's familiar preoccupations – the beauty of art, relationships, love, spirituality, humanity – are all very much in evidence. But there are also a number of stylistic flourishes and impressionistic touches that unnecessarily stretch the material out by 20 minutes or so.
Cox's films have always been something of an acquired taste, and Force Of Destiny is something of a dour and bleak experience that is unlikely to win him any new admirers.
TURBO KID.
Welcome to the post-apocalyptic world of 1997, a desolate wasteland where water is a precious but rare commodity. This world is ruled by the despotic and sadistic one-eyed Zeus (Michael Ironside), who presides over an army, and stages bloody gladiatorial contests to sate the bloodlust of his troops. Turbo Kid has the same sort of grungy post-apocalyptic feel as films like Mad Max, etc. But is sort of Mad Max-lite, as the characters ride across this wasteland on BMX bikes rather than in souped up cars.
We are introduced to our hero, simply known as "the kid" (played by Munro Chambers, from Degrassi High, etc), an orphan who lives on his own in a bunker on the outskirts of an unnamed village. He survives by scavenging for scraps that he can trade for water. He is also obsessed with the comic book character of Turbo Rider, and his bunker is adorned with lots of collectibles. One day he meets a mysterious girl named Apple (Laurence Leboeuf), who turns out to be a robot. Once she is kidnapped by Zeus' goons though the kid is forced to step up and become the superhero he idolises, with the help of a mechanised suit with its own power source that he stumbles across.
Chambers has an appealing presence as the naive kid who becomes a reluctant superhero. And Aaron Jeffrey brings a laconic style to his role as Frederic, the defender of the small town threatened by Zeus. Ironside hams it up beautifully as Zeus, a villainous role that pays homage to some of his own iconic roles.
Turbo Kid is a surreal and thoroughly entertaining homage to low budget B-grade 80s schlock sci-fi action adventures and splatter films, with appropriate use of low rent special effects and lots of blood spattering across the screen. There is lots of gore and blood, and decapitations, all done with glee and tongue-in-cheek style, but the material is also sweetened with touches of the coming-of-age tale.
This is the debut feature film from Canadian filmmaking trio of Francois Simard, Anouk Whissell and Yoann-Karl Whissell (who directed one segment in the horror anthology The ABCs Of Death), and they handle the material with lots of energy and imagination, and an obvious respect for the tropes of the genre.
MISSISSIPPI GRIND.
Recently we saw Mark Wahlberg as a gambling addict willing to take risks for a big score. Now we meet Gerry (Ben Mendelsohn), a down on his luck compulsive gambler, desperate for one big score to pay off his loans and get his life back on track. Then he meets Curtis (Ryan Reynolds, in a role originally intended for Jake Gyllenhaal), a charismatic fellow gambler, and believes that he has found a lucky charm that can turn his fortunes around. They decide to hit the road to head to Mississippi for a big poker tournament. What follows is part buddy road movie and part character study. The story feels vaguely familiar, and older audiences will probably hark back to Robert Altman's California Split, which featured Elliott Gould and George Segal as a pair of down on their luck compulsive gmablers. Mississippi Grind is not quite as dour or downbeat.
Mississippi Grind has been written and directed by Anna Boden and Ryan Fleck, who gave us another redemption tale in Half-Nelson, etc. There is great chemistry between Mendelsohn and Reynolds here that gives the film its charm and energy, and make it watchable. The character of Gerry plays to Reynolds' strengths – he is charming, easy going, smart-aleck wise cracking and cocksure – while Mendelsohn brings an intensity and a palpable hint of desperation to his role as the deeply flawed and self-destructive Gerry in a performance that elicits some sympathy from the audience. Sienna Miller, Analeigh Tipton, Alfre Woodward and Robin Weigert do what they can with small and essentially thankless roles.
The film is enhanced by the jazz infused score and the strong visuals that give us a sense of the various locations and bring to life the smoky bars and backroom poker games.
ROBOT OVERLORDS.
A variation on the classic War Of The Worlds, altough aimed at younger audiences and replacing the Martians with robots. It also has a sort of charm that was missing from the last couple of overbloated Transformers movies. Set in a not too distant future, the world has been conquered by a race of robots. Humans have been implanted with a tracking device and confined to their houses with a nightime curfew. But a group of teens discover a way to negate the tracking devices, and decide to try and overthrow the robot overlords. The special effects are okay, but reveal the limitations of the budget at times. Ben Kingsley is slumming it here (again) as Smythe, a smarmy human collaborator who works with the robots to maintain a fragile reationship, while The X-Files' Gillian Anderson does what she can with an underwritten role. The youthful cast, that includes Australian Callan McAuliffe and the endearing Milo Parker (recently seen opposite Ian McKellen in Mr Holmes) carry the film with plenty of energy and wonderful humour that will appeal to its target audience. The director is Jon Wright whose previous film was the little seen Grabbers, yet another entry in the crowded alien invasion genre.
THE LOBSTER.
The films of Greek director Yorgos Lanthimos (Dogtooth, etc) are strange, off beat, enigmatic, unsettling, confronting, and often hard to fathom, and have divided audiences. The Lobster, his first English language feature film, is no exception. It won the Jury Prize at the Cannes Film Festival this year, but like a lot of previous such winners it is a film that lacks broad commercial appeal, but will find its niche on the festival circuit. Like Dogtooth, The Lobster is set in a strange, closed and oppressive community with its own rules and structures where deviation is severely punished.
This bleak, absurdist comedy is set in a dystopian society in the not too distant future where single people are arrested and transported to a creepy luxurious hotel. There they are given 45 days in which to find their soul mate, otherwise they are transformed into an animal of their choice. Each new arrival has one hand cuffed behind their back to reinforce the notion that one can't really do much alone. They mix awkwardly at dinners and dances, and watch the staff perform small vignettes on the advantages of being a couple.
The guests also have the opportunity to extend their stay by hunting down "loners", rebellious runaways who have fled the hotel for the nearby forest and freedom. But the people who live in the forest also have their own set of rules, and relationships are discouraged and any romantic attachment is severely punished. A third world is the nearby city – pristine, cold, sterile and seemingly impersonal.
This is a jarring and unusual film that offers up a scathing satire on contemporary society and its strictures and rules, and it also explores soncepts of indivuality and modern relationships. The bleak tone is leavened by touches of deadpan humour.
Lanthimos has attracted a strong cast that includes John C Reilly, Ben Whishaw, Rachel Weisz, and Lea Seydoux as some of the oddball characters. A slightly pudgy Colin Farrell brings a frilty and fragility to his role as David, the central protagonist, a divorced architect whose strange journey we follow. Weisz's voice over narration is droll and literate, but comes across almost as if she is reading the words from the page of a novel.
GAYBY BABY.
Debate continues regarding the issue of marriage equality and same sex marriage, particularly here in Australia where our conservative politicians are slow to react to the change in public consciousness on a global basis. And those opposed to the concept still bandy about concerns about "the welfare of the children" and the lack of either maternal or paternal influences. Those who still harbour concerns about the damage caused to society by same sex marriage would do well to check out Gayby Baby, a warm and fascinating new documentary from Maya Newell. The film looks at four 12-year-olds who are being raised by same sex parents. The kids seem rather well-adjusted and normal, and are being raised in nurturing environments. All of the kids are wrestling with their own problems with the help of their same sex parents, but their issues are no different to those confronting kids in traditional family structures.
We meet Gus, a boisterous youngster who is heavily into wrestling, but is also exploring his masculinity, although his two mothers fear that he may be a little too violent when it comes to playing. Matt seems very mature for his age, and he is wrestling with doubts over both religion and politics as they seem to emphasise ideas that are in contrast to the beliefs of his two mothers. A high point for Matt though comes when he attends a dinner with Prime Minister Julia Gillard with his two parents as they discuss marriage equality. Ebony is interested in pursuing a musical career, and gets support from her two mothers despite their pressing concerns over the health of their youngest child who suffers from a severe form of epilepsy. Graham is the adopted son of a male couple and has some learning difficulties which they are working to overcome. But then the family is forced to move to Fiji for work, which complicates matters.
The issue is a deeply personal one for Newell, who has observed the four families over a period of time. Newell has edited down a wealth of footage and has developed a number of narrative strands and themes to follow. The film has a nice unhurried and laid back style, and Newell eschews the traditional documentary format, letting the stories unfold before the camera.
CORN ISLAND.
In the middle of the Enguri River in a remote region of Russia, the floodwaters produce small islands that are capable of producing corn crops. An unnamed elderly man (Ilyas Salman) plants corn on the island and builds a small rustic hut where he spends his time tilling the crops and waiting for them to flourish. It is a peaceful existence and a place of tranquility and contemplation. He is accompanied by his teenage granddaughter (Mariam Buturishvili). It is a rather dull existence for the pair, more so for the girl who has to go without the usual creature comforts. The river itself forms a border between Georgia and the breakaway republic of Abkhazia, and the two nations are involved in an ongoing conflict. Gunshots occasionally reach the pair from across the river on the mainland, a reminder of the civil war happening elsewhere. But the conflict doesn't really touch the couple until a wounded soldier washes ashore one night. They nurse him back to health while wary of the occasional boat patrol passing. Corn Island is a poetic and visually stunning story about the cycle of nature, of the human cycle life and death and of man versus nature. The process of planting and tending the crop is depicted in meticulous detail. This slow burn and minimalist drama from Russian director George Ovashvili has little dialogue, and relies mainly on the spectacular visuals to tell the story. Corn Island has been beautifully filmed by Elemer Ragalyi, whose sweeping cinematography gives the film an epic scope.
PALIO.
Twice every year the Italian city of Siena hosts the Palio, the oldest horse race in the world dating back to 1400. It is a horse race unlike any other. It's a bare back horse race consisting of several laps around the town's central piazza. Even a horse that has lost its jockey can still win the race! And losing jockeys can be viciously attacked by the crowds. The city is divided into 17 districts, and each district competes for prestige and pride. For the residents of Siena the Palio is a metaphor for the vagaries of life and represents a microcosm of life and traditions of Italy itself. But the outcome of the race is more often than not determined by strategy, bribery and corruption, and side deals between the various jockeys and racing teams.
In this fascinating documentary, director Cosimo Spender (Without Gorky, etc) takes us behind the scenes for this revealing and disturbing look at the tradition of corruption that has dominated the sport. He briefly gives us an overview of the history of the sport, and we meet some of the legendary past figures from the sport. In the lead up to the 2013 event Spender has been granted an unprecendented level of access to some of the competitors. He follows several of the competitors, including the arrogant veteran jockey Gigi Bruschelli, who has won 13 Palios, and his younger protege and main rival Giovanni Atzeni. Atzeni is in it purely for the sport and the thrill of racing, unlike the venal champion who has ruthlessly dominated the sport.
Spender and his team of cinematographers and editor (Valerio Bonelli) have captured the frenetic adrenaline-charged and pulse pounding excitement and brutal spectacle of the race itself, but it is the behind the scenes machinations that provide most of the intrigue and drama. Lovers of horses though should be warned that some scenes here could prove distressing.
THE HUNTING GROUND.
The Hunting Ground is a provocative and harrowing expose of the systemic cover up of sexual assualts at some of America's top universities and colleges in order to protect their reputation and brand and the millions of dollars injected each year in donations by ex-alumni. There are some revealing and damning statistics – 26% of female undergraduates will be victims of sexual assault at some time during their time at college, but few of them will find justice from either the college administration, who seem prepared to go out of their way to protect the predators, or the apathetic legal system. Even worse befalls the victims when the accused assailant happens to be a jock or the star of the football team. The number of expulsions for sexual assault is miniscule when compared with the figures of expulsions for cheating and violations of the honor board.
The politics of sex is familiar ground to veteran documentary film makers Kirby Dick (Outrage, etc) and Amy Zeiring. here the pair probe beneath the surface of some of the most prestigious Ivy League schools to find an out of control fraternity culture on most campuses. Sigma Alpha Epsilon, one of the more notorious fraternity houses, is apparently referred to on campus as "sexual assault expected," a morbid reality that highlights the macho jock culture of many such institutions.
Dick and Zeiring draw upon first person testimony from a number of rape survivors who are frustrated by their treatment and lack of justice. Annie Clark and Andrea Pino are two such young women who have become activists leading the charge for a change in attitude and for legislation forcing the universities to take rape and sexual assault more seriously. Several heads of some of the more prestigious colleges declined to be interviewed for the film. The Hunting Ground will leave you angry, and serves as a timely warning to all new students heading off to college with lots of expectations and dreams.
RULES OF THE GAME.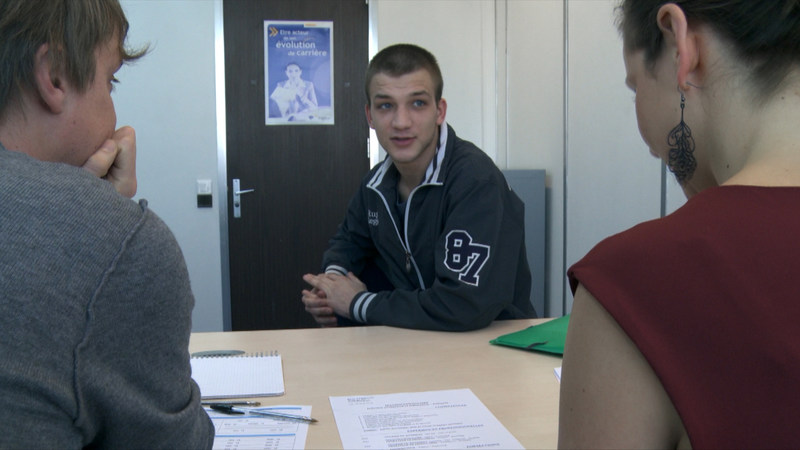 Anyone who has had to deal with Centrelink and the various job seeking agencies will understand the frustrations of the levels of bureaucracy involved in trying to help jobseekers. It is a problem not just pertinent to Australia, but it is a situation seemingly repeated in many other countries.
This enjoyable and observational documentary from the filmmaking team of Patrice Chagnard and Claudine Bories (Les Arrivants, etc) follows a handful of disenfranchised and inexperienced teens who are looking for work in the depressed job market of northern France. They have been forced to use the services of Ingeus, a job consultancy firm that gives them support and training and helps them develop the necessary skills to apply for jobs and cope with interviews, creating CVs and even learning how to dress appropriately for the workplace.
The kids develop an uneasy and often prickly relationship with their mentors who try to inculcate them with the rules and procedures of the workplace and ready them for employment. However, they receive a monthly payment of 300 euros if they meet their weekly appointments and can demonstrate their job hunting efforts. Not all of them are enthusiastic participants and often find flimsy excuses to miss their regular appointments. And they have a hard time understanding the jargon spouted at them.
Kevin lacks self-confidence, while Hamid has an attitude problem. The most memorable of the characters here is Lolita, a frumpy and surly girl with a bit of a chip on her shoulder, a slouched posture, a troubled past which she is reluctant to talk about, and a massive shoulder bag in which she carries around most of her daily needs. But she slowly grows in confidence as the film progresses.
The film is divided into neat little chapters, and the sometimes amusing headings provide clues to the behaviour of the chosen subjects. But Rules Of The Game is also remarkably upbeat and often very funny and a crowd pleaser.
SPARTACUS & CASSANDRA.
This debut feature documentary from Iaonnis Nuguet looks at the hardships and troubled life facing two children of a dysfunctional Romany family. The nomadic lifestyle of the Romany is tough enough, but for 13 year old Spartacus and his 11 year old sister Cassandra it is made even tougher by their dysfunctional parents. Their father is an abusive alcoholic and their mother borderline crazy, and they eke out a meagre living on the streets. Spartacus began begging on the streets at the age of five and has been forced to grow up fast in this inhospitable world. He is loathe to attend school, and faces the rather bleak prospect of a life on the streets, even though he has no desire to end up like his father. Both children are in the temporary care of Camilla, but she is not sure how long she can continue to care for them. Nuguet's camera takes us into the impoverished and squalid lives of the titular pair, making us privy to Spartacus' sense of frustration, anger, hopelessness, and disappointment. Nuguet adopts an observational style, and is also unsentimental in his approach. There are some impressionistic and stylistic flourishes as well, but this is not exactly the most uplifting documentary.
SNOW MONKEY.
Australian documentary filmmaker George Gittoes (Soundtrack To War, etc)is a veteran of some of the world's hot spots and dangerous places. But he is now working with a group of street kids in Jalalabad in Afghanistan, trying to turn their lives around through his Yellowhouse organisation, a sort of community hub that provides a place of shelter and learning for local kids. Gittoes meets a number of street kids who run with with three gangs – the Snow Monkeys, who sell ice cream; the Ghostbusters who try to exorcise spirits by waving smoke into passing cars; and a gang of pick pockets and thieves ruled by the razor blade wielding Steel, who is a charismatic character in his own right. But these kids are disenfranchised, poorly educated, and are also ripe for recruitment as suicide bombers by the Taliban.
Gittoes talks to some of the street kids about the hardships of their lives, and then he tries to involve them in a film in which they get to act out their experiences. He trains a couple of the kids how to use a movie camera and involves them in every level of production. Gittoes is giving them a taste of life beyond the violence and crime that has shaped their young lives. He also works with a local teacher to try and get some of the street kids back into school to better their opportunities. He also maintains an uneasy relationship with a local Taliban leader who tolerates his presence because he is doing some good for the community.
It is obvious that Gittoes has great affection for the city and its people, and is desperate to try and highlight the injustices and hard scrabble circumstances most of the inhabitants find themselves in. There is also some quite shocking footage here of a devastating suicide bomb attack and its horrific aftermath, filmed by one of the street kids.
Snow Monkeys is the final film in a trilogy that began with Miscreants Of Taliwood, and gives us some insights into this troubled region of the world and demonstrates why it will be very hard to change the prevailing attitudes of the inhabitants. Gittoes shot the film over the course of a year and obviously had a lot of material to draw upon. But the film itself is overly long, unwieldy, and sprawling in nature, and at 169 minutes will test the patience of many.
A PERFECT DAY.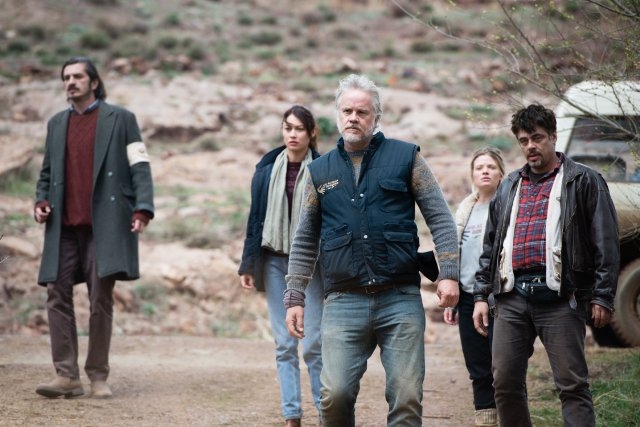 M*A*S*H in Bosnia? It centres around Mambru (Benicio del Toro) and B (Tim Robbins), a couple of aid workers in the Balkans during the conflict of the 90s. Working with an NGO known as Aid Across Borders, they deal with the horrors of the war and the vicious consequences of ethnic hatred almost on a daily basis.
The film begins with the pair trying to raise a morbidly obese body from a well in a remote village before it can contaminate the water supply. A lack of suitable rope hampers their mission thus setting them off in search of equipment. Further complications arise when the UN administration specifically forbids them to remove the body for fear of upsetting the locals. The UN advisor who is compiling a report on the team's efficiency is "conflict evaluator" Katya (former Bond girl Olga Kuylenko), who had a relationship with Mambru that ended badly. Tension is in the air as they set off with their interpreter Damir (Fedja Stukan) and new recruit Sophie (Melanie Thierry) on a journey that reveals some of the horror of war. And Nikola (Eldar Reisdovic), an orphan boy they come across, puts a more human face on the carnage and adds a more sympathetic element to the material.
A Perfect Day is the first English language feature for Spanish director Fernando Leon de Aranoa (Barrio, Familia, etc), and he maintains a light touch throughout. He mixes black humour with an exploration of the absurdity of military authority and the futility of war. Black humour at the expense of military authority and the helplessness of the UN is reminiscent of the classic M*A*S*H. In one of his better performances for some time Robbins is excellent here with his irreverent sense of humour and acerbic observations, while Del Toro's swarthy presence, cynicism and ironic detachment adds gravitas. Their banter is amusing, and alleviates some of the tension of the dramatic journey through this war torn countryside. Alex Catalan's superb cinematography of the arid mountain landscapes and war devastated backdrop further enhances this enjoyable comedy/drama. This ironically titled pitch black comedy has been one of the early highlights of MIFF.
NEON.
For a long time local filmmaker Lawrence Johnston (Life, Fallout, etc) has been fascinated with neon, and he even managed to include images of neon lights into his documentaries Eternity and the whimsical Night. But now he has made a carefully researched feature length documentary exploring the heritage, design and history of neon and neon lighting. While a documentary about the history of neon lighting may sound a rather dry subject, this actually is quite fascinating and revealing. Johnston uses a deftly edited mix of archival footage and interviews to trace the history of neon lighting, which was supposedly first demonstrated at the World's Fair in 1894, where it turned night into day and gave off a festive air.
Famous inventor Nikola Tesla virtually invented the neon light, but he never capitalised on its potential, unlike the litigious and entrepreneurial Georges Claude, who perfected the electrode and saw the possibilities of it as an advertising medium. He would readily sue people for patent infringements. Since then cities like New York with its garish Times Square and lights of Broadway, Las Vegas with its strip, and Los Angeles have all used neon lighting in advertising to attrract the tourist dollar and enhance the exciting atmosphere. According to one of the experts interviewed throughout the documentary, neon signs reflect our hopes and dreams and aspirations. Hong Kong and even pre-revolutionary Cuba used the neon signage. Tokyo has also employed neon light advertising, but its sensory overload even puts Las Vegas to shame. We even get a glimpse of Melbourne's iconic Skipping Girl vinegar sign to give it a local flavour.
Johnston eschews traditional voice over narration, instead he relies on the interviewees and a wealth of beautifully evocative black and white archival footage to tell the colourful history of the neon light. His interview subjects include architects, historians, authors and artists. Johnston has also used a few carefully chosen clips from Hollywood musicals like 1934's Dames and Busby Berkely's The Gold Diggers Of 1937 to showcase the sometimes inventive and clever use of neon to create memorable cinematic images. The music acompanying the documentary is evocative of the jazz era, and Eron Sheehan's cinematography is also very good.
ANOTHER COUNTRY.
Another Country is a documentary that looks at the impact that the white man's culture has had on thousands of years of aboriginal culture. "Our culture doesn't fit your culture," says narrator David Gulpili. The film is the result of a collaboration between filmmaker Rolf de Heer , his partner Molly Reynolds and Gulpilil, who have previously collaborated on the features Ten Canoes and Charlie's Country. Like Ivan Sen's fictitional Toomelah, Another Country takes us inside an aboriginal community to witness their daily lives but gives us a first hand account of a lifestyle that is slowly being eradicated. Essentially a nomadic people who would hunt for food they have little use for houses, cars or even supermarkets to buy their food from.
The film has been shaped by Gulpilil's own observations of aboriginal life on the settlements and isolated communities established by the seemingly benevolent government. The sale of alcohol was banned, and all the residents were issued with food cards which could be used at the local supermarket. Gulpilil acts as the narrator and his dry, droll narration and rich, warm tones draw us into this deeply personal and refelctive exploration of the consequences of the government's well-meaning policy of self-determination. His tone is informastive rather than confronting and he tries to break down some cultural barriers between white culture and indigenous culture. Gulpilil slowly elucidates some of the problems facing these communities that have been established by white politicians who have little understanding of the their traditions or culture. He also elaborates on the concept of obligation, in which if someone asks to borrow a car they cannot be refused. More often than not the car is returned broken and virtually unuseable.
Another Country takes audiences on an eye-opening journey through the small and remote community of Raminging, where he was raised. Raminging is situated some 400 kms from the nearest town and is accessible only by a dirt road that gets flooded our during rainy season. We get a potted history of the town, and we observe the inhabitants going about their lives and get a sense of their disrupted lifestyle and the rhythms of life in this remote community. The biggest worry is that the younger generation are losing touch with their history and centuries of tradition. There is one scene where a number of local youths perform a dance, but rather than the traditional music of their culture the background is hip hop music. But ultimately the film is optimistic in its outloook.
CHARLIE'S COUNTRY is Rolf De Heer's 14th feature film, and the third film in his unofficial trilogy exploring aboriginal issues – Ten Canoes dealt with the past and ancient traditional aboriginal ways and their dreamtime; The Tracker dealt with the cruel treatment of aboriginals in the 19th century by the white settlers; and this film is a confronting look at contemporary problems facing Australia's indigenous population. David Gulpilil, who has worked with De Heer on several of his films, plays Charlie, an elderly aboriginal who lives on a remote aboriginal settlement in the Northern Territory. Once a celebrated dancer who even performed for the Queen at the opening ceremony for the Sydney Opera House, he is now bitter and disappointed at what has happened to the spirit of his people. Charlie and the aboriginal people have to live with some fairly restrictive laws that he doesn't fully comprehend. He thinks that his people have lost their traditional ways and their dignity and beliefs, and seem content to live off the government purse. He decides to go walkabout, hoping to reconnect with the land and the old traditional ways, which has devastating consequences.
The film deals with themes of isolation, displacement, identity, prejudice, the patronising attitudes of whites and bureaucracy to the needs and history of the indigenous population. De Heer wrote the film in conjunction with Gulpilil, who has drawn upon his own experiences, his battles with alcholism and his imprisonment to shape the screenplay.
Gulpilil shot the film while out on parole, and his personal experiences have shaped his poignant performance. Gulpillil, who has starred in films like Walkabout, The Last Wave and de Heer's The Tracker, is front and centre for much of the film and his performance won the Best Actor award at the Une Certain Regard sidebar in Cannes. He delivers a powerful performance as the troubled, deeply flawed Charlie whose health and mental state have deteriorated. His grizzled, weathered face bears the hard years of experience, which adds to the authenticity of his soulful performance.
As with Ivan Sen's Toomelah, and Warwick Thornton's Samson And Delilah, Charlie's Country is a raw and insightful film that doesn't offer a romanticised or sanitised picture of life for indegenous communities. De Heer is an intelligent and passionate filmmaker, and his films are often driven by a powerful sense of social injustice. It is obvious that this material is also close to his heart, as Charlie's Country is obviously something of a labour of love for both the veteran director and his star.
The film has been beautifully shot by De Heer's regular cinematographer Ian Jones, who brings the remote outback of Arnhem Land to life. He often works in close-up, with the shots of Gulpilil's weary and expressive face conveying so much more about his thoughts and inner pain than mere words ever could. Graham Tardif's minimalist piano-driven score adds a melancholy note to the drama.
RABBIT PROOF FENCE.
After several big budget Hollywood thrillers (Patriot Games, The Bone Collector, etc), Phillip Noyce returned home for this rather small scale but very topical film exploring one of the more controversial chapters of Australia's recent history – the issue of the stolen children. Set in 1931, the film follows the adventures of three young girls as they travel 1200 miles across some of the most inhospitable country in Australia to return home to their family. Molly, Daisy and Gracie (Everlyn Sampri, Tianna Sansbury, and Laura Monaghan) are three half caste girls, who are taken from their mother and sent to the Moore River detention centre, where they are to be assimilated into the religion and culture of the white man. But after a few days they run away and try to make their way home, against enormous odds. They decide to follow the wire fence that stretches across the state, followed by an aboriginal tracker (David Gulpilil), who comes to admire them for their courage and determination, and half the police force of the state. Rabbit Proof Fence seems unduly manipulative in its treatment of this story, and it seems that many commentators have chosen to follow a politically correct line when talking about the film, overpraising it for its political correctness rather than its content and quality. The film has been beautifully shot in widescreen by Christopher Doyle.
Another Country, Charlie's Country and Rabbit Proof Fence all screen as part of the David Gulpillil retrospective during MIFF.