ALL REVIEWS BY GREG KING
LAST UPDATED JULY 28
DOG'S BEST FRIEND.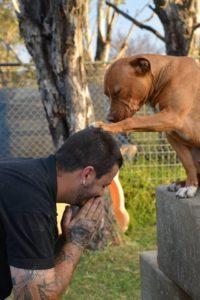 This heartfelt documentary offers up a profile of Jacob Leezak and his work with his Canine Behavioural Expert Dog Psychology Centre in NSW. Along with his partner Jennah, Leezak works with neglected or abused dogs rescued from the pound that would have been euthanised, and works to rehabilitate them. This is the directorial debut from New Zealand actor Eryn Wilson (who has appeared in Young Hercules, Power Rangers, etc). Wilson first learned of the centre from his own mother who had seen videos of Leezak working with the dogs on a Facebook page, and he thought that it would be interesting to pursue the subject. Wilson spent some time on Leezak's 8-acre property filming him at work. The film provides some insight into some of the difficulties of working with damaged dogs, but it also shows that Leezak gains great satisfaction from his work. "The only reason I'm on this Earth is to be with dogs. This is all I know. This is all I've ever known. This is all I want to know," he says. It is certainly not work for everyone, as we see a couple of interns come and go after finding the work too demanding. Leezak also speaks about his hardships and life experiences that led him to this satisfying work.  This is a much grittier and authentic experience that a feelgood film like A Dog's Purpose; rather it has more in common with the recent documentary Pick Of The Litter, which followed the rigorous training of potential seeing eye dogs.
ACCIDENTAL CLIMBER.
Jim Geiger is a 68-year old great grandfather from Sacramento who set out to climb Mount Everest in 2014, aiming to become the oldest American to scale the famous mountain. Filmmaker Steve Oritt met Geiger during an expedition in Antarctica the year before and decided he would film the daring exploit of the veteran climber. We follow his rigorous fitness campaign in the months leading up to the climb. Oritt's camera follows him to Nepal and the base camp where he spends several days trying to acclimate to the conditions. But then his effort is halted when an avalanche kills 16 Sherpas and leads to the mountain being closed to climbers for the rest of the season. In following this tragedy, Accidental Climber also covers some of the same territory as Jennifer Peedom's superb documentary Sherpa, which depicted the avalanche and its aftermath. This was the worst disaster in climbing history and made news headlines around the world. But the incident also changed Geiger's attitude and approach to Mount Everest.
LOOBY.
Australian artist Keith Looby has been a finalist for the Archibald Prize – Australia's richest prize for portrait painting – many times, winning the award in 1984 for his painting of satirist Max Gillies. His works were displayed in many major galleries, including New York's MoMA. But the idiosyncratic and outspoken maverick artist fell out of favour with the art establishment and now most of his works languish in storage. This documentary from producer Sean Murphy is an attempt to restore his reputation and help Looby reclaim his rightful place in the pantheon of great Australian artists. Murphy's father, a veteran documentarian in his own right, actually started work on the project before he passed away. Murphy and his co-directors Ian Knight and Nick Garner have drawn upon some archival footage as well as Looby's own paintings to shape this film. There is an extensive interview with Looby himself, but often his answers seem obtuse and evasive and he seems unapologetic about having ruffled feathers and upset people. Apparently, a lot of people within the art world itself declined to be interviewed for the film. There is also a detailed interview with Looby's biographer Humphrey McQueen, which gives us more insight into how the painter managed to burn his bridges. The film also looks at the many controversies surrounding the Archibald Prize. This documentary bristles with insights into the temperamental artist and paints a revealing portrait of a deeply flawed yet creative man. A must see for art lovers.