Reviewed by GREG KING
Director: Xavier Giannoli
Stars: Catherine Frot, Andre Marcon, Denis Mpunga, Michel Fau, Sylvain Dieuaide, Christa Theret, Aubert Fenoy, Theo Cholbi.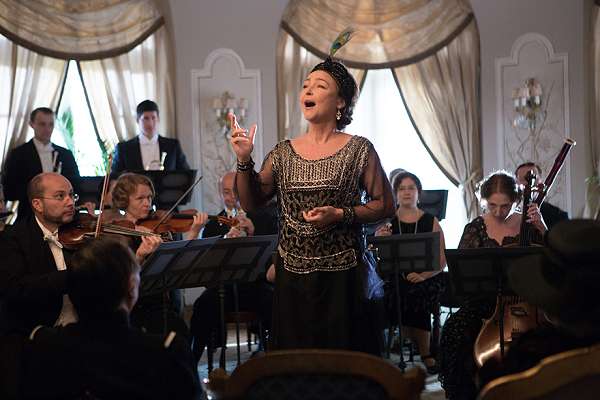 Occasionally there are times when we get two films released dealing with similar themes or plot lines – we've had two Die Hard in the White House clones with Olympus Has Fallen and White House Down, two volcano films with Dante's Peak and Volcano and two giant asteroids heading for Earth with Mimi Leder's Deep Impact and Michael Bay's Armageddon. And now we get two films inspired by the life of Florence Foster Jenkins, a wealthy opera loving socialite widely regarded as the world's worst singer. In Stephen Frears' forthcoming biopic, Jenkins is played by the incomparable Meryl Streep. Beating that film to local screens though is this frothy French comedy/drama that gives us a fictional and quirky take on the story.
Marguerite is set in France in the period between the two great wars. The central character here is Marguerite Dumont (played with real spirit and gusto by Catherine Frot, last seen in Haute Cuisine), a wealthy but deluded socialite and patron of a local musical society who thinks that she has what it takes to be a great singer. Unfortunately she has a grating voice and is unable to carry a note. But her horribly misplaced musical ambitions are indulged by her husband Georges (Andre Marcon, from The Page Turner, etc), whom she married for his title, and her faithful butler/chauffeur and photographer Madelbos (Belgian Congolese actor Denis Mpunga), and the long suffering music lovers who attend her regular private musical recitals as part of the Amadeus Music Club that help raise money for war orphans. Her performances are celebrated by avant-garde artists but merely tolerated by her neighbours and close circle of sycophantic friends.
However, a rave review of one of her small performances published by Lucien Beaumont (Sylvain Dieuaide), an ambitious but weaselly music critic, convinces Marguerite that she is ready for a major public appearnce. Atos Pezzini (Michel Fau, from Swimming Pool, etc), a washed up tenor, is brought in reluctantly to become her vocal coach to ready her for a major public concert. He puts Marguerite through a series of bizarre vocal exercises, much to the consternation of Georges, who has hoped that Pezzini would tell her the brutal truth.
Writer/director Xavier Giannoli (2006's charming The Singer, Superstar, etc) finds a nice balance between the humour and the pathos of Dumont's story. The film explores themes familiar to much of his work which has demonstrated his strong interest in the arts and music in particular. This is a lavishly mounted production and the period detail, costumes and settings all reek of authenticity. Giannoli and co-writer Marcia Romano capture the sense of optimism, the rise in art, fashion and culture that followed the war to end all wars. It has been beautifully shot by Belgian cinematographer Glynn Speeckaert (The Source, etc). The film features some music from the likes of Mozart and Handel, and is a treat for lovers of classical music.
Some scenes where Marguerite warbles horribly out of tune are hilarious and will reduce audiences to tears of laughter and guffaws of disbelief. A running joke throughout the film sees her husband's automobile manage to break down at the same spot, meaning that he usually misses Marguerite's performances.
The film is driven by Frot's impeccable performance that effectively captures her larger than life character's eccentricities, blind ambition and delusional nature, and especially her lack of pitch and rhythm. Marcon brings a slightly cold and distant quality to his performance as the long suffering but indulgent Georges. Fau is a stand out and brings some wonderful moments of comedy to the material as the frustrated faded opera singer.
Marguerite won four major Cesar Awards (the French equivalent of the Oscar) and has been a huge box office success back home. However, there seem to be a couple too many subplots and characters that go nowhere and unnecessarily pad out the film's running time.
★★★