Reviewed by GREG KING
Director: Charlotte Sieling
Stars: Trine Dyrholm, Morten Hee Andersen, Soren Malling, Jakob Ofteboro, Paul Blackthorne, Bjorn Floberg, Magnus Krepper.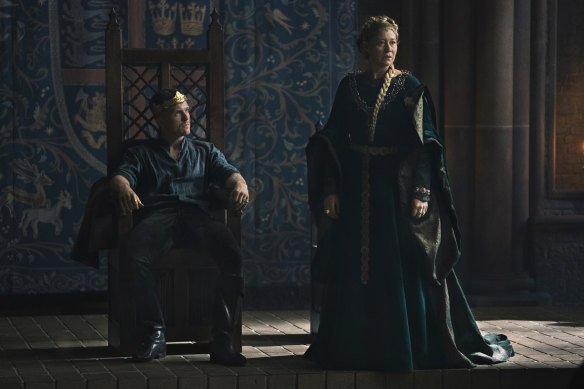 Something is rotten in the state of Denmark. Inspired by actual events this epic historical drama from Denmark set in the early 1400s is a drama of Shakespearean proportions with lots of court intrigue, betrayals, treachery.
Queen Margrete (Trine Dyrholm, from A Royal Affair, etc) has managed to unite Norway, Denmark and Sweden into a powerful alliance, known as the Kalmar Union, which she rules in conjunction with her adopted son Erik (Morten Hee Andersen, a tv actor in his biggest film role to date), because of some archaic rules that prevent her from ruling on her own. She takes guidance and advice from her trusted friend Peder Jensen Lodehat (Soren Malling, from the 2012 thriller A Hijacking, etc), the Bishop of Roskilde. Erik has just become engaged to Philippa, the daughter of England's King henry IV in the hopes of forming a powerful military alliance to protect themselves from their common enemy the Germans. Margrete is involved in negotiations with Henry's representative the suave English lord William Bourcier (Paul Blackthorne) concerning the proposed nuptials. 
But then machinations are afoot from enemies keen to destroy the fragile alliance and undermine her authority. The major threat comes from the surprise emergence of her son Olaf (Jakob Oftebro, from the 2012 Oscar nominated drama Kon-Tiki, etc) who has long thought to have died of the plague fifteen years earlier. There is plenty of court intrigues and suspense and political maneuvering as Margrete tries to work her way to the truth – is this really Olaf or is it a carefully coached impostor? And who is pulling the strings behind the scenes?
Margrete: Queen Of The North is one of the most expensive film productions to come from Denmark and its reputed 73 million kroner budget can be seen on the screen. This is a handsomely mounted and sumptuous looking production that has been beautifully shot by cinematographer Rasmus Videbaek (A Royal Affair, etc), and his use of a brownish colour palette adds to the period look. He captures the rugged beauty of the landscapes. The film was actually shot in the Czech Republic. There is some superb production design from Soren Schwartzberg that creates the impressive but forbidding and claustrophobic interiors of the castle, while Manon Rusussen's costumes are authentic.
The film has been written by Jesper Fink (Before The Frost, etc) and Maya Ilsoe, better known as television writer, who have drawn upon historical records about the supposed impostor to shape the film, and they have taken some liberties with the history for dramatic purposes. Director Charlotte Sieling is a veteran of television series including Homeland and The Bridge, and her handling of the material beefs up the intrigue.
Sieling has assembled a solid ensemble cast of Scandinavian actors to bring the characters to life. Dyrholm dominated proceedings with a superb performance that captures Margrete's strength but also her vulnerability as her maternal instincts wrestle with her sense of duty and loyalty to her country and she conveys her emotional dilemma. Malling is good as the scheming priest who has his own agenda.
Margrete: Queen Of The North opened the recent Scandinavian Film Festival here in Australia, and this epic historical drama is a visual spectacle that will please fans of the genre.
★★★☆