Reviewed by GREG KING
Director: Yelena Popovic
Stars: Aris Servetalis, Alexander Petrov.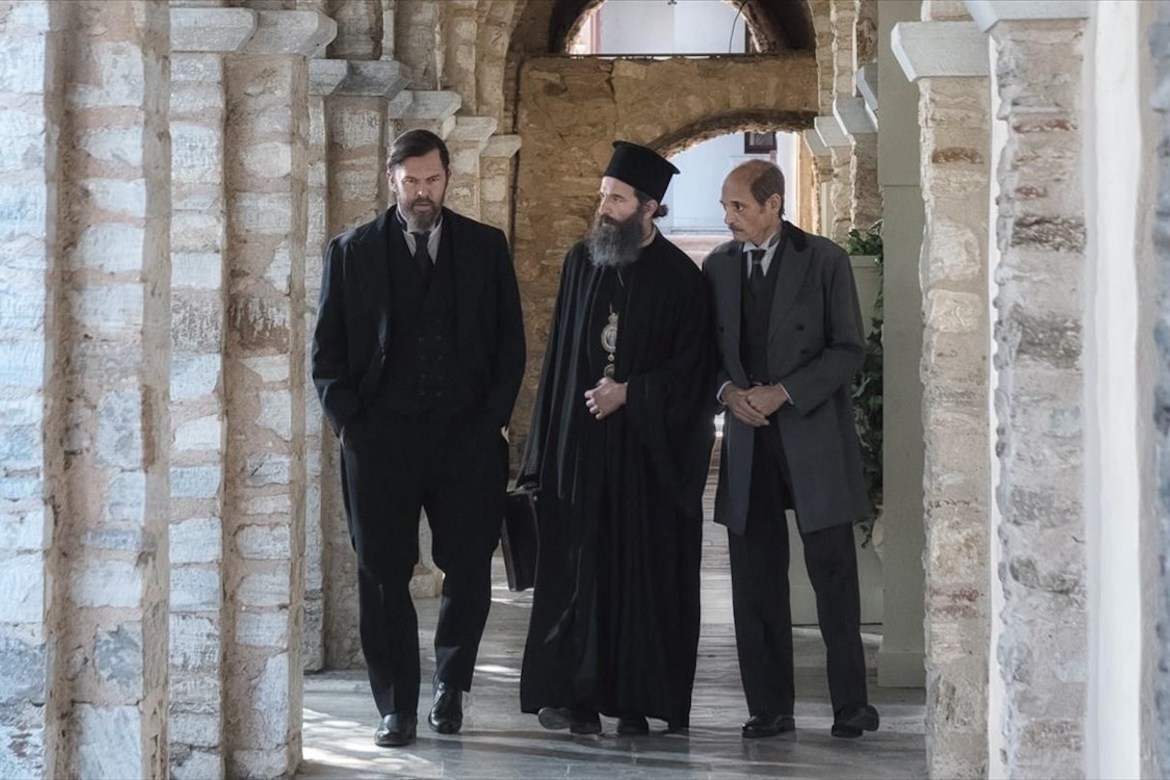 Faith based films rarely connect with a broader audience, and Man Of God is no exception. Not to be confused with the 2022 Nigerian film of the same name, this low key but deeply religious film from 2021 is a biopic of Saint Nektarios of Aegina, who is still revered to this day. But I found it be something of a chore to sit through and ultimately boring. 
The film depicts the trials and tribulations of Saint Nektarios, who was born Ansatasios Kephelas. For many years he served as a monk on the island of Chios in Greece. In the late 1800s he became the head bishop of Cairo, and he was a kind, gentle and understanding man of compassion. But his popularity amongst the people concerned many of his colleagues within the church who thought that he was planning to replace the Patriarch (the head of the Greek Orthodox Church). He was expelled by the church hierarchy and returned to Greece without any explanation, where he was dogged by the persistent rumours of scandal and malfeasance. But he never let these setbacks weaken his devotion to God.
He became head of a state-run high school for boys, and, with a bishop's blessing, he eventually established a monastery for nuns on the island of Aegina. But a mother of one of the nuns, believing the gossip about him, maliciously reported him to the local authorities for sexually abusing the girls in his care. An investigation cleared him of any wrongdoing. He was declared a saint of the Eastern Orthodox Church in 1961, and as the end credits begin to play out there is presented the written apology, issued in 1998, from the synod for its treatment and unjust punishment of Kephelas.
Man Of God is the sophomore feature film for Serbian writer/director Yelena Popovic, following her 2013 feature LA Superheroes. The film is quite didactic, and her direction is measured and deliberately slow paced. But there is a lack of context for the uninitiated which proves frustrating. This a Greek co-production with a mix of both English and Greek dialogue with subtitles.
The cinematography from Panagiotis Vasilakis is quite stark at times with a muted colour palette that seems to suit the material, and many of the early scenes seem to have been leeched of colour and are almost monochromatic. There is an evocative score from Zbigniew Preisner.
Aris Servetalis (from Alps, etc) brings a quiet dignity and stoic quality to his understated performance as the humble and devout man. An almost unrecogniseable Mickey Rourke has a small cameo towards the end of the film as a paralysed leper whose cure is recognised as Saint Nektarios' first miracle, and no doubt having his name prominently listed in the credits may draw some towards the film. Russian actor Alexander Petrov is good as Kostas, Nektarios' faithful assistant.
Man Of God is a film of limited appeal and is mainly for more devout audiences. 
★★