Reviewed by GREG KING
Director: Nora Ephron
Stars: John Travolta, Lisa Kudrow, Tim Roth, Ed O'Neill, Bill Pullman, Daryl Mitchell, Michael Weston, Michael Moore, Michael Rapaport.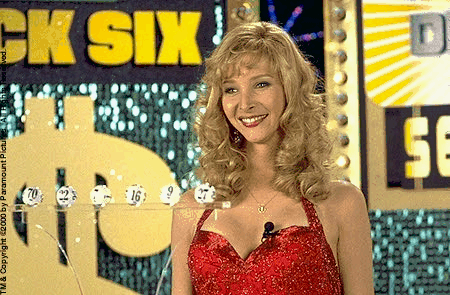 John Travolta bounces back after the dismal Battlefield Earth, a film so truly awful that it could have killed the career of a lesser star. In this comic crime caper he actually seems to be enjoying himself and he brings a more relaxed, easy going persona to the screen.
Travolta plays Russ Richards, Harrisburg's celebrity tv weatherman, who basks in his fame and the little perks, like his own parking spot at Denny's. But Richards is in deep financial trouble, as an unseasonably hot winter has meant disaster for his other business, the snow mobile dealership in town. In desperate need for money to prevent foreclosure of his business Russ turns to his friend Gig (Tim Roth), a strip club owner with some shady connections, for advice. Somewhat reluctantly he agrees to a scheme in which they will rig the local lottery, with assistance from Crystal (Lisa Kudrow), the seemingly dim-witted lotto ball girl. But before long, Russ finds that other people want their cut of the proceeds as well, and what seemed like a simple plan at first is quickly getting out of hand.
This black comedy about greed and murder is unusual territory for director Nora Ephron, better known for her enjoyable but light weight romantic comedies (Sleepless In Seattle, etc), but she handles the material with a brisk efficiency and demonstrates a flair for probing the darker side of man's nature. Lucky Numbers was inspired by the actual 1980 rigging of the Pennsylvania State Lottery and the ensuing scandal, although veteran tv writer Adam Resnick (the satirical The Larry Sanders Show, etc) takes numerous liberties with the premise for comical effect.
The ensemble cast is perfect, and they all seem to have enjoyed themselves immensely. Travolta is at his most charming and engaging, and even has that old twinkle back in his eye. In choosing her film roles, Friends star Kudrow often deliberately plays against the stereotype established by her character in the long running sitcom and plays more tarty, darker characters (The Opposite Of Sex, etc). At first, Crystal seems like the typical blonde bimbo, but she quickly proves to be a more ruthless character with a merciless streak a mile wide. Bill Pullman brings a nice world-weary quality to his performance as the deceptively laid back, disillusioned police officer. Michael Rapaport brings a nice edge of intensity to his role as Dale the Thug, a volatile but inept hit man who further complicates Richards' scheme.
Lucky Numbers is surprisingly enjoyable and very funny.
★★★