Reviewed by GREG KING
Director: Guillaume Canet
Stars: Francois Cluzet, Marion Cotillard, Benoit Magimel, Gilles Lellouche, Jean Dujardin, Laurent Lafitte, Valerie Bonneton, Pascale Arbillot, Anne Marivin, Louise Monot, Joel Dupuch, Hocine Merabet, Matthieu Chedid, Maxim Nucci.
Le Big Chill?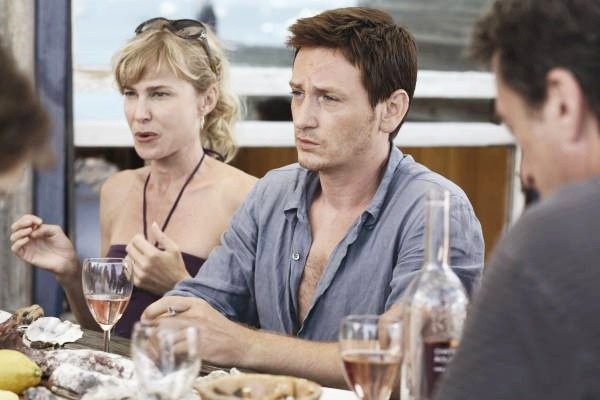 The third film from French writer/director Guillaume Canet (Tell No One, etc), Little White Lies is his most personal film to date. It deals with universal themes of relationships, the bonds of friendships, secrets and lies, and those little deceptions that we tell ourselves in order to hide our disappointment at the way our lives have turned out.
Every summer a group of friends gather at a beachfront house near Cap Ferret near Bordeaux to party and celebrate life. This year though one of their number Ludo (Jean Dujardin), the more flamboyant and outgoing of the group, is absent. He is lying in a coma in the intensive care unit of hospital following a horrific accident. The group decides to continue with their gathering, although they plan to cut it short so they can return to the city in time to help Ludo with his recovery. Ludo's injury briefly casts a pall over proceedings, but as the holiday progresses he is almost forgotten.
The luxurious house is owned by Max (Francois Cluzet), a wealthy but highly-strung and controlling restaurant owner, and his long-suffering and patient wife Vero (Valerie Bonneton). But Max's enjoyment of the holiday is tempered by his reaction to the intimate confession shared by his best friend and chiropractor Vincent (Benoit Magimel). Max is accompanied by his sexually frustrated wife Isabelle (Pascale Arbillot). Also along for the holiday are the recently jilted Antoine (Laurent Lafitte), who is still pining for his ex-girlfriend; the womanising Eric (Gilles Lellouche, from crime thriller Anthony Zimmer, etc); and Marie (Oscar winner Marion Cotillard, from Inception, etc), who is afraid to face her own fears.
But a number of personal secrets, intimate moments and hidden deceptions surface, and threaten to tear the group apart. Cue some intense soul searching, guilt, regrets, confessions, class issues, long suppressed resentments, and emotional crises. The oyster-farming Jean-Louis (played by real-life oyster farmer Joel Dupuch) acts as the group's conscience and moral compass.
Unfortunately not all of these dysfunctional characters are appealing or likeable; some are self-indulgent, narcissistic, and compulsive. Canet has assembled a solid ensemble cast to flesh out the disparate characters. Canet has worked with many of his cast previously and this brings credibility and warmth to the material, and it is easy to believe that this group has been friends for years. Of the female roles, only Cotillard registers strongly, and her performance is nicely nuanced and has real depth. The other women are given short shrift and relegated to the sidelines for much of the time. Cluzet brings an intensity and high-strung quality to his performance as Max.
Canet's screenplay is peppered with generous dollops of humour, romance, drama, and keen insights into the fragile dynamics of this group, and it echoes with a painful ring of truth. Little White Lies is reminiscent of The Big Chill (a big influence on this film), and other ensemble films about friendly reunions, like Kenneth Branagh's Peter's Friends, John Sayles' Return Of The Secaucus Seven, and even Adam Sandler's awful comedy Grown Ups, etc. Canet's direction is uneven, and while at times his presence seems unobtrusive, there are time when his direction is a little heavy handed. Some key scenes seem improvised. As with The Big Chill, the action is accompanied by some great 70's rock songs on the soundtrack – Creedence's Fortunate Son, etc – which will probably appeal to some audiences, although here they are often used inappropriately. Nina Simone's upbeat, almost reggae-like interpretation of My Way is used over a sombre funeral, and it almost undercuts the emotional punch of the scene.
However, at 154 minutes, the film is far too long, unwieldy, episodic, and self-indulgent. At least 30 minutes could have been cut from the film without diminishing its impact and emotional resonance. There is a sense of relief when it's over and you emerge again into daylight and head back to your own imperfect life.
★★★