Reviewed by GREG KING
Director: Ben Falcone
Stars: Melissa McCarthy, Molly Gordon, Debby Ryan, Jack Benward, Jacki Weaver, Stephen Root, Maya Rudolph, Matt Walsh, Chris Parnell, Julie Bowen, Christina Aguilera.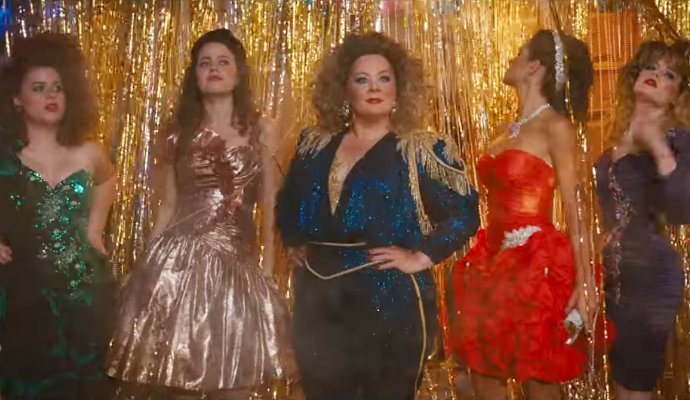 In 1986 comedian Rodney Dangerfield went Back To School for one of the better comedies of his career. Thirty years later, comic Melissa McCarthy goes back to school for this flat and largely unfunny and lifeless comedy.
Life Of The Party is the third collaboration between McCarthy and her writer/director husband Ben Falcone, and it follows the awful Tammy and the patchy and indulgent The Boss. McCarthy was so good with her breakout role in Bridesmaids, for which she was Oscar nominated, and while Spy was enjoyable enough she has struggled to find a genuinely and consistently funny crowd-pleasing comedy since then. Although they are successful at the box office, her recent comedies have been hit and miss, and she has often come across as coarse and abrasive.
Here she plays the gregarious, outgoing but annoying fortysomething Deanna, who has just dropped her daughter Maddie (Molly Gordon, from tv series Animal Kingdom, etc) off at college when her milquetoast husband (Matt Walsh, from Veep, etc) announces that he wants a divorce. Devastated by the news, Deanna decides to reenrol in college to finish the archaeology degree she abandoned twenty years ago when she fell pregnant. She shares the same classes and sorority as her daughter, who is not exactly enamoured with the idea.
Cue lots of the typical college campus comedy clichés – parties, sorority hijinks, mean girls, dance-offs, keg parties, and sexual hook-ups, and little in the way of actual study. Along the way Deanna (now known as Dee-Rock) dishes out some maternal advice to her sorority sisters and partakes in some epic parties and earns a formidable reputation on campus. She even finds romance with the handsome and much younger Jack (Luke Benward). And despite the initial awkwardness of having her mother so close on campus Maddie and Deanna slowly begin to bond. And Deanna enjoys her newfound freedom.
But very little of this is actually laugh out loud funny, despite the best efforts of McCarthy and her brash, larger than life and overwhelming personality. Her collaborations with Paul Feig have been very funny and used her talents to best effect. Maybe McCarthy and Falcone should stop making films together, or at least bring in another writer or director to bring a critical eye to reshape the material before the cameras roll. At an overly generous 105 minutes, Life Of The Party outstays its welcome, and there are many flat spots and awkward and uncomfortable moments.
Falcone and McCarthy have assembled a strong ensemble cast by calling in favours from their circle of friends, including her SNL comedy alumnus Maya Rudolph, Australia's Jacki Weaver, Stephen Root Chris Parnell, Modern Family's Julie Bowen, Disney princess Debby Ryan (recently seen in Riptide), with a cameo from Chistina Aguilera.
Your response to Life Of The Party will largely depend on whether you like McCarthy's comedic schtick or not.
★☆