Knock at the Cabin Reviewed by GREG KING
Director: M Night Shyamalan
Stars: Dave Bautista, Ben Aldridge, Jonathan Groff, Nikki Amuka Bird, Abby Quinn, Rupert Grint, Kristen Cui.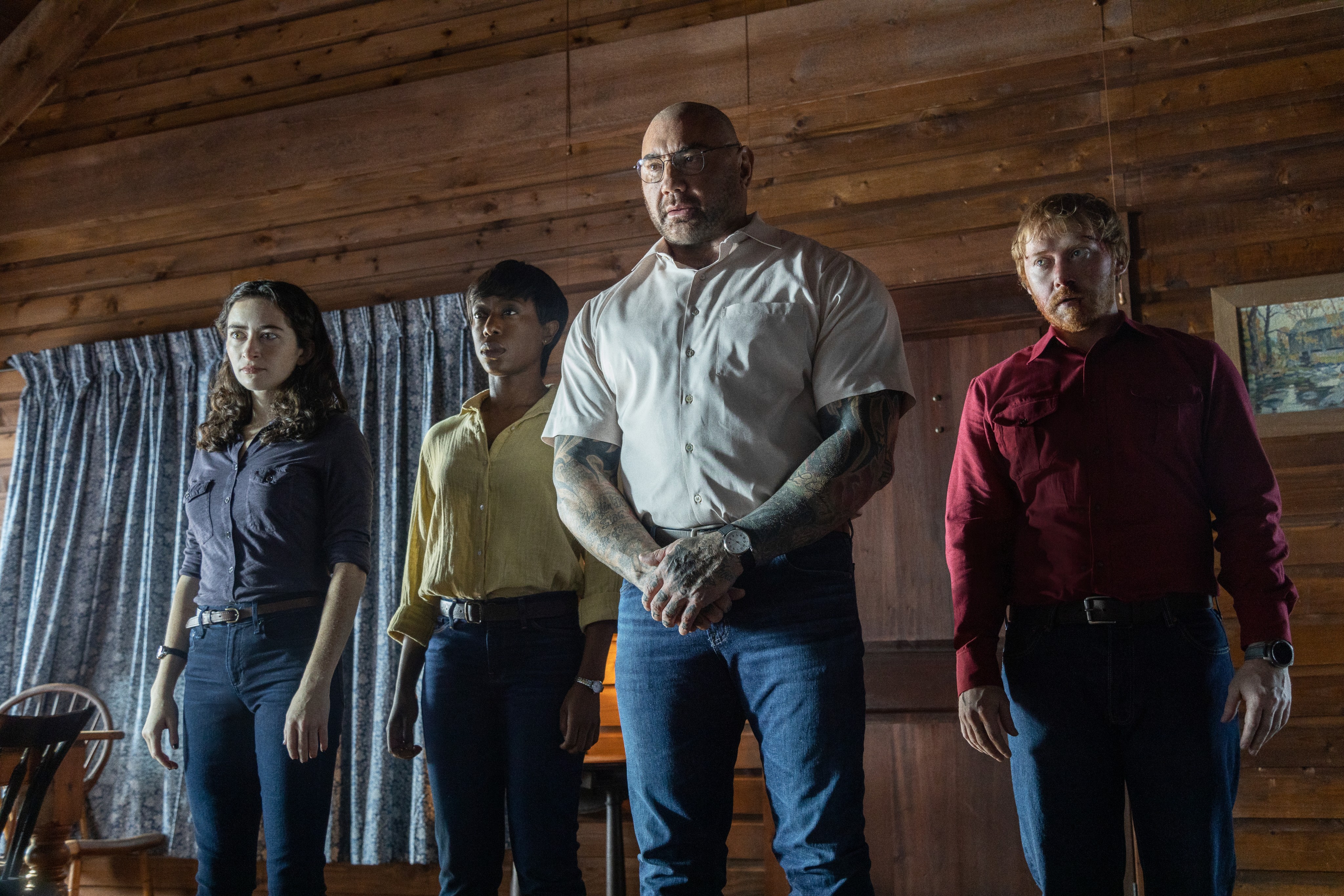 M Night Shyamalan announced himself as a filmmaker to watch with 1999's atmospheric psychological thriller The Sixth Sense and its unexpected twist at the end, and these twists have since become one of his signature touches in nearly all of his films. Since then, many of his films have been disappointing and overladen with weird touches and disquieting supernatural elements, with his 2013 sci-fi film After Earth arguably being the nadir of his career. Another case in point was his last feature Old, in which a group of tourists on an isolated beach aged rapidly over the course of one day. But that film and its ambiguous ending left audiences a little cold and disappointed. Thankfully his latest effort is a little more conventional although it does feature some of his typical elements. And Knock At The Cabin is also arguably his best film for several years.
When the film opens we meet gay couple Andrew (Ben Aldridge, who is also seen in the gay romantic drama Spoiler Alert) and Eric (Jonathan Groff, from Frozen, the Broadway production of Hamilton, etc) are holidaying at a picturesque and remote cabin in the woods with their precocious adopted daughter Wen (Kristen Cui).
But then their holiday is interrupted by the arrival of four strangers wielding makeshift weapons. They are led by Leonard (Dave Bautista, from Guardians Of The Galaxy, etc), a mild-mannered schoolteacher, who apologises for what is about to happen next. Leonard initially befriends Wen who is trapping grasshoppers in the woods outside the cabin. He is accompanied by three other people – Sabrina (Nikki Amuka Bird, from Old, etc), a nurse; Adriane (Abby Quinn), who works as a cook at a prestigious restaurant in Washington DC; and the enigmatic Redmond (Rupert Grint, better known as Ron Weasley from the Harry Potter series).
The quartet have been brought together by a shared vision of the Apocalypse, and they declare that Andrew and Eric will have to choose a member of their family to sacrifice in order to prevent the end of the world. Andrew and Eric are tied to chairs while Leonard delivers his dire warnings about the forthcoming end of the world. On a tv set in the background apocalyptic images play out of earthquakes, tidal waves and even aeroplanes falling from the skies.
Having been the victim of an unprovoked gay bashing several years earlier Andrew is understandably skeptical and suspicious of Leonard's motives. The relationship between Andrew and Eric is fleshed out through a series of flashbacks. It is nice to see a positive depiction of a gay couple in the movies.
This is not your typical home invasion thriller though, but Shyamalan still manages to suffuse the material with a dark and creepy edge. As anyone who has seen horror movies in the last decade knows, remote cabins and woods are not the safest of places to be as bad things often happen there. This psychological thriller is based on the 2018 novel The Cabin At The End Of The World written by Paul Tremblay, but Shyamalan and his co-writers Steve Desmond and Michael Sharman (their first feature script) have wrought a number of changes to the source, including the ending. However, the film effectively taps into the prevalent belief in conspiracy theories, and it also plays to the audience's fears as we emerge from two years of lockdowns and pandemic restrictions. It contains many of Shyamalan's usual weird and unsettling touches and subtle religious imagery. Much of the dialogue is delivered in that dry droll fashion that seems unnecessarily mannered.
This is a lean, mean production and most of the action is confined to the interior of the cabin, giving the material a claustrophobic feel. Shyamalan and his cinematographers Jarin Blaschke (best known for his collaborations with director Robert Eggers) and Lowell A Meyer work in closeup for a lot of the time, which brings a claustrophobic tension to the material. They have shot on 35mm, and they also use a hyper saturated colour palette that gives the film an otherworldly look reminiscent of horror thrillers of the 90s. The violence is downplayed, and much of it happens off screen as the camera shies away from the gory moments, which somehow adds to the uneasy and disturbing atmosphere.
Bautista usually has an impressive brawny physical presence, but here Shyamalan teases a more layered and compassionate performance from him, allowing him to demonstrate a broader range than usual. He is friendly and charming on the surface, but there is also an edgy messianic quality to him and his dire warnings, and he exudes menace as a man driven by strange forces to act in such a way. Aldridge and Groff are great in their roles, conveying a range of emotional responses from fear to uncertainty to resolve. Cui is the weak link in the small cast with her performance, which I found shrill and grating.
Knock At The Cabin is for the most part an engrossing and claustrophobic thriller that exerts a strong grip on the audience for most of its running time. This is the best thing Shyamalan has done in years and should go a long way towards winning back some of the audience that the filmmaker has lost over the past couple of years.
★★★☆