Reviewed by GREG KING
Director: Nick Cassavetes
Stars: Denzel Washington, Robert Duvall, James Woods, Daniel E Smith, Kimberly Elise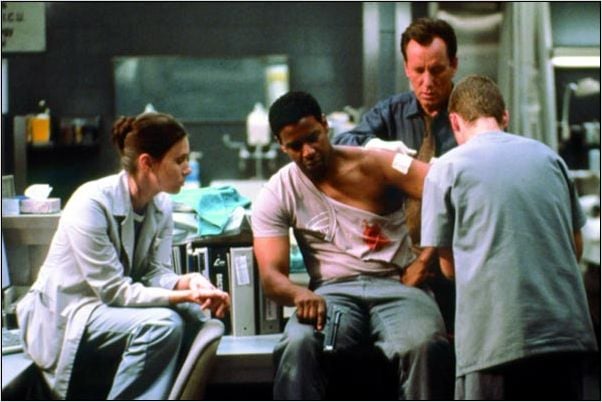 After his triumphant Academy Award winning performance cast against type as a corrupt LAPD cop in the otherwise disappointing Training Day, Denzel Washington returns to familiar territory as the decent upright citizen audiences will cheer for in Nick Cassavetes' hostage drama. Washington plays John Quincy Archibald, an honest, deeply religious, unskilled factory worker struggling to keep his family afloat despite the constant bills that have to be paid.
But when his young son Mikey (Daniel E Smith) falls ill and desperately needs a heart transplant to survive, John himself pushed to the limits by an intransigent and cold bureaucracy that politely but firmly refuses to help. With insufficient health insurance, John is told that he will not be able to afford the prohibitively expensive surgery necessary to save his son. In desperation John takes over the emergency room of the hospital, holding several people hostage, demanding that his son be given the vital operation.
John Q is reminiscent of Sidney Lumet's fabulous Dog Day Afternoon, as he becomes something of a cause celebre throughout the city. Eventually even his hostages become sympathetic towards him and his plight, as do the hordes of onlookers who have gathered outside to cheer him on and jeer the efforts of the police to bring the siege to a quick end. John Q is, for the most part, a suspenseful and compelling drama even if it does tend to wear its heart on its sleeve when depicting the struggle of the underdog against a heartless system.
There are some welcome injections of humour into proceedings, and writer/director Cassavetes (son of the late John Cassavetes) keeps the film moving along at a crisp pace.
The film gains much of its credibility from the solid presence of the always dependable Washington, who brings his innate sense of dignity, integrity and compassion to the role. He is ably supported by a strong cast that includes an unusually restrained James Woods as a heart surgeon, Robert Duvall full of his usual mannerisms as a police hostage negotiator who finds himself sympathetic towards Archibald's plight, and Kimberly Elise who emotes for all she's worth as Archibald's wife.
★★★☆