Reviewed by GREG KING
Director: Clint Eastwood
Stars: Johnny Lloyd Young, Vincent Piazza, Erich Bergen, Michael Lomenda, Christopher Walken, Mike Doyle, Joey Russell, Steve Schrippa, Donnie Kehr, Barry Livingston, Freya Tingley, Renee Marino.
"I'm gonna be as big as Sinatra," a young Frank Valli boasts to Mary, who becomes his first wife. And he did become famous as the front man for The Four Seasons, a band from New Jersey that hit it big in the 60s with hits like Sherry and Big Girls Don't Cry.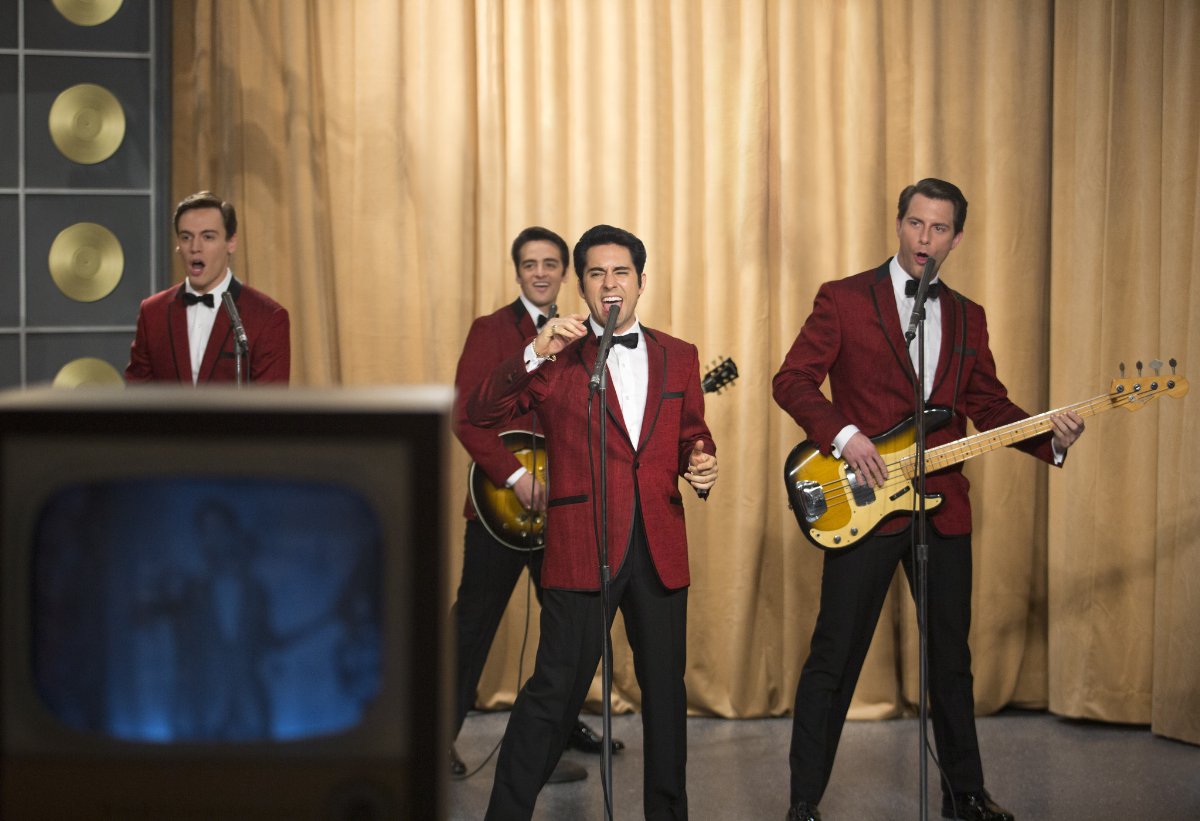 While their hits may be familiar from classic hits radio, the backstory of the band may not be quite as well known. This big screen adaptation of the smash hit play is about the music and the story behind the music. The rise and fall of The Four Seasons forms the narrative thread of Jersey Boys, the hit stage musical from 2005, written by Marshall Brickman (Annie Hall, etc) and Rick Elice, which, like Mamma Mia! before it is another jukebox musical that weaves the big hits throughout a central narrative.
Frankie Costellucio (Johnny Lloyd Young) and Tommy DeVito (Vincent Piazza) were close friends and teen delinquents from a rough New Jersey neighbourhood who had a few brushes with the law. While Tommy served time in prison, Frankie was let off with a warning because of his age. At that time there were only three ways to make it out of the neighbourhood – run off and join the army and maybe die for your country, join the mob, or become rich and famous. And the easiest way to become rich and famous was through music, if you were talented enough.
Costellucio changed his name to Valli (because he is Italian it had to end in a vowel, he is told). He had the voice of an angel, but DeVito was the driving force behind the band, and for a long time they struggled to breakthrough. DeVito was frustrated with the band being relegated to the role of backup singers for other artists. It was only after they were introduced to talented songwriter Bob Gaudio (Erich Bergen) by none other than a young Joe Pesci (played by Joey Russell) that something clicked. Gaudio wrote the songs, and under the guidance of flamboyant producer Bob Crewe (Mike Doyle, camping it up beautifully) they produced hit after hit.
De Vito was a volatile sort who could never quite escape his troubled past. Although he was a good musician and had talent and ambition, he was never really interested in the band, acknowledges Valli in a moment of clarity. It was De Vito's impetuous actions, his jealousy of the growing friendship between Valli and Gaudio, and his out of control gambling debts that caused tensions within the band and ultimately led to their demise while they were on top of the music world. Valli tried to embark on a solo career with Gaudio still writing songs for him, including the hit I Can't Take My Eyes Off You. After the split the band never performed together again until they were inducted into the Rock And Roll Hall of Fame in 1990.
All of the hits are here, from Sherry through to the more rocking Oh What A Night. And even if you are not a big fan of the band, you will probably still find yourself tapping your feet by then end!
The director is the Oscar winning Clint Eastwood (Unforgiven, Million Dollar Baby, etc), who was toying with a remake of A Star Is Born when the project was offered to him, when Jon Favreau, who was originally tipped to direct, declined. Eastwood tries to inject a note of realism into the material to separate it from the artificiality of its stage origins. But as with the stage production, the film occasionally breaks the fourth wall, with various characters directly addressing the audience to give their perspective on events.
The film feels a little laboured and ponderous at times, and there are patches when it almost crawls to a halt. Eastwood was probably the wrong director for this material. Eastwood has always been a more classical director, and he is more attuned to the rhythms of jazz music rather than the exuberance and energy of rock and pop. He previously directed Bird, the marvelous and insightful biopic of saxophone great Charlie Parker, which won Forest Whitaker a Best Actor award at Cannes.
Jersey Boys probably required a different director, one who could bring a bit more pizazz, energy and intensity to the material, someone like Martin Scorsese who does have a strong feel for rock music and how to use it, or even Tom Hooper, who brought the juggernaut that was Les Miserables to the screen. Maybe Eastwood was a bit hamstrung by the constraints of bringing the stage show to the screen. Brickman and Elice's script remains reasonably faithful to the original stage production, giving Eastwood little leeway to open it up. The stage show worked because audiences could get up in the aisles and dance along to the hits.
Eastwood always has a strong focus on story and character, and this has been evident in the films he has made as a director. He shoots in sequence and has always brought his films in on time and under budget, which is why he has the freedom to choose different genres and subject matter for his films. He is a good story teller, but his direction here is a bit languid. It is only during the end credit sequence that the film seems to come alive with a big musical number.
Jersey Boys doesn't shy away from exploring some of the darker edges and pitfalls of fame, as it looks at the links between the music scene and the criminal underworld. The backstory delves into the life of petty crime that drove DeVito, but the film also extensively explores Valli's life and the personal tragedies that struck him. However, as Gaudio and Valli are executive producers of the film, one has to wonder how much of the story has been sanitised for public consumption.
But Eastwood has cast astutely, using many veterans from the various stage incarnations in the roles they played. They are familiar and comfortable with the roles. Young is a Tony Award winner for his role in the original Broadway production, and he captures Valli's distinctive vocal style perfectly. But his background as a theatre actor and his lack of film experience occasionally shows through. It is only when he is singing that he seems to come alive. Michael Lomenda makes his film debut here in the role of guitarist Nick Massi, probably the least well known member of the band. Bergen, who was fired from the Las Vegas production of the show, reprises his role of the talented songwriter Gaudio.
The only cast member who didn't appear in the stage version of Jersey Boys was Piazza (best known for playing Lucky Luciano in HBO tv series Boardwalk Empire), who is great as the volatile and erratic DeVito and he brings an energy and intense edge to his performance. Christopher Walken appears as Angelo "Gyp" DeCarlo, a softhearted gangster who tears up every time he hears Valli's golden voice, and he brings a touch of authority to his role. But this is a much more restrained performance from the veteran known for playing sinister types and volatile gangsters.
And Eastwood himself contributes a brief Hitchcock-like cameo via a glimpse of himself in an old episode of Rawhide.
Eastwood certainly has an eye for authentic period detail, and he captures the look and tone of the period with cars and costumes, and the presence of people like Ed Sullivan. Regular cinematographer Tom Stern provides a suitably desaturated aesthetic, and his washed out colour palette perfectly captures the era.
But despite the talent involved in bringing Jersey Boys to the screen, this musical falls a little flat and seems a little bland at times. Jersey Boys is Eastwood's 38th feature as a director, but it is far from his best work.
★★★