Reviewed by GREG KING
Director: Isabel Coixet
Stars: Timothy Spall, Sarita Chadboury, Carmen Machi.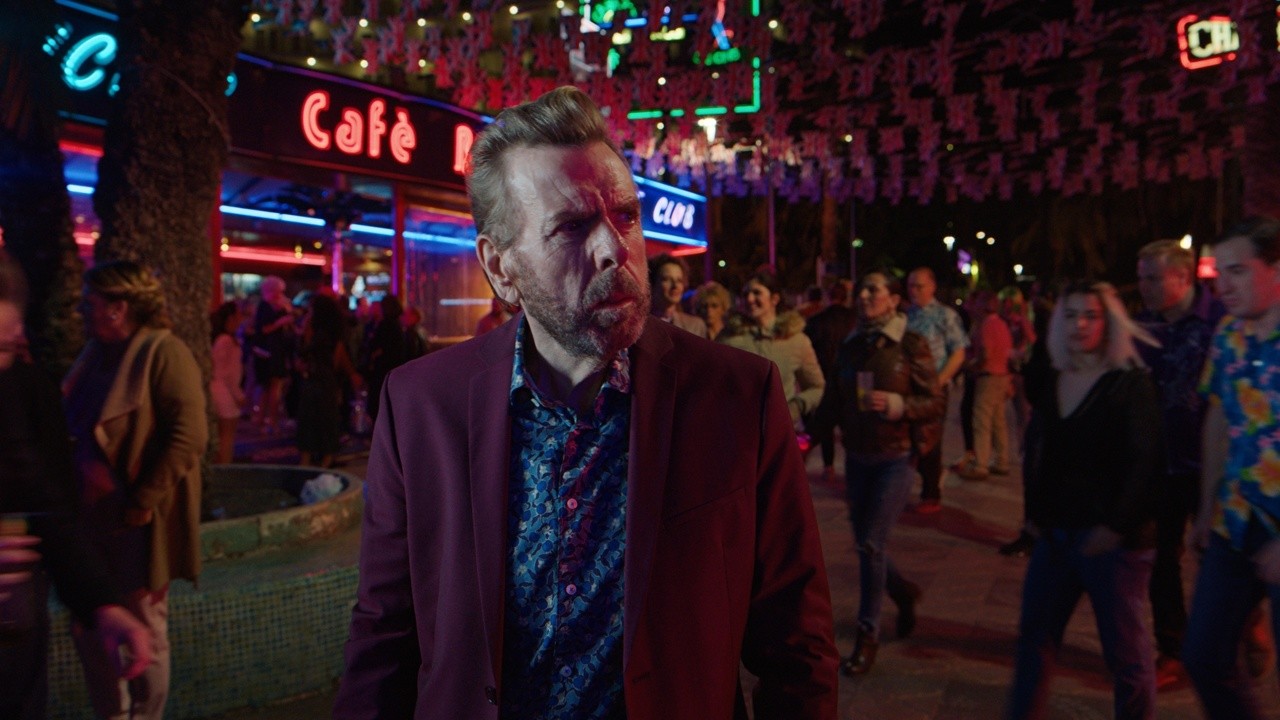 Peter Riordan (the ubiquitous Timothy Spall) is a long time employee of the We Bank in Manchester. He is a lonely but kindly man who often goes out of his way to help people in need, which doesn't sit well with his indifferent and lazy boss. Peter has grown disillusioned with the bank's practices and its lack of compassion towards its longtime customers who may have defaulted on a loan through no fault of their own. When he is given early retirement he reluctantly takes the payout and decides to head off to Spain to catch up with his brother Daniel, whom he hasn't seen for years. Arriving at his brother's luxurious high rise apartment in the sun burnished coastal town of Benidorm he is surprised to learn that Daniel has not been seen for several days. Rumours suggest he has gone off to Africa, but Peter is not convinced.  
Peter learns that Daniel owns a nightclub in Benidorm and visits the place to see if he can learn anything more about his brother's disappearance. He discovers a burlesque where singers and dancers deliver erotic performances for the tourists. There he meets Alex (Sarita Choudbury, from A Hologram For The King, etc), a sultry singer who goes by the stage name of Pearl. She has some dark secrets from her past. He also approaches Marta (Carmen Machi, a regular in the films of Almodovar), the local police officer and discovers that lots of people disappear every year in Benidorm. An unexpected friendship develops between Peter and Alex, and she accompanies him as he follows a couple of clues. He learns that Peter was involved in a dodgy investment opportunity and when he visits the construction site he finds it abandoned with the buildings only half completed since the company went bankrupt. Peter uncovers the seedier criminal underbelly of this tourist town.
An English/Spanish co-production, It Snows In Benidorm has been written and directed by Isabel Coixet (The Bookshop, etc). This is a languidly paced, slow burn mystery that lacks any real sense of threat or menace, and unfortunately it leaves many questions unanswered. The film deals with the search for identity and connection, but the ending is vague and unsatisfying. However, we get a nice sense of place as we get to see some of the stunning architecture of Benidorm, and some stunning vistas of the city courtesy of cinematographer Jean-Claude Larrieu (who also shot Coixet's The Bookshop).
Benidorm seems like an oasis of drunken debauchery for English expats and holiday makers, and a place where the elderly go to live out their lives in hedonistic splendour in their twilight years. In olden days Benidorm used to be a fishing village, and it was one of the favourite holiday haunts for the poet Sylvia Plath. Another quirky touch tells us that Peter's hobby is the weather, as it is a way to feel that there is always something happening even in his still and rather dull life. Each of the twelve chapters is introduced with a brief weather forecast which often foreshadows the dramatic events.
Spall's hangdog expression and slouched posture is a perfect fit for Peter, and he delivers a solid and understated performance. He is a dour cynical character, although occasionally a sly smile makes its way across his weathered countenance. Chadboury is also strong in her supporting role, while Machi's character remains a little underwritten.
It Snows In Benidorm is rich in atmosphere but low on drama. The meaning behind the enigmatic title becomes clear at the end.
★★★