Reviewed by GREG KING
Director: James Wan
Stars: Patrick Wilson, Rose Byrne, Lin Shaye, Ty Simpkins, Barbara Hershey, Angus Sampson, Leigh Whannell.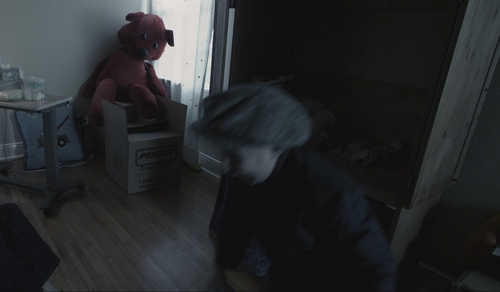 Aussie film making duo of Leigh Whannell and James Wan (who met at RMIT) are best known for giving us the lucrative torture porn franchise Saw. Their 2007 collaboration, the low budget Dead Silence, virtually disappeared without a trace. The pair has reunited for Insidious, a variation on the classic haunted house story that uses many of the expected hoary cliches of the genre to generate an atmosphere of mounting dread.
Insidious starts off promisingly enough, but the surreal climax degenerates into something rather messy and laughable. Schoolteacher Josh (Patrick Wilson) and Renai Lambert (Rose Byrne) move into a new house with their three children, but soon find their home disturbed by strange noises, moving objects and things that go bump in the night. Then their nine year old son Dalton (Ty Simpkins) falls into a strange coma. Even after they move house, the strange phenomena follow them.
Josh's mother (Barbara Hershey) seems to know something about these events, and she calls in psychic ghost buster Elise (Lin Shaye). She announces that it is not the house that is haunted, but their son. His soul has been taken by malevolent forces, and Josh has to enter frightening shadow world known as the further to try and rescue him. Cue lots of eerie visuals, strange creatures, a spooky soundscape, and haunting discordant music, including Tiny Tim's signature tune Tiptoe Through The Tulips.
At first Insidious comes across as yet another haunted house story in the vein of Poltergeist or The Amityville Horror or even the more recent Paranormal Activity, albeit with a script and decent production values. It's no accident that Paranormal Activity director Oren Peli is aboard as one of the producers, although some of the visuals are more reminiscent of David Lynch than anything else.
Wan's direction here is much more restrained than in Saw, and has a more tongue-in-cheek quality, although there are a few moments that provide genuine shocks. However, Insidious ultimately lacks that gritty, disturbing edge of some of the better Asian-produced horror films. Wan also stretches his small budget effectively to give the film the look and feel of a big budget project.
Angus Sampson and Whannell himself bring some comic relief to proceedings as Elise's incompetent sidekicks. Hershey, who appeared in the haunting 1982 supernatural drama The Entity, is underused here in a fairly thankless role. But Byrne and Wilson are effective in their roles as the couple whose relationship is strained due to the supernatural events. Byrne in particular brings a vulnerability to her performance, while Wilson is perfectly cold and distant.
★★★