Reviewed by GREG KING
Director: Jon M Chu
Stars: Anthony Ramos, Leslie Grace, Jimmy Smits, Corey Hawkins, Gregory Diaz IV, Olga Merediz, Melissa Barrera, Daphne Rubin-Vega, Stephanie Beatriz, Dascha Polanco, Chris Jackson.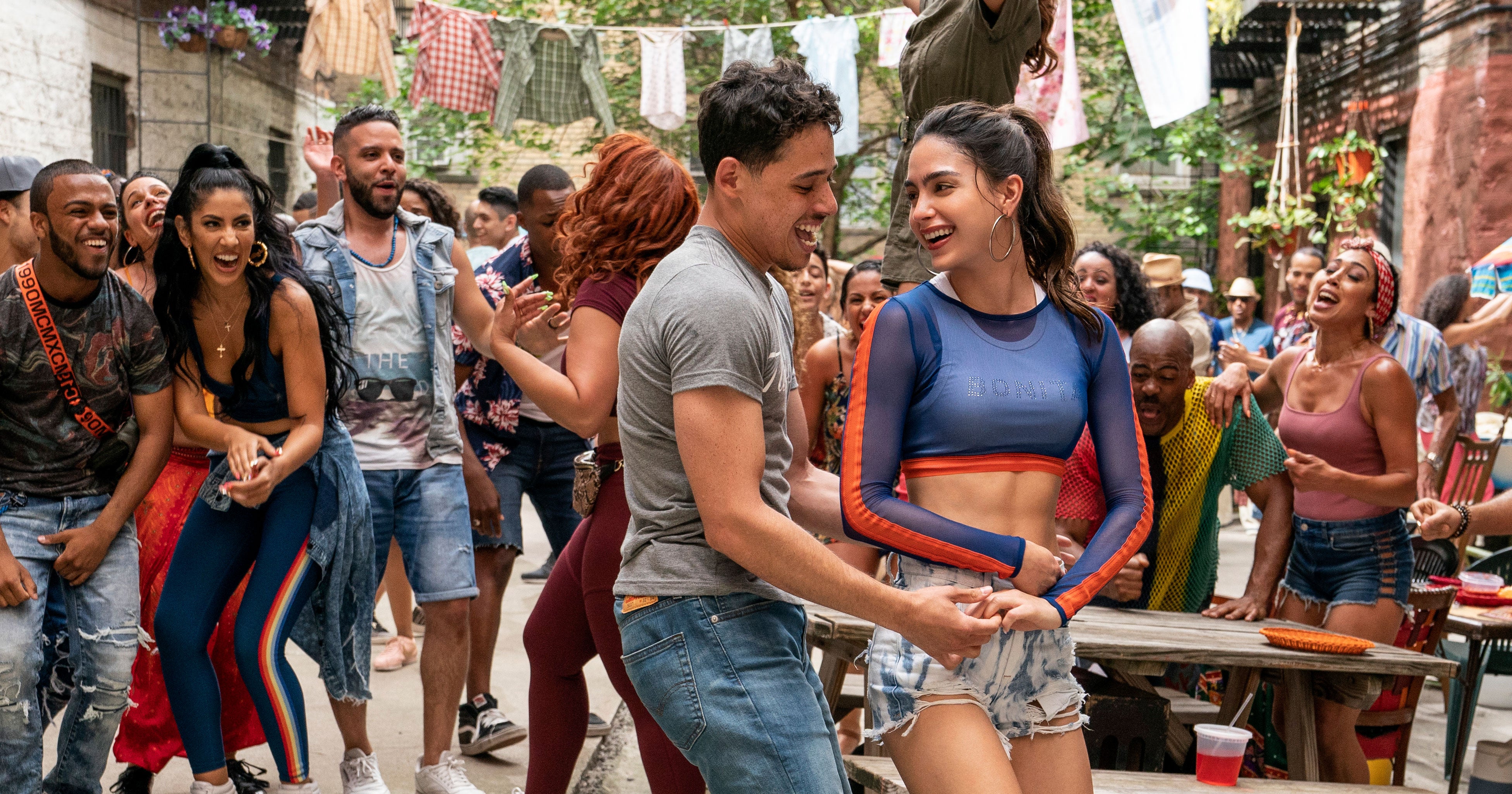 Before Steven Spielberg's lavish remake of the multi-Oscar winning West Side Story hits our screens we get this uplifting and hopeful musical set in a vibrant, multi-cultural and diverse area of New York that explores the immigrant experience of a generation of Latino migrants and their hopes and dreams and struggles. 
Long before he gave us the Pulitzer and Tony award winning Broadway musical Hamilton, Lin-Manuel Miranda also created In The Heights, a musical set in the largely Dominican area of northern New York City, an area which is slowly losing its distinctive character due to gentrification, redevelopment and people leaving for other opportunities. This is a tight knit multi-cultural community and its inhabitants all want to live out the great American Dream. The film's action takes place over the course of three days before a massive three-day blackout hits the area.
First staged on Broadway in 2008, the Tony award winning In The Heights was the first musical written by Miranda, and has had something of a troubled journey to the screen. Miranda grew up in the area so he has an intimate knowledge of the streets, the sights and smells, its mix of accents and rich culture and the various characters that inhabit the film. He infuses the material with insights and a sense of passion and understanding, and the film not only celebrates this small colourful barrio but it pays homage to the classic Hollywood and Broadway musicals of yesteryear.
Our guide into this community is Usnavi (played here by a charismatic Anthony Ramos, from the stage production of Hamilton, A Star Is Born, and the recent Liam Neeson action film Honest Thief, etc), who runs a small corner bodega along with his eager young cousin Sonny (Gregory Diaz IV, from the theatrical production of Matilda, etc), an undocumented alien. Usnavihas dreams of saving up enough money to return to Puerto Rica and reopen the small bar run by his father. He lives with his abuelo Claudia (Olga Merediz, reprising her role from the Broadway production), who is something of a surrogate grandmother for much of the neighbourhood.
There is also Nina (Leslie Grace), a childhood friend who returns to the neighbourhood after dropping out of college. Her father Kevin (Jimmy Smits) who runs a mini-cab business, made enormous sacrifices to provide her with opportunities he never had, is understandably upset by her decision. Usnavi's girlfriend Vanessa (Melissa Barrera) works in a local beauty salon but has dreams of working in the fashion industry. And there's also a bit of drama surrounding the owner of a successful lottery ticket sold in Usnavi's store.
Miranda and Quiara Alegria Hudes have adapted their own musical for the screen and have tweaked it to make it more cinematic, cutting out a few songs along the way, and making it more relevant for contemporary audiences. The film has been directed by Jon M Chu (Crazy Rich Asians, etc), and he brings plenty of energy to the material. Not surprising since he helmed a couple of Step Up movies. The film was shot largely on location and Alice Brooks's camera whirls in and out amongst the characters and takes us onto the streets, giving it a more authentic feel and palpable sense of place, in the process making the neighbourhood itself another character. The superb costumes from Mitchell Travers also further add to this feel of authenticity.
The score from Miranda and his regular collaborators Alex Lacamoire and Bill Sherman features a mix of rap, hip hop and R&B, all delivered in that usual talking style of singing common to many stage musicals, but unfortunately there is not a stand out show stopper amongst the lot. There are also a couple of colourful and superbly choreographed dance sequences, ourtesy of Christopher Scott, the highlight of which is a stunningly synchronised number set in the local swimming pool during a sweltering afternoon that recalls the Busby Berkeley musicals.
In The Heights is essentially an ensemble piece, but the standout is Ramos, who brings plenty of energy and charm and charisma to his performance as Usnavi. Miranda (who played Usnavi in the original Broadway production) has a small role here as the owner of a piragua stand selling cold confections, and his rivalry with a Mr Softie ice cream van provides some comic relief.
The bright colourful classic Hollywood musical is dead, long live the Hollywood musical.  
★★★★