Reviewed by GREG KING
Director: Vera Farmiga
Stars: Vera Farmiga, Boyd Holbrook, Nina Ariadna, Dagmara Dominczyk, John Hawkes, Joshua Leonard, Taissa Farmiga.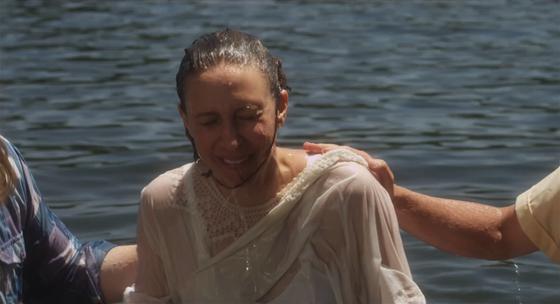 Vera Farmiga (from The Departed, Up In The Air, etc) makes her directorial debut with this intimate but slow moving drama about religion, life, love, spiritual enlightenment and a crisis of faith. The film is based on the best selling memoir This Dark World, written by Carolyn B Spriggs.
Farmiga plays the deeply devout Corinne Walker, who struggles with her religious beliefs over the course of three decades.
In the 60's a young Corinne travels with a rock band. She becomes pregnant and marries the guitarist Ethan (Boyd Holbrook). But after a narrow escape following a bus crash she turns to religion. She and her husband Ethan experience a rebirth of sorts, and move into a community of evangelical Christians, where he trades rock'n'roll for spiritual music. Life in this intensely religious community follows a fairly regimented routine, which involves them sitting around singing hymns and religious songs, praising the lord, and undergoing ritual baptism.
Corinne's troubled drug-taking non-believing sister Wendy (Nina Arianda) calls into question her devotion, which puts a further strain on her relationship with Ethan. The final event that shakes up Corinne's faith is when her free spirited friend Annika (Dagmara Dominczyk, from Keeping The Faith, They, etc) is struck down with a brain tumour and ends up in a coma.
Eventually Corinne begins to question her commitment to the strictures of this close knit almost paternalistic community and her belief in a God that doesn't seem to exist. She slowly withdraws from both the community and her husband (played as an adult by Joshua Leonard, from The Blair Witch Project). She also finds herself at odds with her father CW (John Hawkes, from Winter's Bone, etc), the community's charismatic leader.
Farmiga delivers a strong and sensitive performance in which a lot of her emotions are internalised and kept beneath the surface. In a neat bit of casting, Farmiga's younger sister Taissa plays Corinne as an impressionable teenager, who first feels her disillusionment with the early promises of her church. Dominczyk brings an earthy quality to her performance as Annika, whose lively demeanour provides a contrast to the dour lives of others. Hawkes gives a solid performance as Corinne's troubled father, although he is given little to do.
Farmiga's deliberately measured and meandering pace and understated direction make for a fairly dour and downbeat experience. There's nothing flashy or visually exciting about her straightforward handling of the material. Higher Ground deals with some ambitious and challenging themes, but many in the audience will find it difficult to relate to its themes and its characters. I found the film less than compelling and found it hard to relate to the subject matter.
There's something repetitive, tedious and almost stifling about this examination of the devout lifestyle of this community. Part of the problem lies with Tim Metcalfe's prosaic adaptation of Sprigg's book, co-written with the author herself in what turns out to have been a misjudgment. In trying to remain faithful to the source, the film slavishly packs in lots of incident and thus overwhelms the audience. It would have been better for Spriggs to have remained detached from the adaptation.
Higher Ground is a solid debut behind the camera for Farmiga, but one hopes that for her next film she chooses subject matter that is a bit more engrossing, dynamic and exciting.