Reviewed by GREG KING
Director: Carl Franklin
Stars: Ashley Judd, Jim Caviziel, Morgan Freeman, Bruce Davison, Adam Scott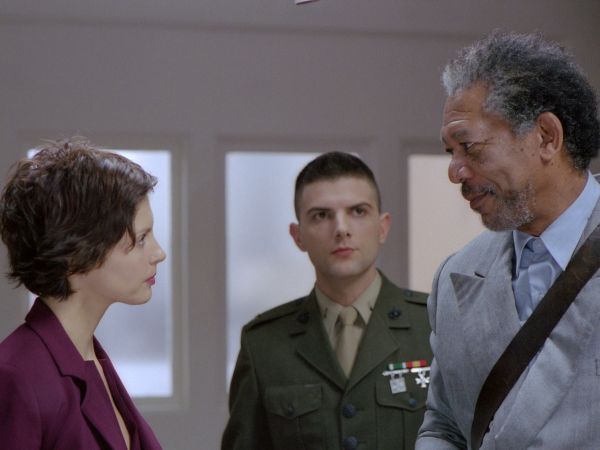 Ashley Judd and Morgan Freeman are reunited for the first time since the slick serial-killer thriller Kiss The Girls, and their easy-going rapport and familiarity lifts this gripping but occasionally cliched thriller.
Based on a best selling novel by Joseph Finder, High Crimes is a rather gripping suspense thriller and court room drama, with some red herrings and unexpected twists to keep the audience hooked, but ultimately it lacks the electric thrills and edge of the seat quality of their first teaming. The sometimes-muddled plot is also quite flawed, although the gaping holes only become obvious long after the final credits have rolled. It is also certainly highly critical of the military, and seems to go against the trend of recent films like The Last Castle, Black Hawk Down, etc, which were heavily weighted with patriotic undertones.
Claire Kubik (Judd) is a successful San Francisco attorney whose life is thrown into chaos when her husband Tom (Jim Caviezel, currently in the remake of The Count Of Monte Cristo) is arrested and charged with murder for his alleged role in a massacre of civilians in a village in El Salvador a decade earlier. This part of her husband's former life was kept secret from Claire, but she decides to stand by her man nonetheless. Tom protests his innocence and claims that he has been framed and is the victim of an elaborate high level cover-up designed to protect a high ranking general (a smug and smarmy Bruce Davison).
In dealing with military law procedures Claire is out of her depth, and the court appointed lawyer Lt Embry (Adam Scott) is young and hopelessly inexperienced. For help Claire turns to Charlie Grimes (Freeman), a disgraced former military attorney and recovering alcoholic who is eager for another chance to give the army a bloodied nose in the court room. But as the cover-up turns deadly and Claire's life is in danger, she is unsure how far she can trust Charlie.
Veteran director Carl Franklin (the superior thriller One False Move, etc) keeps the film moving at a reasonably fast pace and his slick direction keeps audiences engaged for the duration.
The two leads also lend the film a certain amount of credibility that distracts from the often muddled or implausible plotting. Following roles in films like Kiss The Girls and Double Jeopardy, Judd has established herself as a strong and credible heroine, and she again turns in a solid performance. Freeman's character is more flawed, but he again delivers a solid performance and brings his usual sense of dignity and decency to the role. The sexy Amanda Peet (the very ordinary comedies Evil Woman, Whipped, etc) is wasted in a rather meaningless role as Claire's younger, flighty sister.
Despite its obvious flaws though, High Crimes is quite enjoyable and will satisfy fans of the genre.
★★★