Reviewed by GREG KING
Director: Peter Chelsom
Stars: Simon Pegg, Rosamund Pike, Stellan Skarsgard, Toni Collette, Christopher Plummer, Jean Reno, Barry Atsma, Togo Igawa, Veronica Ferres, Ming Zhao.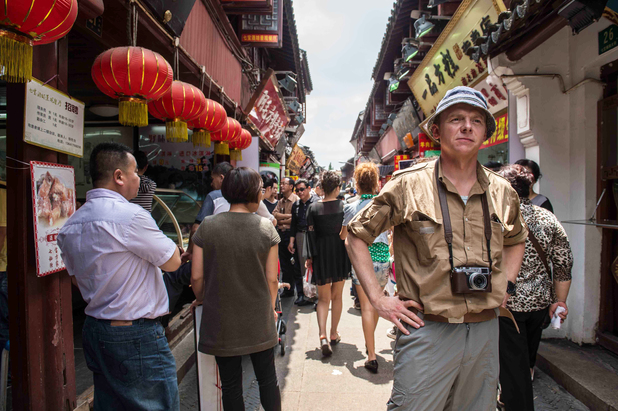 The title sounds like this should be a fanciful children's story, but this mix of comedy and drama is more adult in its themes. A German and Canadian co-production, Hector And The Search For Happiness is an adaptation of the novel written by French psychiatrist Francois Lelord.
It stars Simon Pegg as the eponymous hero, a psychiatrist who has grown disillusioned and disconnected from his patients. Undergoing something of an existential crisis, Hector embarks on a round the world journey to discover what it is that makes people happy. He leaves behind his anxious girlfriend Clara (Rosamund Pike, who appeared with Pegg in the disappointing The World's End), who has kept his comfortable middle class life on an orderly keel by keeping everything organised.
Hector sets out to reconnect with two former old friends – Mike (Barry Atsma, from The Storm, etc), who now runs a small medical clinic in Africa, and former girlfriend Agnes (Toni Collette), who lives in Los Angeles. Along the way he also meets Edward (Stellan Skarsgard), a wealthy businessman who introduces him to the many pleasures of cosmopolitan Shanghai; an African woman and her welcoming family; Diego, a powerful crime boss (Jean Reno), whom he helps reconnect with his conscience; and even undergoes a brain study for Coreman (Christopher Plummer), a professor and author who is doing some groundbreaking research into happiness.
During his travels, Hector jots down his observations in his little notebook, hoping to make sense of it all. He discovers that there are many different definitions of happiness, according to individual needs and beliefs, ranging from money to love to family, and through to being accepted for who you are.
Hector's journey of discovery is a little akin to that undertaken by Ben Stiller in the recent version of The Secret Life Of Walter Mitty or even Julia Roberts' search for the meaning of life and happiness in Eat Pray Love.
The director is Peter Chelsom, whose films like Hear My Voice, The Mighty and the remake of Shall We Dance all have great heart, emotional weight, and quirky little touches that set them apart from more bland mainstream fare. The film is a little uneven tonally, with its odd mix of comedy and drama. But sometimes the material is a little manipulative and relies a bit too much on coincidence. Nonetheless, Chelsom manages to suffuse Hector's search with a sense of hope and optimism. But he also injects some visual flourishes into the material, with Hector's scribblings writ large on the screen, and there are some cute animations.
Pegg is good and well cast as the overgrown manchild, and delivers one of his more earnest and sympathetic performances here, and he brings a childlike quality and enthusiasm to his role. But most of the cast are given little to do and their characters are largely colourless and one-dimensional creations. After the emotional roller coaster and sensation performance in the dark thriller Gone Girl it's a little dispiriting to find Pike stuck in a fairly thankless role here as the cliched, long-suffering girlfriend.
The film looks good thanks to Kolja Brandt's cinematography, which captures some of the beautiful exotic locations.
★★★