Reviewed by GREG KING
Documentary
Director: Genevieve Bailey.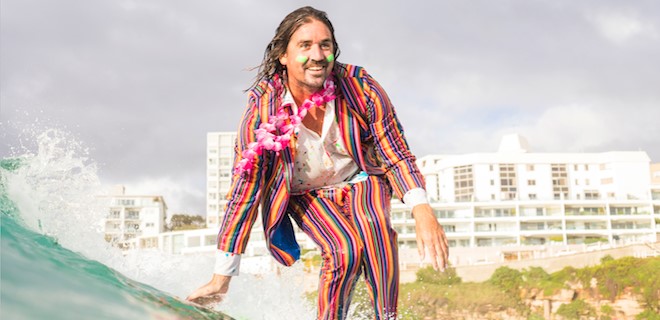 There is often a stigma attached to mental illness, and many men are reluctant to talk about their health issues fearing it is a sign of weakness and vulnerability.
This empathetic and sensitively handled documentary is the first feature film from filmmaker Genevieve Bailey since the well-received I Am Eleven (2011). While that film looked at the hopes and aspirations of a number of eleven-year old around the world, the focus of Happy Sad Man is a bit more narrow. The film looks at five men from diverse backgrounds who are suffering from various forms of depression and mental illness. Bailey has managed to get the men to open up for the camera and speak candidly. She has a personal connection to a couple of the subjects here which has allowed her to develop a strong rapport and trust.
The first person we meet is John. Bailey has known John, a musician and self-styled hippie who suffers from bipolar disorder, for many years since they first met in film school. A bush carpenter he has led something of a nomadic existence for several years. Bailey made a short film about John, but realised that there was lots more about his life to explore. Jake is a photographer and cinematographer who has travelled to a number of hot spots and conflict zones like Afghanistan and Syria, which has contributed to his PTSD and unsettled demeanour. David Capra is a dog-loving comedian from Sydney with a happy exterior while he is performing his public performance art, but he is struggling with his own personal demons. Grant is a surfer who has founded "One Wave", an organisation which tries to help others suffering similar problems. His initiative Fluoro Friday made international headlines when it attracted the attention of Prince Harry during his last royal visit to Australia. Last is Ivan, a farmer who has also travelled widely around regional areas to counsel others who feel depressed largely due to the impact of the drought.
Bailey spent several years working on the project and she explores some complex emotional territory. Happy Sad Man is by turns, funny, moving, informative, candid and confronting. Bailey shot hours of material, often using hand held cameras and working in close-up, and the footage has been shaped by editor Annabelle Johnson (Nowhere Boys, etc) and condensed down to the 90 minutes we see on screen.
There is an evocative musical score from Nick Huggins, who also previously scored Bailey's I Am Eleven.
This intimate and sobering documentary stresses the importance of networks and support systems to offer help to people who are suffering, and to let them know that they are not alone. Bailey handles the difficult subject with compassion and understanding. This documentary is sure to spark plenty of discussion around the issue of masculinity and men's health.
★★★