Reviewed by GREG KING
Director: Stephen Burke
Stars: Sally Hawkins, Tom Riley, Jade Yourell, Michael McElhatton, David Pearse, Sinead Maguire.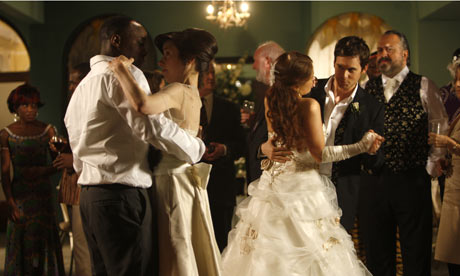 A new film has snuck into Melbourne cinemas without any fanfare or media previews. It is Happy Ever Afters, an Irish romantic comedy made in 2009 and which has been sitting on a distributor's shelf for a couple of years. It is basically a tale of two wedding receptions that go wrong.
Sally Hawkins (from Happy Go Lucky, the recent Submarine, etc) stars as Maura, a single mother struggling to make ends meet. She has entered into a marriage of convenience with Wilson (Anyon Bakare), an African immigrant desperate to stay in the country. Freddie (Tom Riley) is marrying his neurotic ex-wife Sophie (Jade Yourell), hoping to make a success of their relationship a second time around. Sophie has had to contend with breakdowns, therapy and controlling parents, which helped to break up the first marriage.
The two wedding parties end up at the same reception centre in the Hotel Napoleon. Lots of misunderstandings, chaos and mishaps ensue that further expose the problems in the two relationships, which are not built on strong foundations to begin with. Freddie and Maura are inadvertently thrown together throughout the proceedings, while Sophie hysterically believes that the couple is having an affair. Watching from the sidelines are a couple of hapless immigration detectives (Michael McElhatton and David Pearse) who are trying to find evidence that Maura's wedding is a sham.
Happy Ever Afters is a screwball comedy that marks the debut feature film for Irish writer/director Stephen Burke, who claims Some Like It Hot, The Philadelphia Story and Four Weddings And A Funeral as inspirations. He throws plenty of incidents into the mix, but not all of it works. The slapstick humour is broad, and the pace sags a little in the middle, but it is a bit of fun. Happy Ever Afters is also fairly lightweight stuff.
There are some nice performances from the ensemble cast, although many of the peripheral characters are little more then stereotypes. Particularly good is Hawkins, who is playing another variation of her usual ditzy character, while newcomer Sinead Maguire is very good as her precocious outspoken nine-year-old daughter Molly, who seems to exercise more common sense than the adults. Hawkins and the appealing Riley also develop a great rapport that adds to the film's charm.
The cinema is full of romantic comedies and tales about disastrous weddings, and it is becoming harder to find anything fresh or original. Happy Ever Afters may not be a superior example of the genre, but it does offer a few laughs and proves entertaining enough.
★★★