Reviewed by GREG KING
Director: James Gunn
Stars: Chris Pratt, Zoe Saldana, Dave Bautista, Bradley Cooper, Vin Diesel, Kurt Russell, Karen Gillan, Elizabeth Debicki, Michael Rooker, Pom Klementieff, Cgris Sullivan, Sean Gunn, Tommy Flanagan, Sylvester Stallone.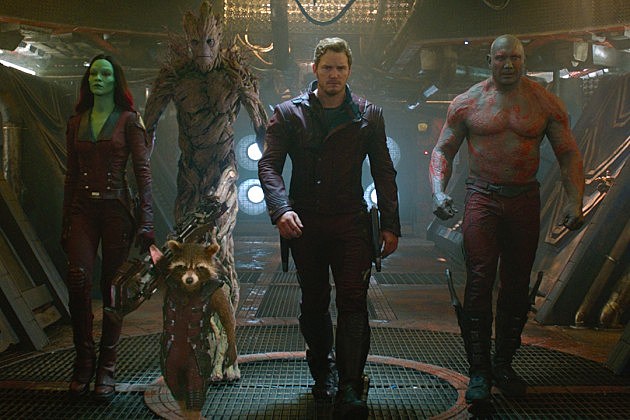 In 2014 Marvel brought one of the lesser known titles from their catalogue of superheroes to the screen with Guardians Of The Galaxy, which told the story of a ragtag team of intergalactic misfits who were charged with protecting the galaxy from all sorts of extra-terrestrial threats. Director James Gunn, who had come from a background in low budget films, threw virtually everything at the screen in a bright, colourful and energetic and irreverent film all set to a fabulous soundtrack of 70s and 80s hits. The quirky film was also littered with plenty of pop cultural references and in-jokes that struck a chord with audiences. It gave Marvel Studios one of its best movies. It also grossed over $1billion, so its appeal was pretty universal. And now we get this second helping, with Volume 2.
The original guardians are back under the command of the displaced Walkman-toting Earthling Peter Quill (aka Star Lord), played again by Chris Pratt (from tv sitcom Parks And Recreation, etc). There is the green skinned warrior Gamora (Zoe Saldana, who played a blue-skinned alien in Avatar); the bulky Drax (WWE champion Dave Bautista); the aggressive, wise cracking trigger-happy raccoon Rocket (voiced by Bradley Cooper); and the diminutive kindly tree-like figure Groot, now known as baby Groot (voiced by Vin Diesel), who only says "I am Groot), but the different inflections always mean something different. And Groot still has a lot of growing up to do.
When the film opens, the guardians are battling a huge extra-terrestrial octopus like creature. But rather than concentrate on the grim battle, Gunn makes a bold creative decision and moves the action to the background as he follows the mischievous antics of baby Groot. This is typical of the irreverent approach towards the material that shapes most of the film and reminds us once again that this is no ordinary superhero movie.
After defeating the creature, the guardians are feted by Ayesha (a gold coated Elizabeth Debicki), the golden high priestess of the sovereign people. But very quickly they are then forced to flee her angered warriors after Rocket steals some valuable batteries. A high speed chase across the universe eventually sees the guardians land on the planet Ego where they are warmly greeted by the planet's ruler Ego (played by Kurt Russell), who claims that he is Peter's real father and that he wants to make up for some lost father and son bonding time. Would you trust someone who has named a planet after himself? Soon it becomes apparent that Ego has his own sinister agenda to follow.
Meanwhile Gamora still has some unresolved sibling issues to work out with her angry and duplicitous sister Nebula (Karen Gillan), the blue-skinned cybernetic assassin.
As with the Fast And The Furious franchise, Guardians Of The Galaxy is all about family and the importance of family connections – while they may fight with each other and disagree, trade insults and put downs, when the chips are down they all manage to come together to save the world. Gunn works hard to give each of the various characters plenty of screen time as he follows their own character trajectories. This inevitably leads to a somewhat bloated running time of 137 minutes.
Again, Gunn manages to throw everything at the screen with a surfeit of state of the art CGI created special effects and spectacular visuals, superbly complemented by the stylish visual approach of cinematographer Henry Braham (The Golden Compass, etc). However, by the very busy and over the top climax it all tends to become a bit too much and the effects overwhelm the material and the audience.
Pratt hails from a background in television sitcoms, but the first Guardians Of The Galaxy film turned him into a bona fide action hero and movie star. He has plenty of wit and charm and charisma and shines as the likeable rogue Quill, although he still comes across as a poor man's Han Solo. Michael Rooker returns as the Ravager warrior Yondu, Peter's surrogate father, and he is great here, and makes the most of his best role in some time. And it's good to see Russell back on screen with some meaty roles in big budget franchises like this and Fast And The Furious. And he seems to be having fun here.
Bautista is a real hoot here with his performance as Drax with his big booming laugh, unintentional dry wit, and inappropriate misreadings of situations. But he also gets a more emotional subplot when he begins to develop feelings of sorts for Mantis (Pom Klementieff), an empath who is the only other inhabitant of Ego. Saldana has a nice feisty quality as Gamora, while Cooper is great and very funny as the irrepressible Rocket, whose character drives much of the action. Cooper and Diesel establish a great dynamic as Rocket and Groot. And there is a neat little cameo from Sylvester Stallone, which hints at things to come in Vol 3.
And as with the original film, this second outing also features another great mixtape of awesome 70s and 80s hits, including the likes of Fleetwood Mac's The Chain, Cat Stevens' ballad Father And Son, Cheap Trick's Surrender, Looking Glass' Brandy, ELO's Mr Blue Sky, The Sweet's Fox On The Run, and lots more. And don't forget to stick around for the end credits and the embedded post credit sequences.
While not quite as good or as fresh as the first film, there is still quite a lot to like about Guardians Of The Galaxy Vol 2, which has plenty of heart amidst the pyrotechnics and humour. If you enjoyed the first one you'll want to catch this one.
★★★☆