Reviewed by GREG KING
Director: Christian Mungiu
Stars: Adrian Titieni, Maria Dragus, Lia Bugnar, Malina Manovici, Petre Ciubotaru, Vlad Ivanov.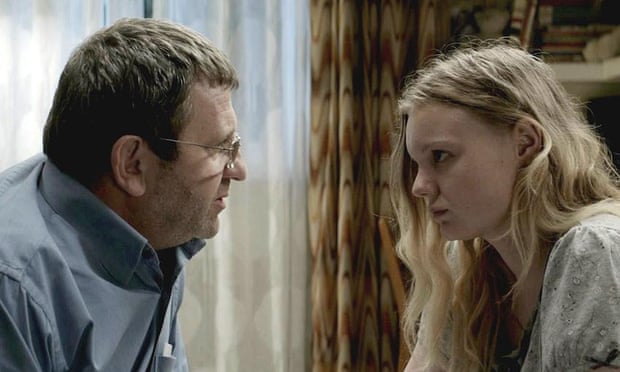 Romanian journalist turned filmmaker Christian Mungiu earned his second Best Director award at Cannes for his fourth feature film, a rather grim and critical look at Romanian society as it continues to emerge from under the repressive grip of the Ceausescu era and the difficulties of life in his native country. Mungiu makes films that are deep and thoughtful and highlight some of the social issues in contemporary Romania, a country in transition trying to escape the legacy of its recent past. His films, like the harrowing abortion drama 4 Months, 3 Weeks And 2 Days, are full of despair and disillusionment. His latest film is Graduation (aka Bacalaureat in some territories), a slice of life drama full of grim realism and moral ambiguities that offers up study of the crime and government corruption that seems endemic.
Romeo (played by Adrian Titieni) is a respected doctor in his city. He lives in a grim and soulless Communist era apartment block with his wife and 18-year old daughter Eliza (Maria Dragus). Eliza is a bright girl and is about to sit her end of year exams. If she does well she could win a scholarship to study at Cambridge in England. Romeo is keen to see her do well and leave this blighted country. But on the eve of the exam, Eliza is brutally attacked and almost raped by a stranger. With her arm in a cast, the school authorities seem ready to prevent her from sitting the exam for fear of cheating.
Romeo however is prepared to go to great lengths to ensure that Eliza is allowed to sit the exam and get the marks she deserves so that she can have a better life and more opportunities. On the advice of the local policeman (Vlad Ivanov) Romeo agrees to do a favour and move the town mayor (Petre Ciubotaru) to the head of the waiting list for a vital liver transplant. Unfortunately, the mayor is already under investigation from the authorities for corrupt practices, and Romeo finds himself dragged into the gaze of the prosecution team. Romeo finds himself complicit in perpetuating the very corruption he despises. Unhappily married to his shrewish wife, Romeo is also having an affair with local schoolteacher Sandra (Malina Manovici), which adds to his feelings of guilt. And as events drag on Eliza herself develops doubts about leaving her parents behind.
Graduation offers up a rather bleak picture of contemporary Romania, and this stagnant society has formed the backdrop of much of Mungiu's work. The film explores rich themes of corruption, honesty, morality, family life, principles, the need for compromise, and the lengths that a parent will sometimes be willing to go to in order to achieve their aims.
Titieni is on screen for the duration of the two-hour film and his nuanced performance brings a harassed everyman quality and an increasing sense of desperation to this essentially decent character driven to drastic and uncharacteristic actions.
This is a restrained, slow moving, languidly paced drama that slowly draws the audience into this morally ambiguous world of choices and consequences. We are not always sure where the drama is headed and the film lacks the dramatic intensity of his previous two films.
Graduation has been nicely shot by cinematographer Tudor Vladimir Panduru, who works in long steady takes that draw us into this world. His use of hand held camera in certain scenes is quite effective, especially in one scene where Romeo prowls through back streets looking for a man he believes may hold the key to the attack on Eliza. He produces some striking visual images and paints a rather bleak picture and captures the ugliness of life. There is also a lack of music score here which establishes an uneasy mood.
★★★