Reviewed by GREG KING
Director: Olivier Dahan
Stars: Nicole Kidman, Tim Roth, Frank Langella, Parker Posey, Paz Vega, Derek Jacobi, Andre Penvern, Milo Ventimiglia, Roger Ashton-Griffiths, Geraldine Somerville, Robert Lindsay, Nicholas Farrell.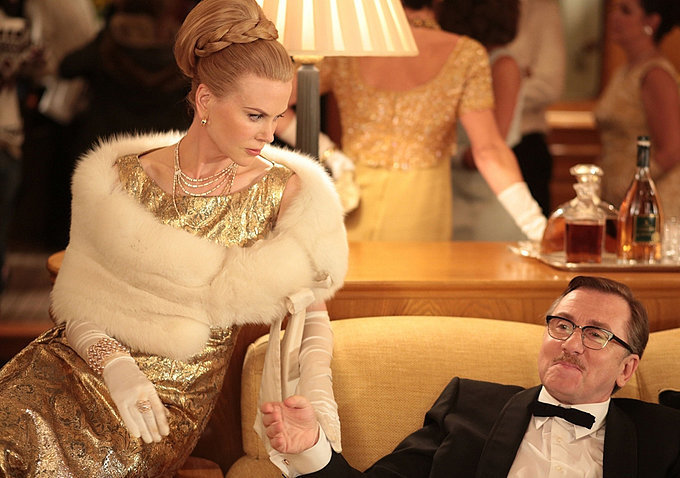 Nicole Kidman and Naomi Watts are two of our most talented actresses, but recently they have both found themselves starring in misguided biopics about beloved royal figures who died tragically young. For Watts it was the dire, critically maligned biopic Diana; but even though she didn't physically resemble Diana she made an effort to capture her mannerisms. Rather than a comprehensive biopic of the popular royal, Diana concentrated on one particular moment in her troubled life, a romance with an Indian surgeon that saw the tide of public opinion briefly turn against her.
And so it is with this underwhelming biopic of Grace Kelly, the beloved Oscar-winning actress who turned her back on Hollywood at the height of her career in 1956 when she married Prince Rainier of Monaco and embarked on what she thought would be a fairy tale come true. The film concentrates on one year of her life that came to define her role as Princess Grace of Monaco.
But scriptwriter Arash Amel (the Aaron Eckhart stinker Erased) takes enormous liberties with the real events here to beef up the melodramatic elements. It offers little real insight into Grace Kelly, the Philadelphia born actress who gave up a career for love. The film also plays down the couples' reputed history of infidelity. There is one scene in which an angry Grace is seen driving recklessly through the winding roads of the tiny principality, which offers an eerie portent to the tragic events two decades later.
Much of the film takes place in 1962. Within five years the fairy tale was starting to turn sour as Grace (played by Kidman) and Rainier (played by Tim Roth) seemed to be growing apart. Grace was becoming bored with her role as a housewife and royal princess, and felt distant from the people of Monaco. Her often naive world view on politics ruffled the feathers of the more conservative members of Rainier's court.
Then director Alfred Hitchcock(Roger Ashton-Griffiths) came calling to offer her a part in his latest movie Marnie, which would see her play opposite "some Scottish actor" that Cubby Broccoli was quite excited about. Grace was intrigued by the offer and was seriously considering a return to Hollywood, which caused a stir at Monaco.
At that time France's President De Gaulle (Andre Penvern) was making threatening overtures and trying to force Monaco to tax its people and give the money to France to help fund its ongoing and unpopular war in Algiers. The House of Grimaldi had stood unbowed and unconquered in Europe for over 1200 years, and not even Napoleon had been able to take over the tiny principality. But now its foundations were looking shaky as France instigated a blockade and the principality was in crisis. Rainier himself was trying to negotiate with the help of powerful friends like Aristotle Onassis (played by Robert Lindsay). But he needed to full support of Grace to help save Monaco.
Plagued by doubts and insecurities Grace had to decide between a return to Hollywood and standing by Rainier's side and earning the love and respect of her people. She also had to learn to cope with the cutthroat palace politics and intrigues of those who wished to see the brash and outspoken American woman gone.
With the help, counsel and advice of her friend and confidante Father Francis Tucker (a rich, resonant and authoritive performance from Frank Langella), a Catholic priest with connections at the court, and some training from Count Ferdinand D'Aillieres (Derek Jacobi, in a small role), a protocol expert, Grace learnt how to act like a royal princess. And in a lavish ball to support the Red Cross she stood up to the belligerent bullying tactics and arrogance of De Gaulle and forced him to back down.
Grace Of Monaco was critically savaged when it premiered at Cannes earlier this year, and copped some of the worst reviews of any film in recent memory. Harvey Weinstein has further added to the controversy surrounding the film by refusing to release the version screened at Cannes, which was the director's cut. But despite that, Grace is not as bad as those early reviews would suggest, and it is much better than the dire Diana. Maybe some of the reviews from Cannes were a partisan reflection of the film's harsh and unsympathetic treatment of France and De Gaulle rather than an objective look at the film itself.
The director is Olivier Dahan, who made the superb and engrossing La Vie En Rose, the biopic about beloved French singer Edith Piaf, which snared an Oscar for its star Marion Cotillard. His direction here is leaden and ham fisted, and the film lacks any real sense of urgency even when France is threatening to drop bombs on Monaco and send in the tanks. For some reason Dahan and cinematographer Eric Gautier (Wild Grass, The Motorcycle Diaries, etc) have decided to work in extreme close-up, with the camera focusing on Kidman's eyes and lips during some scenes. This may have been intended to bring a sense of intimacy to these scenes, but as a cinematic device it doesn't work.
But worst of all is the vapid, clunky script from Amel which delivers some terribly cliched dialogue, delivered without real conviction by its performers. The film is very busy with lots of subplots, and the drama is populated with lots of real life historical figures, although most of them come across as caricatures rather than three dimensional characters and they leave little impact on the material.
This is yet another dud role for Kidman who, despite winning an Oscar and delivering great performances in films like Gus Van Sant's To Die For and the noir-like steamy thriller The Paperboy, has made some ordinary choices in her career – the ill-advised Bewitched, The Golden Compass and The Invasion spring to mind. Kidman is miscast here; she is too old to be playing the 26 year old Grace Kelly. And she doesn't physically resemble the actress, nor does she make much of an effort to capture her charisma or her personality.
A regular in the edgy, violent films of Quentin Tarantino, Roth does little and is a surprisingly bland Rainier, and he seems uncomfortable here in a role that requires him to do little more than chainsmoke and look worried. Parker Posey is imperious and snooty, and at times downright unnerving as Grace's personal assistant Madge, who slinks around the corridors of the palace like an ineffectual Mrs Danvers. Ashton-Griffiths does a reasonable Hitchcock impersonation here and he seems more authentic than Anthony Hopkins' hammy performance in the recent biopic. Only Jacobi, hamming it up, and Langella emerge with their dignity intact.
The production design and the costumes are all fabulous, but this only adds a superficial gloss to the dross. Christopher Gunning's score also undercuts the drama. This dreary melodrama unfolds against the picturesque, sun-drenched backdrop of Monaco and the Riviera, which has been gorgeously shot by Gautier. But the surface gloss cannot disguise just how shallow and superficial the whole thing is.
★★☆