ALL REVIEWS BY GREG KING
Last updated March 25, 2021
ANTOINETTE IN THE CEVENNES.
Slight but thoroughly charming comedy, this film has been loosely inspired by author Robert Louis Stevenson and his account of his 1879 travels through the picturesque Cevennes region of France, accompanied by a donkey. The titular Antoinette (played by Laure Calamy, who we recently saw in the dark crime thriller Only The Animals) is a fifth-grade schoolteacher who is having an affair with Vladimir (Benjamin Laverne), the parent of one of her pupils. Antoinette is looking forward to spending a week's holiday with Vladimir, but is disappointed when he announced that he is about to spend a week with his wife and daughter hiking through the Cevennes National Park. On impulse, Antoinette decides to follow them, even though she is initially unprepared for the arduous demands of the walking trail. She sleeps in communal hostels. Forced out of her comfort zone this little jaunt turns into a journey of discovery for Antoinette. Antoinette receives plenty of advice along the way from sympathetic fellow travellers and hostel owners. She travels with Patrick, a stubborn pack donkey with a will of its own. But (as is suggested by the film's alternative title My Donkey, My Lover & I) a bond soon develops between Antoinette and Patrick, and this is the emotional core of the film. The MVP here is Daniel, Antoinette's pack donkey, which has a strong personality of its own, and its antics provide some of the film's biggest laughs. There is some gorgeous scenery of the Cevannes, nicely shot by cinematographer Simon Beaufils (Still River, etc). This is the sophomore feature from writer/director Caroline Vignal and follows her 2000 feature Girlfriends). She has a gentle touch here which suits the material, and there is a definite touch of the screwball comedy here. This is the first leading role for Calamy who is on screen for the whole film. She delivers a strong performance that taps into her gift for comic timing, physical humour and which also allows her to show a more vulnerable, lonely and desperate side to the character as well as charting her emotional growth.
THE MAN WHO SOLD HIS SKIN.
Like the controversial drama The Square, this French/Tunisian co-production is a provocative satire on the pretensions of the art world and explores the nexus between art and commerce, greed, creativity, the nature of society, and exploitation. It raises the question of what is art, but it also delves into the very real refugee crisis facing Europe today. The film follows Sam (Yahya Mahayni), a refugee from war torn Syria who is forced to flee to Lebanon in 2011. His girlfriend Abeer (newcomer Dea Liane) is forced to marry an uptight diplomat who is based in Belgium. Sam is desperate to see her and try to win her back, but without a passport he cannot travel. Then he strikes a Mephistophelian deal with Jeffrey Godefroi (Belgian actor Koen de Bouw), a world-renowned artist whose art works sell for millions of dollars on the international market. He creates a spectacular tattoo using Sam's back as his canvas. As part of the deal Sam is required to sit in art galleries while the public pay to view his back. Ali becomes a living work of art and as collectors become more interested the price goes up. But this contemporary illustrated man finds that his own personal freedom is at stake. Mahayni, who won an acting prize at the Venice Film Festival, gives a good performance as the selfish and angry Sam, a largely unlikable character who reluctantly earns our sympathy due to his plight. The Man Who Sold His Skin is the sophomore feature for Tunisian filmmaker Kaouther Ben Hania, following her 2017 drama Beauty And The Dogs, and it is Tunisia's official entry for the Oscars. The film was inspired after director Ben Hania visited the Louvre and saw an original art-work involving a man sitting in an armchair displaying a tattoo on his back, but she has given the material a gritty and overtly political edge. Ben Hania and Lebanese cinematographer Christopher Aoun (Capernaum, etc) create some strong visual imagery throughout. Despite the sometimes dark nature of the material, there is a strong streak of black humour running through the film, and the love story at its heart also tempers its gritty nature.
SUMMER OF 85.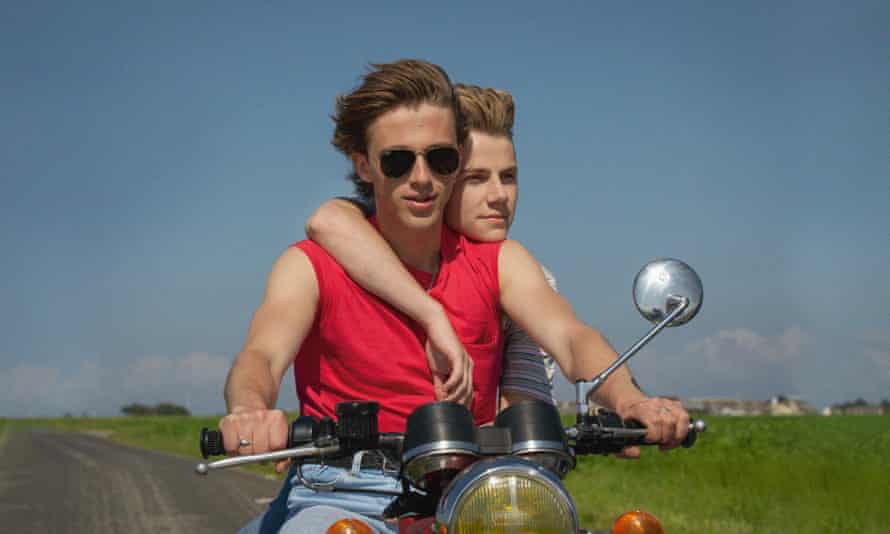 Prolific filmmaker Francois Ozon gives us another slice of queer cinema with this bittersweet drama that is part coming of age tale and part heartbreaking tale of first love full of loss, pain and the whole damn thing. The film follows many of Ozon's cinematic tropes. Summer of 85 has been adapted from Aidan Chambers' 1982 YA novel Dance On My Grave, and is laden with a frisson of sexual tension, much like much of his earlier work, films like My Own Private Idaho, and even the more recent Call Me By Your Name. But the material is also laden with strong undertones of a psychological mystery thriller. Handsome but naïve and lonely 16-year-old Alex (Felix Lefebvre, from Netflix's The Chalet, etc) is obsessed with death. He meets David (Benjamin Voisin, from Moving On, etc) after a boating accident. David is 18, handsome and charming and flamboyant, but also has something of a dangerous edge and a cruel streak, and Alex quickly falls for him. The relationship grows complicated with the arrival of Kate (Philippine Velge), a British au-pair on holiday, who befriends both boys. Alex lands a summer job working in the fishing supply shop run by David's widowed mother (Valeria Bruni Tedeschi). But as love turns to obsession, David pushes him away. The film opens with Alex being questioned in the police station about David's death, and in a series of extended flashbacks we witness events unfold. Alex is asked by a caseworker and his literature teacher (Ozon regular Melvil Poupard) to write out his account of events, and he finds that this is a way for him to deal with his pain. Although the film is set in 1985, Ozon doesn't slavishly pay attention to period detail, although Footloose is an obvious cultural touchstone here, and the soundtrack features the likes of The Cure, Rod Stewart and Bananarama. The film has been shot in 16mm by Hichame Alaouie (Last Winter, etc), and there is some gorgeous widescreen cinematography that beautifully captures the sun-drenched seaside locations and gives us a strong sense of place. Lefebvre and Voisin develop a palpable chemistry that lifts the material.