by GREG KING
Last Updated March 23, 2016
MARGUERITE.
Occasionally there are times when we get two films released dealing with similar themes or plot lines – we've had two Die Hard in the White House clones with Olympus Has Fallen and White House Down, two volcano films with Dante's Peak and Volcano and two giant asteroids heading for Earth with Mimi Leder's Deep Impact and Michael Bay's Armageddon. And now we get two films inspired by the life of Florence Foster Jenkins, a wealthy opera loving socialite widely regarded as the world's worst singer. In Stephen Frears' forthcoming biopic, Jenkins is played by the incomparable Meryl Streep. Beating that film to local screens though is this frothy French comedy/drama that gives us a fictional and quirky take on the story.
Marguerite is set in France in the period between the two great wars. The central character here is Marguerite Dumont (played with real spirit and gusto by Catherine Frot, last seen in Haute Cuisine), a wealthy but deluded socialite and patron of a local musical society who thinks that she has what it takes to be a great singer. Unfortunately she has a grating voice and is unable to carry a note. But her horribly misplaced musical ambitions are indulged by her husband Georges (Andre Marcon) and her faithful butler Madelbos (Denis Mpunga), and the long suffering music lovers who attend her regular private musical recitals that help raise money for war orphans. Her performances are celebrated by avant-garde artists but merely tolerated by her neighbours and close circle of friends. However, a rave review of one of her small performances convinces Marguerite that she is ready for a major public appearnce. Pezzini (Michel Fau), a washed up tenor, is brought in reluctantly to become her vocal coah to ready her for a major public concert. He puts Margeurite through a series of bizarre vocal exercises, much to the consternation of Georges who has hoped that Pezzini would tell her the brutal truth.
Writer/director Xavier Giannoli finds a nice balance between the humour and the pathos of Dumont's story. Some scenes where Marguerite warbles horribly out of tune are hilarious and will reduce audiences to tears of laughter and guffaws of disbelief. A running joke throughout the film sees her husband's automobile manage to break down at the same spot, meaning that he usually misses Marguerite's performances. This is a lavishly mounted production and the period detail, costumes and settings all reek of authenticity. However, there seem to be a couple too many subplots and characters that go nowhere and unnecessarily pad out the film's running time.
MICROBE AND GASOLINE.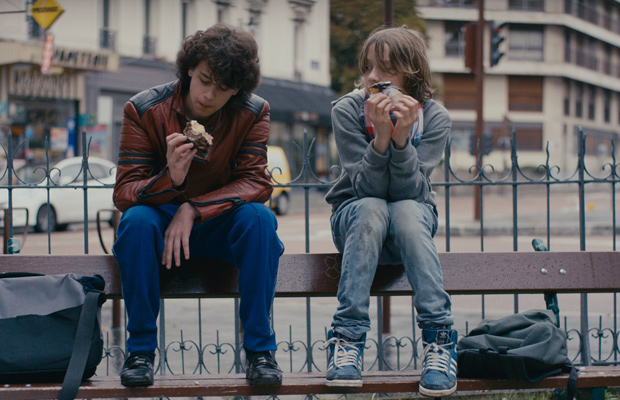 Microbe And Gasoline is a charming and quirky but slightly offbeat combinations coming of age tale and road movie, and is one of the early highlights of this year's collection of contemporary Gallic cinema. The film centres around the friendship that develops between two teenage boys, both misfits and misunderstood outcasts. Microbe (newcomer Ange Dargent) is 14, shy and a talented artist, but he is small for his age and with his long hair is often mistaken for a girl. Gasoline (Theophile Baquet) is a bit of a rebel with a gift for engineering and all things mechanical. With school holidays approaching the boys do not particularly want to spend too much time with their dysfunctional families. They build a mobile house powered by a lawn mower engine, and set off on a journey across France. There are generous lashings of visual humour as we follow their exploits. There are a few missteps along the way, such as an encounter with a dentist that becomes slightly creepy. The film comes from Michel Gondry (Eternal Sunshine Of The Spotless Mind, etc), but here the idiosyncratic director has eschewed his usual surreal touches for a more conventional approach. There are some semi-autobiographical touches to the film as Gondry has drawn upon his own childhood experiences to shape the film and give the material a nostalgic feel. But the real strength of this whimsical film lies in the two wonderful and natural performances of the two youngsters in the title roles, who establish a great rapport and chemistry.