Reviewed by GREG KING
Director: Peter Strickland
Stars: Asa Butterfield, Gwendoline Christie, Fatma Mahomed, Ariane Labed, Makis Papadimitriou, Richard Bremmer.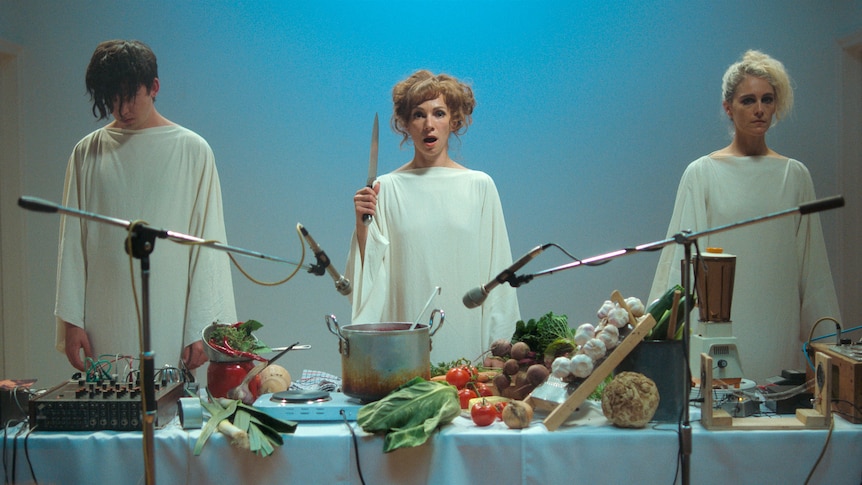 Food, sex and art are three of the key ingredients in the latest bizarre cinematic concoction from British director Peter Strickland, who is based in Hungary. This black comedy is an absurdist satire of the contemporary art world with its provocateurs, sycophantic backers and receptive audiences and the creative process itself. Over the course of his four features Strickland has established his own distinctive style, and his films often tend to focus on the sensory elements, the body and bodily functions as much as the visuals and atmosphere.  
This clever but disturbing and almost incomprehensible drama introduces us to the term sonic catering, something I'd never heard of before. Three sonic caterers, who incorporate the sound of cooking into their food preparation as part of a staged presentation, have earned a residency at a rural retreat where they rehearse and develop their art under the strict guidance of Jan Stephens (Gwendoline Christie, from Game Of Thrones, etc), who runs the Sonic Catering Institute, which is devoted to culinary and alimentary performances. The more forthright Elle di Elle (Fatma Mahomed, a regular in Strickland's films), the self-proclaimed leader of the trio, heatedly clashes with Jan over her interference in their creative efforts, while Billy Rubin (former child star Asa Butterfield) is a pouty and surly and introspective type, and Lamina Propria (Ariane Labed) seems dedicated to her art.
But tensions mount between the three and the dysfunctional dynamic between them is heightened when they face questioning from the institute's head and are forced to reveal more personal details about themselves. Some of the material feels repetitive, especially as the three are put through their paces by the demanding Jan, and the film outstays its welcome. The two-hour running time will try the patience of many in the audience.
The film is narrated by the insecure Stones (Makis Papadimitriou) who is documenting the sessions, but he is focused on his embarrassing flatulence and bowel movements, which gives the material some wince inducing scatological moments. Stones is also being treated for his condition by the institute's doctor Glock (Richard Bremmer, who also appeared in Strickland's In Fabric). The cast deliver largely deadpan performances that seem attuned to Strickland's offbeat vision and the off-kilter world he has created.
The film has been nicely shot by cinematographer Tim Sidell, while the production design from Harold Chapman and Fletcher Jarvis complements Strickland's unique and over the top vision. Tim Harrison's sound design is an integral part of the film's structure, and the use of a discordant sound design here harks back to Strickland's earlier 2012 psychological horror film Berberian Sound Studio.
Strickland's film is not for everybody, but his fans will certainly appreciate what is on offer in Flux Gourmet. 
★★