Reviewed by GREG KING
Director: Kelly Reichardt
Stars: John Mangaro Orion Lee, Toby Jones, Ewan Bremner, Rene Auberjonois, Lily Gladstone.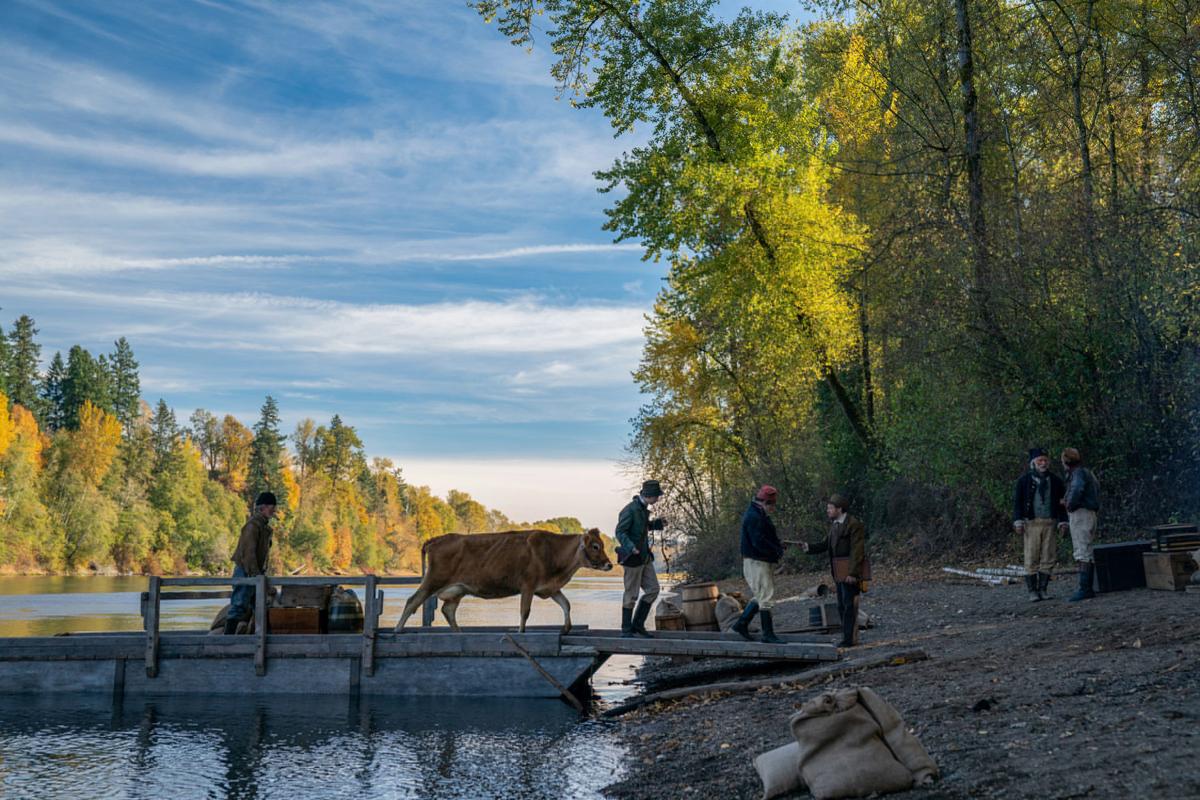 Kelly Reichardt has always had a distinctive and singular filmmaking style which appeals to many, and those familiar with her body of work will certainly appreciate her latest film. First Cow is a slow moving and unorthodox revisionist western that nonetheless addresses many of her usual themes and motifs. Reichardt ventured into the western frontier previously with her 2010 film Meek's Cutoff.
First Cow has been adapted from the 2004 novel The Half Life written by Jonathan Raymond, her frequent collaborator and writing partner, and it continues their cinematic obsession with Oregon and its environs and history. They spent the better part of five years whipping the material into shape and serve up a lean and stripped back narrative.
Part buddy western and part absurdist comedy caper First Cow is set in the Pacific northwest region in the early part of the 1800s. Otis "Cookie" Figowitz (John Magaro, from Orange Is The New Black, Overlord, etc) is a softly spoken cook who is travelling with a troop of roughneck fur trappers. While out picking mushrooms he stumbles across King-Lu (Hong Kong born actor Orion Lee, from Skyfall, etc), a Chinese immigrant and prospector who is on the run from a posse of Russians following a murder. Through a series of chance encounters this unlikely pair form a strong bond of friendship. They combine Otis' culinary skills with King-Lu's eye for a business opportunity and get rich quick schemes and sell "oily cakes" to the passing trade of hunters and frontiersmen. One of the key ingredients of the special recipe though is milk. Cookie and King dream of opening up their own bakery in San Francisco. The success of their business relies on them obtaining this vital resource through secretly milking the only cow in the region. The cow belongs to uppity British aristocrat Chief Factor (Toby Jones) who is not happy when he discovers their subterfuge. He sets a couple of bounty hunters on their trail.
First Cow opens in the modern era with a woman (Alia Shawkat, from Animals, etc) walking her dog along a riverbank. They uncover a shallow grave in which is buried two skeletons. Then we flashback to the Oregon Trail and the Pacific northwest territory of 200 years earlier and learn about the history of these two corpses. The opening scene foreshadows how the film will end.
First Cow is both a character study and a revisionist western that rewrites most of the macho tropes of the genre. It has a sad and melancholy tone and is shaped by a sense of foreboding. Magaro and Lee establish a wonderful odd couple dynamic here, and their bromance shapes the film. The platonic friendship between the two men and their easy-going chemistry may remind many of Paul Newman and Robert Redford in the classic Butch Cassidy And The Sundance Kid. The cast also features Ewan Bremner (from Trainspotting and currently seen in Creation Stories, etc), the late Rene Auberjonois, Lily Gladstone in small but important roles.
Reichardt employs an unhurried and minimalist style here, and this deceptively simple film provides a look at the hardships of life in the wilderness region of the frontier as well as exploring themes of friendship, masculinity, commercialism, class, colonialism, and the clash of cultures. Like most of her films it is concerned with human stories rather than big action or overly emotional moments. The film is steeped in the atmosphere of the frontier with its naturalistic settings. There is some great production design from Anthony Gasparro (who collaborated with Reichardt on Certain Women, etc) to create the ramshackle little village that provides the backdrop to much of the drama. Regular cinematographer Christopher Blauvelt (The Bling Ring, etc) has shot the film in the boxy 4:3 Academy ratio which gives it a more suffocating and intimate feel and yet focuses attention on the small details rather than the grandeur of the setting. However, a lot of scenes take place at night and Blauvelt has shot these using natural light where possible, which renders them quite dark and at times hard to discern what is happening. William Tyler's guitar driven score is evocative.
First Cow is a western quite unlike any other, and will certainly appeal to those who have loved Reichardt's previous films.
★★★