Reviewed by GREG KING
Director: Michael Clancy
Stars: Ray Romano, Hank Azaria, Debra Winger, Zooey Deschanel, Jesse Bradford, Famke Janssen, Piper Laurie, Kelly Preston, Glenne Headly, Rip Torn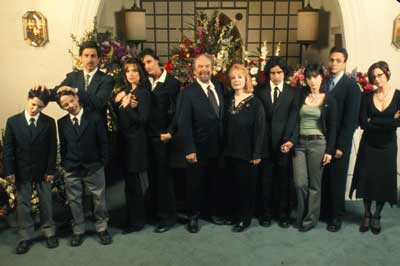 This mordantly funny black comedy about death and the dysfunctional family comes from first time feature film director Michael Clancy, and its semi-autobiographical nature has a painful ring of personal honesty and truth to it.
Following the sudden death of the family patriarch Edmund (Rip Torn, wasted as a corpse), three generations of the Collins family gather for the funeral. Family secrets, sibling rivalries and jealousies come spilling out in the strained lead-up to the funeral.
Skip (Ray Romano, smarmy and lacking warmth) is an obnoxious lawyer who resents the fact that his father always ignored him, and he brings along his equally obnoxious twin sons, who revel in the misfortunes of their eccentric relatives. Returning to the screen after a short absence, Debra Winger is superb as Alice, the control freak whose family is so cowed they are afraid to speak or act in her presence. Lucy (Kelly Preston) brings along her life partner and fiancee Judy (Famke Janssen), and their relationship provides the family with some moments of perverse humour.
Daniel (Hank Azaria) is a former child star who now ekes out a living appearing in porn videos. His misfit daughter Kate (Zooey Deschanel), who also narrates the film, is asked to write the eulogy for her grandfather, but she finds little help from her feuding family. It seems that no-one really liked the man. Meanwhile, family matriarch Charlotte (Piper Laurie) tires of all the bickering and twice tries to commit suicide.
The aftermath of the do-it-yourself Viking funeral pyre and the reading of the will, with its unexpected surprise, lead to a catharsis that suggests that the family is on the way to healing itself and moving on.
Eulogy contains some bitingly hilarious one-liners and some wonderfully funny moments of slapstick humour that elevate it above the usual cliches, but ultimately it doesn't go as far as it could have in exploring the idiosyncrasies of this troubled family. We've seen this sort of thing many times before, but Eulogy is a brisk and bittersweet 84 minutes and it never overstays its welcome. However, some promising ideas are never fully developed, and Eulogy leaves the audience feeling a little unsatisfied despite its numerous pleasures.
Clancy has assembled a stellar ensemble cast, and they bring equal amounts of pathos and caustic humour to these largely self=centred and unlikable characters. Yet by the end of the film we feel some sympathy for these characters, and that is probably Clancy's greatest achievement.
★★☆