Reviewed by GREG KING
Director: Baz Luhrmann
Stars: Austin Butler, Tom Hanks, Olivia De Jonge, David Wenham, Richard Roxburgh, Kodi Smit-McPhee, Helen Thompson, Chaydon Jay, Alton Mason, Kelvin Harrison jr, Luke Bracey, Dacre Montgomery, Leon Ford, Gary Clark jr, Xavier Samuel, Nicholas Bell, Natalie Bassingthwaighte, Mark Leonard Winter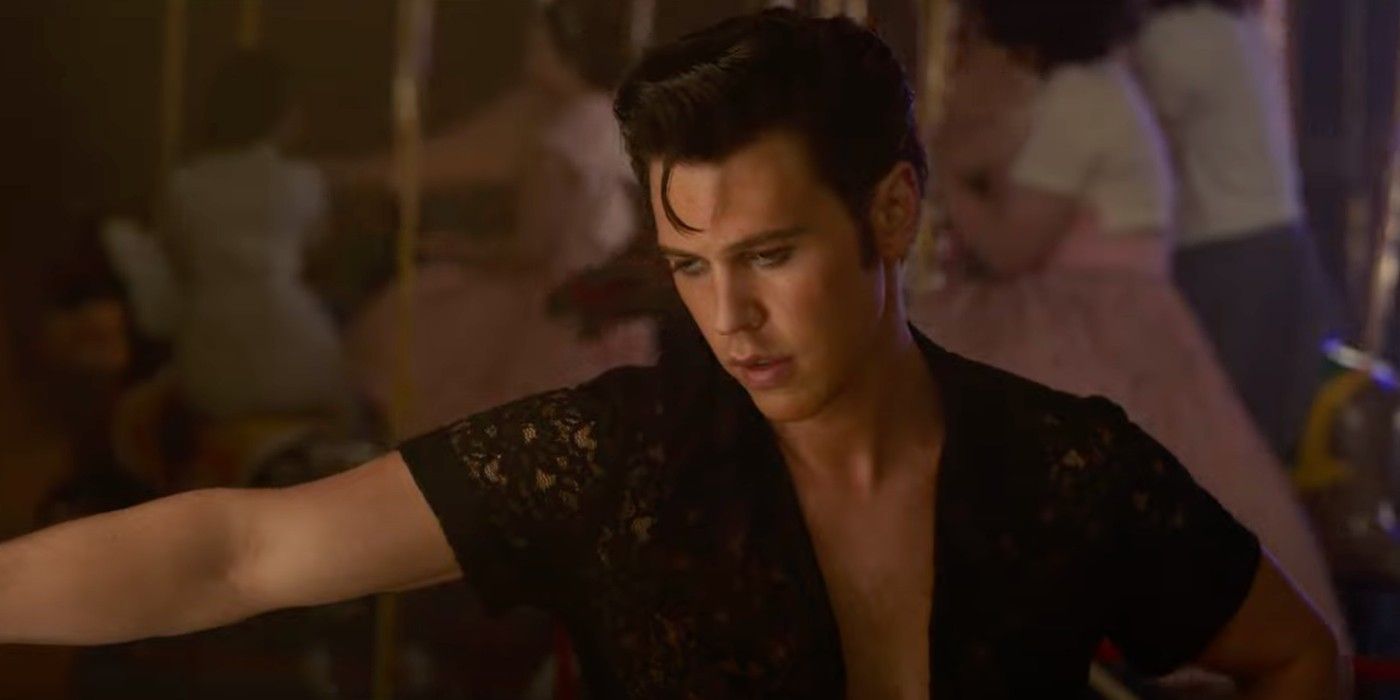 Elvis Presley is one of the most successful recording artists of the twentieth century, having sold over 300 million records in his career. He also changed the face of music, and this biopic pays homage to his legacy.
For many of a certain generation, Kurt Russell's portrayal of Elvis, the iconic "King of Rock", in the 1979 telemovie directed by John Carpenter is the definitive performance. However, with his performance as Elvis in Baz Luhrmann's flashy, frenetic and over the top biopic of the late great rocker, Austin Butler stamps his name on the film. Even though Butler does not physically resemble Elvis, he captures him perfectly through his mannerisms, gestures, his swagger, and that voice. Apparently, Butler spent the best part of three years – largely in part to the pandemic lockdown that shut down production for several months – studying everything he could find on the singer and even watching footage of him performing, to nail the character. And he does just that, especially with his stage presence during his many live concert performances and especially during his years as a headline act in Vegas.
Rather than a straight biopic, Luhrmann's film unfolds largely from the perspective of the domineering Colonel Tom Parker, Elvis' Machiavellian manager who seemed to exert a strong hold over the performer, played here by Oscar winner Tom Hanks. This was a risky framing device that doesn't quite pay off. On his death bed Parker reflects back on his relationship with Elvis, and basically refutes any suggestions that he may have been responsible for Elvis' death. Parker was an illegal Dutch immigrant with a shadowy past and a flamboyant showman who basically manipulated Elvis. Whenever Elvis tried to push back against the Colonel and tied to take control of his career and musical direction, Parker would cajole and convince him to remain with him. And of course Parker was exploiting his performer, taking his own huge cut from all of the star's earnings, his music and merchandise. 
The film, which has been written by Luhrmann , Sam Bromell (his first feature screenplay), Jeremy Doner and regular collaborator Craig Pearce (Moulin Rouge, etc), essentially gives us a Wikipedia like take on Elvis and his life, but we don't learn much that we didn't already know. The film covers his life from his impoverished childhood in Tupelo to his early beginnings singing with Hank Snow's Louisiana Hayride travelling show, through to his early recordings with Sun Records, his television appearances with his gyrating hips and overt sexuality that outraged the more conservative elements of America, through to his military service, his marriage to Priscilla (played by Olivia De Jonge), his film career, and his final years as a headline act in Vegas and his descent into drugs and paranoia.
The film highlights the overarching tragedy of his life, but it also encapsulates a snapshot of the changing face of America in the 50s and 60s with music and television, and the assassinations of Martin Luther King and Robert F Kennedy. It also reveals how Elvis was heavily influenced by the local black musicians of the era as well as the gospel music of the time. Elvis also made over 30 films in his career, but the film largely speeds through this part of his career in which he churned out a succession of formulaic musicals in a decade. The film packs a lot into its 159-minute running time.
Elvis is directed with Luhrmann's usual brash, flashy visual style, flamboyant touches and signature excesses. The opening few minutes fly by at a giddy pace with a montage covering Elvis' early life, and it leaves audiences breathless and struggling to keep up. As usual Catherine Martin's costumes are superb, and she recreates Elvis' distinctive look. The production design from Martin and Karen Murphy is superb as they recreate the glitz and glamour of Vegas on the Gold Coast. Award winning Mandy Walker's cinematography is stunning, and her camera rarely stops moving, infusing the film with a vital sense of energy.
Elvis looks and sounds wonderful. And then there is the music – Luhrmann's film is filled with hits from the era, including many of Elvis' songs, some of the early live sequences are performed by Butler himself, and he captures Elvis' vocals and stage presence perfectly. The soundtrack offers up a mix of rock, country, blues and gospel and has enormous appeal.
Cast largely against type, Hanks delivers one of the strangest performances of the year with his take on the enigmatic Colonel. He is buried under prosthetics and a fat suit, and he sports a strange accent that takes some getting used to. The film was shot largely on the Gold Coast, and you can see a number of local actors in supporting roles, including Richard Roxburg as Vernon Presley, Elvis' father and business manager, David Wenham as Hank Snow, and Kodi Smit-McPhee as Snow's star struck son.
But it is Austin's mesmerising performance that holds the film together – this is a breakout role for the actor who has been seen in small roles in films like Jim Jarmusch's zombie comedy The Dead Don't Die and Tarantino's epic Once Upon A Time… In Hollywood. He immerses himself in the role.
★★★★