Reviewed by GREG KING
Director: Denis Villeneuve
Stars: Timothee Chlamet, Rebecca Ferguson, Oscar Isaac, Josh Brolin, Stellan Skarsgard, Dave Bautista, Charlotte Rampling, Zendaya, Stephen McKinley Henderson, Chang Chen, Javier Bardem, Jason Momoa.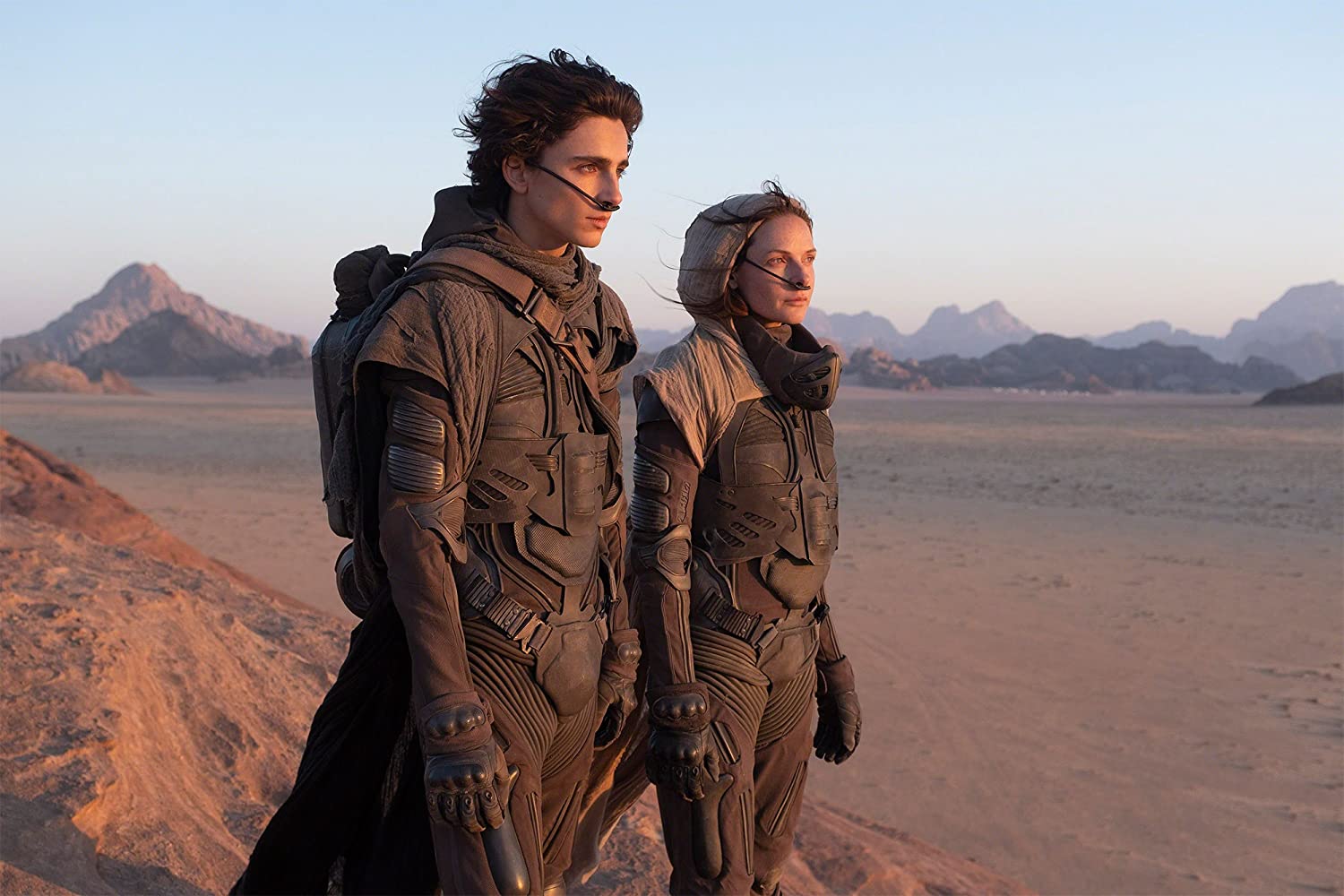 Frank Herbert's sprawling seminal 1965 science fiction novel Dune has been hugely influential on the genre and has also had a heavy influence on films like Star Wars. But the novel itself with its complex themes, intergalactic political intrigue and fanciful ideas has long thought to be unfilmable. Alejandro Jodorowsky struggled to bring his ambitious vision for the novel to the screen. In 1984 David Lynch attempted an ambitious film adaptation that was something of a mess and failed badly.  
Now French-Canadian filmmaker Denis Villeneuve, who has demonstrated his affinity for the genre with visually striking and bold films like Arrival and Blade Runner 2049 has made what may well come to be considered the definitive version. Villeneuve was a fan of the novel, so he tries to do it justice with the massive scale of this production, budgeted at some $165 million, which essentially only covers the first half of the book. The pacing is a little slow initially as Dune Part One is mainly setting the scene for what will follow in the sequel in a couple of years' time, and it shows clearly the folly of Lynch in trying to cram too much into his 140-minute runtime back in 1984. Villeneuve's deliberate pacing allows us to immerse ourselves in this world.
Dune is set in the distant future of 10191 when an empire under the rule of Padishah Emperor Shaddam Corrino IV rules most of the known universe. One of the most important planets in the universe is Arrakis, where a valuable mineral known as spice is being harvested. Spice is a valuable substance and an important element for interspace travel. But Arrakis has long been ruled by the cruel Harkonnens, who have exploited and oppressed the local Fremen population and grown rich and powerful on the profits. The emperor has ordered the Harkonnens to leave Arrakis and has appointed the more benevolent and noble Atreides family to take over.
Duke Leto Atreides (Oscar Isaac) and his family set out to assume their new responsibilities, hoping to establish a far friendlier relationship with the Fremen populace. The Duke is accompanied by his partner Lady Jessica (Rebecca Ferguson), a member of a mysterious sisterhood who have special powers, and her son and heir Paul (Timothee Chalamet) who is being trained in these disciplines, especially the use of The Voice, a kind of mind control. Paul is also being troubled by dreams and strange visions.
On arrival though they soon learn that the Harkonnens have sabotaged much of the equipment and infrastructure, meaning that the Atreides are doomed to fail. And the evil Baron Vladimir Harkonnen (Stellan Skarsgard) has hatched a scheme to throw the planet into chaos and destroy the house of Atreides.
Villeneuve has worked with screenwriters Jon Spaihts (Doctor Strange, etc) and Oscar winner Eric Roth (Forrest Gump, etc) to bring Herbert's dense vision to the screen, and this is a fairly faithful adaptation that explores the epic sweep and complex themes of the source material – the environment, power, religion, politics, intrigues, colonization and third world exploitation – to visually recreate Herbert's world. Villeneuve also brings to life the central characters and establishes their motivations and place in this world. But the early sections of the film's 155-minute running time are given over to (necessary) exposition and world building, which inevitably slows down the proceedings.
This is a visually stunning production with its immense sets, courtesy of production designer Patrice Vermette, a regular collaborator. The film's exteriors were largely shot on location in Jordan, and its rugged harsh desert terrain is a good fit for the inhospitable, desolate sandy environments of Arrakis. Australian Greig Fraser's cinematography is crisp and stunning, and he uses a muted colour palette of browns and oranges that adds to the otherworldly feel and contribute to an air of foreboding. Several scenes were shot in the large IMAX format, and Dune deserves to be seen on the biggest screen possible for best effect. There are some superb visual effects, especially those used to create the frightening sandworms that travel beneath the desert sands.
However, the music score from Hans Zimmer, who apparently turned down Christopher Nolan's Tenet for the opportunity to work on Dune, is typically bombastic and over the top.
Like Lynch though, Villeneuve has assembled a star-studded cast to bring to life the characters. With his brooding presence and good looks, Chalamet is a much better fit for the role of Paul than Kyle MacLachlan, and he brings a credible mix of naivety, curiosity, youthful enthusiasm and strength to his performance. Isaac brings a dignity to his role as Atreides while Ferguson brings strength and steely determination to her role. Skarsgard is intimidating as the brutal Baron, while Dave Bautista (Guardians Of The Galaxy, etc) has a fierce presence as his trusted henchman Rabban (a role played by Paul L Smith, from Midnight Express in the 1984 version). Jason Momoa (Aquaman, etc) also has a strong presence as Duncan, the Duke's loyal warrior and Paul's trainer, while Josh Brolin, Charlotte Rampling, Javier Bardem and Zendaya are given little to do here with their underdeveloped characters.
The release of Dune was delayed due to the pandemic that closed cinemas around the world, but it has been worth the wait. This is ambitious and epic in both scope and scale, and it is a sensory experience that sets up expectations for the inevitable sequel, which has already been greenlit by the studio. 
★★★☆