Reviewed by GREG KING
Directors: Channing Tatum, Reid Carolin
Stars: Channing Tatum, Ethan Suplee, Jane Adams, Bill Burr, Eric Urbiztondo, Emmy Raver-Lampman, Nicole Laliberte, Timothy Eulich, Kevin Nash, Junes Zahdi.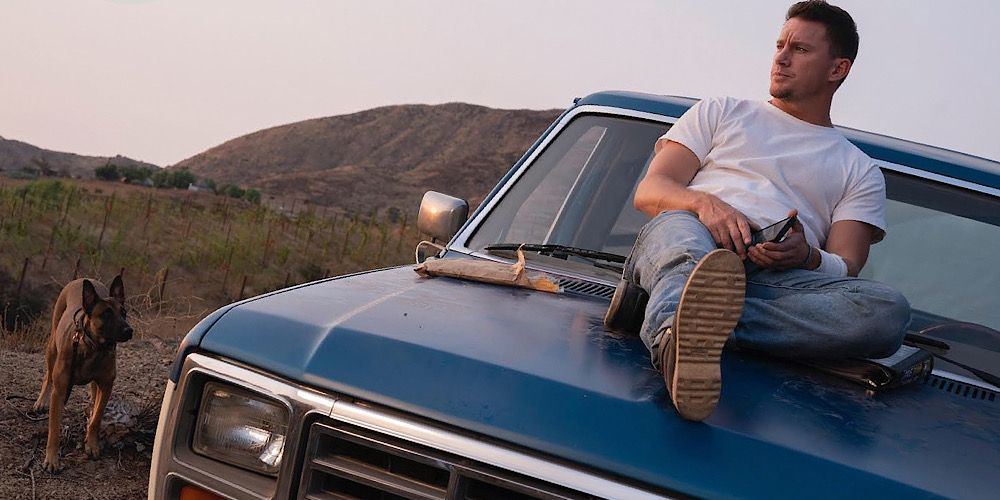 For dog lovers this enjoyable odd couple road movie and drama will be a real treat. The film deals with how a pair of war damaged misfits help to heal each other and learn to trust again. 
After a traumatised war veteran dies in an accident, his bereaved family insist that the specially trained dog that worked closely alongside his unit in war zones take pride of place at his funeral. The dog, named Lulu, is a Belgian Malinois, a breed that is apparently well suited to police or military work. But after eight tours of duty in various conflict zones, Lulu is suffering from shell shock and is aggressive, refusing to let anyone near her. She is considered dangerous, and the plan is for her to be put down after the funeral.
The task of driving Lulu across the country, from Washington to Arizona some thousands of miles away, falls to former combat veteran Jackson Briggs (Channing Tatum, in his first film role since Logan Lucky five years ago). Briggs himself suffers from a brain injury that saw him earn a medical discharge, considered unfit for active duty. However, his sympathetic commanding officer will consider authorising a return to duty if Briggs can successfully complete his mission. As Briggs and Lulu travel across America's midwest we get to learn quite a bit about their backstories, and a strong bond slowly develops between the two.
As with the best road movies, the trip itself becomes a bonding experience between Briggs and Lulu as they both begin the process of healing their psychological scars. Along the journey they encounter a number of characters who have an effect on them, including an encounter with a couple of tantric sex specialists, a couple of spaced out pot farmers, and a racist cop (Bill Burr), a former military policeman whose ingrained prejudices clearly shine through. Although there are some darker moments throughout the film there is also some comic relief as in the scene in which Briggs fakes blindness to score free accommodation in a luxury hotel.
Tatum codirects with his producing partner Reid Carolin (Magic Mike, etc), and both make their directorial debut here. The pair previously were credited as executive producers on the 2017 documentary War Dog: A Soldier's Best Friend, which was also obviously something of an influence here. Their handling of the material is proficient enough as they tap into the usual tropes of the road movie, and they keep things moving at a leisurely pace although there are a couple of tonal shifts here that jar slightly.
The film invites comparison with the 1989 Tom Hanks action comedy Turner And Hooch in particular, but is suffused with the spirit of many other movies about the relationship between a man and his dog. Tatum's interaction with Lulu is the emotional heart of the film, and credit must go to the animal trainers who worked with the three dogs that play Lulu throughout the film for extracting such a fine performance. Lulu has a wonderful scene stealing screen presence, but the chemistry between Tatum and his canine costar is palpable.
Dog is generally upbeat but it also underscores the trauma of war and how little is actually done to help the soldiers readjust to life after returning home from a war zone.
The film has been beautifully shot by cinematographer Newton Thomas Sigel (Drive, etc), who captures the wide open landscapes and vistas of America's midwest, and the visuals are accompanied by a country influenced soundtrack and a nice score from Thomas Newman that adds to the mood of the material.  
★★★☆