Reviewed by GREG KING
Director: Mick Jackson
Stars: Rachel Weisz, Tom Wilkinson, Timothy Spall, Andrew Scott, Harriet Walter, Jack Lowden, Alex Jennings, Mark Gatiss, Caren Pistorius, John Sessions.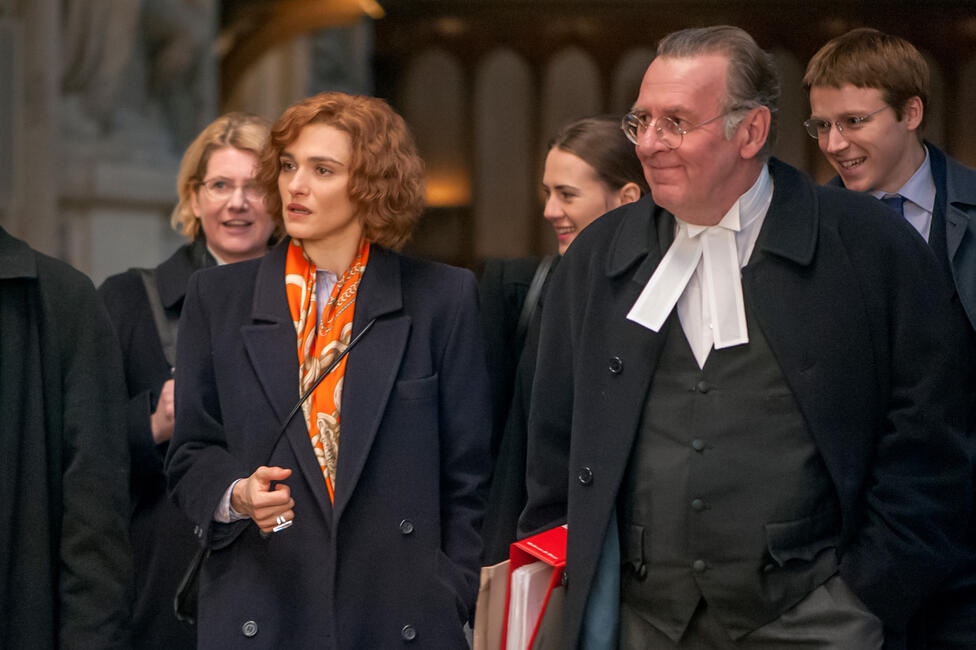 The well-acted and intelligent courtroom drama Denial is a dramatic depiction of the real life high profile 1996 libel trial in which controversial historian and Holocaust denier David Irving (here played by Timothy Spall) sued American academic and historian Deborah Lipstadt (Rachel Weisz) for libel over comments she made about him in her book Denying The Holocaust: The Growing Assault on Truth And Memory. She basically accused him of being a racist and Anti-Semite, and of falsifying history.
In the UK the libel laws are much stricter than in the US and it is up to the defendant to prove their innocence. Lipstadt has to prove that she essentially told the truth when she called Irving a liar in her book. Which means that she has to prove that Irving knew he was lying when he denied that the Holocaust ever happened. And how can she prove what happened at Auschwitz when there were no photographs taken of the gas chambers and the piles of corpses in the crematoriums?
But her legal team's strategy at first surprises her. Her solicitor Anthony Julius (Andrew Scott, best known for playing Moriarty in the tv series Sherlock), who handled Princess Di's high profile divorce, and respected barrister Richard Rampton (Tom Wilkinson) refuse to put any Holocaust survivors on the stand to testify. They want to deny Irving an opportunity to humiliate Holocaust survivors in the court room. Rather they plan to try and let Irving hang himself with his own words by exposing the fabrications and inconsistencies in his documentation. They also insist on a trial in front of a judge only, denying Irving the chance to play up in front of a jury. They also deny her the chance to stand up in court and confront Irving directly and expose him as a racist and anti-Semite.
The film opens when Irving interrupts a lecture that Lipstadt is delivering, offering $1000 to anyone who can prove that Hitler actually ordered the death of 6 million Jews in the death camps. It is a stunning start to what turns out to be a strong legal procedural courtroom drama.
Denial has been written by noted playwright David Hare, whose film scripts include The Reader and The Hours. It is a very dialogue driven drama with some strong courtroom confrontations and would seem to be suited to the stage. And given that we now live in a cynical era of "alternative facts" some of the drama here has an eerie and unsettling relevance, and its exploration of how the truth can be manipulated by people with a personal agenda will resonate strongly with audiences.
The director is Mick Jackson (The Bodyguard, etc), making his first feature after a decade working on the small screen on mini-series and acclaimed made for tv movies like Temple Grandin, etc. He brings an understated approach and a measured approach to the material, and it lacked a sense of urgency or passionate rage for me. I wanted more courtroom pyrotechnics and less of the meetings in hotel rooms and offices, which slow the film down. Much of the courtroom dialogue has been lifted verbatim from the actual transcripts of the trial, which lends a sense of authenticity to these scenes.
This courtroom drama will remind older audiences in particular of the 1974 television mini-series QB VII, starring Anthony Hopkins and Ben Gazzarra. Based on the novel written by Leon Uris it told the story of a Polish doctor who sued an American novelist for libel after he implicated him in war crimes and conducting experiments in the Nazi concentration camps at Auschwitz. Denial shares a few thematic similarities with that drama, but it also serves up a genuine nod in the direction of some of the classic courtroom thrillers that have graced the screen over the decades.
This is a classy looking production. The producers were given permission to shoot some key scenes at the site of Auschwitz which lends the material a poignant, emotionally harrowing quality and a grim sense of uneasy realism. Jackson handles these moments with remarkable restraint, even toning down Howard Shore's score. Cinematographer Haris Zambarloukos (Thor, Eye In The Sky, etc) atmospherically bathes these scenes in chilly blue hues and they serve as a stark reminder of what occurred there seven decades ago. Whereas a film like Son Of Saul took us right into the horrors of the Holocaust, Denial explores more complex moral issues from a distance.
Weisz is terrific in her role, and she brings passion and intelligence to her performance. She captures Lipstadt's initial sense of confusion and anger over the direction of the trial. Her Lipstadt is an outsider though whose eyes we see the legal manoeuvring, but she eventually comes to concede that her lawyers' strategy was the correct one. Wilkinson brings his usual sense of gravitas and dignity to his performance as the unassuming and conservative Rampton. As Irving, Spall contorts and twists his face to give him a somewhat evil and malevolent look and plays the loathsome character with a mix of oily charm and subtle menace.
★★★☆