Reviewed by GREG KING
Director: Sean Anders
Stars: Mark Wahlberg, Will Ferrell, Mel Gibson, John Lithgow, Linda Cardellini, Alexandra Ambrosio, John Cena, Owen Vaccaro, Scarlett Estevez, Didi Costine.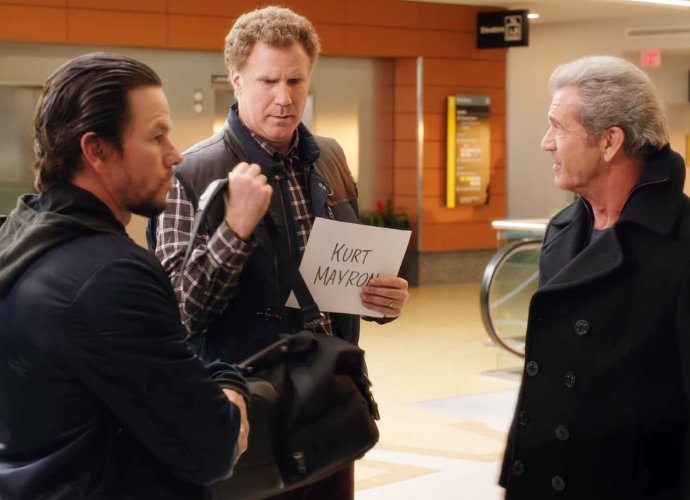 Not only do Christmas movies tend to be narkier and mean spirited in recent times, but they also seem to be hitting cinemas earlier. Even though it is only November we have three Christmas themed films in our multiplexes. There is Bad Moms 2, the home invasion black comedy Better Watch Out, and now we get Daddy's Home 2, the underwhelming and unnecessary sequel to the 2015 comedy that starred Mark Wahlberg and Will Ferrell. And as with Bad Moms 2, this formulaic sequel brings in a couple of grandparents to shake up the dysfunctional family dynamics.
In Daddy's Home, we were introduced to the warring co-parents with Wahlberg's cool, confident former delinquent Dusty Mayron, trying to outdo Ferrell's neurotic, nerdy and milquetoast stepfather Brad Whitaker, to show his kids who was the best father. Both men eventually reached a compromise and seem comfortable with their shared sense of responsibility and have become best friends.
When this sequel opens they are planning to spend the Christmas together as one big family unit so that their kids don't have to travel back and forth between families. But complications arise when their own fathers turn up for the festivities, raising a whole lot of awkward and unresolved parental issues. Dusty's estranged father Kurt (Mel Gibson), a retired astronaut, is the cool, confident, overly macho, womanising type who disapproves of Dusty's domestic situation. But Dusty is trying desperately to win approval from Kurt, whose own unapologetic tough love approach to parenting almost borders on neglect. Meanwhile Brad's father Don (John Lithgow) is the more tactile sort, a tender and gentle man who wears his heart on his sleeve and shows his emotions openly. Kurt seems more intent on driving a wedge between Dusty and Brad.
The two families spend the holidays in a luxurious mountain side Airbnb ski chalet. The set-up has plenty of potential, but unfortunately the script from director Sean Anders (Horrible Bosses, etc) doesn't deliver. The film explores themes of toxic masculinity, parenthood, family, gender roles, and the crass commercialism of Christmas. Many of the jokes fall flat, and there are some dubious moments – one involving a drunken Nativity scene and another a shotgun – that misfire badly. The tone throughout is uneven, with the mean spiritedness eventually giving way to sentimentality and an overly saccharine finale in which the cast join together to sing the Band Aid anthem Do They Know It's Christmas. Anders' direction is pedestrian, and there is an episodic feel to the material.
This is the third time that Wahlberg and Ferrell have teamed up for a comedy. They do have great chemistry and play off each other well, and their contrasting styles makes for a combustible mix. Ferrell's Brad is the butt of much of the physical, slapstick almost cartoonish humour here. His over the top performance seems to offer up yet another variation on his familiar buffoonish man child screen persona.
The strength of the film however seems to lie in the inspired casting of Gibson and Lithgow, who are perfect in their roles and their contrasting personalities. Gibson has always shown a nice comic touch, and even some of his action films like the Lethal Weapon series have had a strong streak of humour. He brings a cool, gruff charm to his portrayal of the confident, masculine Kurt and plays him with a twinkle in his eye and a sardonic sense of humour. Gibson seems keen to rehabilitate his image by appearing in this light weight comedy and clearly relished the opportunity to parody his own screen image. Lithgow is also very good here, and reins in his usual temptation for that over the top hammy scenery chewing performance style that he perfected with his Emmy-winning role in the sitcom 3rd Rock From The Sun. John Cena returns as Dusty's rival Roger, with a slightly more expanded role this time.
The female characters though are given little to do here. Linda Cardellini (Scooby Do, etc) is wasted as Brad's wife Sara, while former Victoria's Secret model Alexandra Ambrosio is given little to do as Dusty's shoplifting new trophy wife Karen, who spends most of her time observing the family dynamics and making notes in her little black notebook. Anders even fails to exploit the comic potential in exploring the rivalry between the two women, which could have been an interesting subplot.
While very much a hit and miss affair, Daddy's Home 2 is albeit a slight improvement on both the original film and the recent, similar, Bad Moms 2, which is damning it with faint praise.
★★☆