Reviewed by GREG KING
Director: Tamra Davis
Stars: Britney Spears, Anson Mount, Dan Aykroyd, Taryn Manning, Zoe Saldana
Part Boys On The Side, part Coyote Ugly, and one part just plain ugly?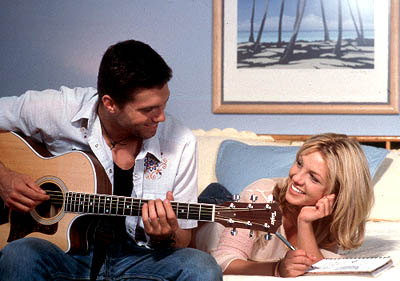 While not quite the dog we were all expecting after fellow singer Mariah Carey's dire debut in last year's awful Glitter, teen pop sensation Britney Spears' highly anticipated film debut Crossroads is still horribly cliched and unintentionally hilarious. Something of a cross between road movie, angst-ridden teen coming of age movie and musical, Crossroads is entertaining in a perverse fashion and will appeal to 13 year old girls everywhere. It is also miles better than Glitter!
Crossroads tells the story of three girls from small town America who have been friends for years. During high school and college, they have drifted apart, but reluctantly reunite for a cross-country journey that the three hope will enable them to realise their dreams. Spears plays Lucy, the naive, virginal valedictorian, poet and aspiring musician who wants to find the mother who abandoned her fifteen years earlier.
Mimi (Taryn Manning, from Crazy/Beautiful, etc) is the pregnant, troubled, white trash hoping to audition for a record company in LA and become a star. Kit (Zoe Saldana, from Centre Stage, etc) is rich, beautiful and arrogant, and hoping to surprise her fiancé who is studying at university out west. They are travelling with Ben (Anson Mount, from Urban Legends: Final Cut, etc), Mimi's enigmatic and handsome friend with a mysterious past (it is strongly rumoured that he killed someone).
During the journey (cue superb cinematography of wide-open spaces and power ballads on the soundtrack) the three girls enter a karaoke contest, rediscover their bonds of friendship, and learn some hard truths about life. Shonda Rhimes' script is straight from the Hollywood approved school of teen movie cliches, and offers a tedious succession of cliches and formulaic characters. The unintentionally hilarious dialogue often reduced the preview audience to fits of giggles. Most improbable of all though is the sight of three teenage girls heading off on a cross-country journey halfway across the US without a mobile phone in sight!
The film also has a strange, old-fashioned morality that probably echoes that of its virginal, saccharinely sweet star.
While Spears is the nominal star of this fluff and has an appealing presence, it is the hunky Mount who takes the acting honours. He leaves the biggest impression on audiences with his intensity and his smouldering presence, and makes much of a badly cliched and defined character. Dan Aykroyd plays his almost familiar role as the gruff, overbearing, but ultimately sympathetic father (think John Goodman in Coyote Ugly).
Crossroads is lightweight fluff that will certainly please Spears' legion of undemanding fans. And sales of the obligatory soundtrack itself will keep her record company happy!
★