Reviewed by GREG KING
Director: David Cronenberg
Stars: Viggo Mortensen, Lea Seydoux, Kristen Stewart, Scott Speedman, Don McKellar, Lihi Kornowski, Welket Bungue, Yorgos Pirpassopoulos.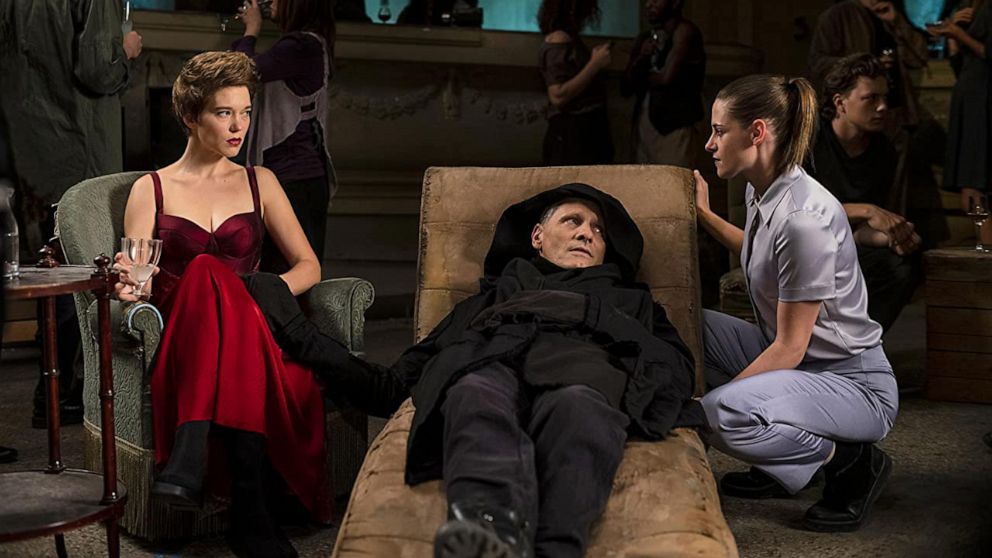 In his first film for eight years, David Cronenberg returns to the gruesome and familiar field of body horror with his latest creepy and stomach-churning offering that offers up a mix of sci-fi and horror and revisits many themes that are familiar from some of his films from the 80s and 90s.  
Crimes Of The Future is set in a depressing and polluted dystopian brave new world of the near future where humans have evolved and feel no pain. They are also able to grow new organs which compensate for the synthetic foods that man now eats as pollution has contaminated much of the world's natural food supplies. Surgery has become a new form of performance art.
Saul Tenser (Viggo Mortensen in his fifth film for the director) is in pain and grows new organs. In a series of avant garde performances before a rapt crowd his partner Caprice (Lea Seydoux), a former trauma surgeon, tattoos these new organs before harvesting them. Taking an unhealthy and often perverse interest in Saul's work are two agents of the new bureaucratic organisation, the National Organ Registry, which monitors these new developments in science and wants to know more about Saul's condition. Timlin (Kristen Stewart, replacing Natalie Portman) and Whippett (Don McKellar) observe some of these operations. Timlin seems turned on by the surgery and offers up the opinion that "surgery is the new sex."
Also taking an interest in proceedings is government agent Cope (Welket Bungue), who has secret nocturnal meetings with Saul. And then there is Lang Dotrice (Scott Speedman), who wants Caprice to perform an autopsy on his recently deceased son, who was murdered by his mother who was distressed by his ability to digest plastics as a way of learning more about the secrets of evolution. Dotrice also operates an underground factory that produces a lethal form of purple chocolate.
Crimes Of The Future is a visceral, confronting and deeply disturbing film that explores some unsettling ideas and weighty themes of pollution, body modification and mutilation, exploitation, mortality, the future of mankind, science and technology, the pervasive presence of plastics in our world, how man is systematically destroying the environment. The film contains numerous visual and thematic references to his earlier works and is tinged with a strong streak of pitch-black humour. Cronenberg wrote the script in 1998 but this long gestating project has been delayed.
Crimes Of The Future is also dense and at times an almost incomprehensible film that will prove divisive. Some of the subplots go nowhere in particular. This is not a film for the squeamish and some of the surgical scenes are quite bizarre and gruesome and even hardened viewers may feel like looking away from the screen at times.
The performances are perfectly attuned to the bizarre nature of the material. Mortensen is strong in this unusual role, and some of the pain he conveys is actually real, as, at the time of shooting, he was still suffering from a recent injury. Some of the dialogue is delivered in a detached and stylised fashion that adds to the artificial quality of it all.
A Canadian/Greek co-production, Crimes Of The Future was filmed in Greece and the depressed and dark, gritty sets lend a suitably oppressive look to the material. The production design from regular collaborator Carol Spier is sparse but also gritty and creates an unsettling, sinister and dingy environment. It has been grimly shot in a bleak colour palette by cinematographer Douglas Koch. Howard Shore's score adds to the unsettling and discordant tone.
Nonetheless while undoubtedly provocative, this is not one of Cronenberg's best films but will hold some appeal for fans of the director's body of work. 
★★☆