Reviewed by GREG KING
Director: Woody Allen
Stars: Jesse Eisenberg, Kristen Stewart, Steve Carell, Corey Stoll, Ken Stott, Jeannie Berlin, Blake Lively, Parker Posey.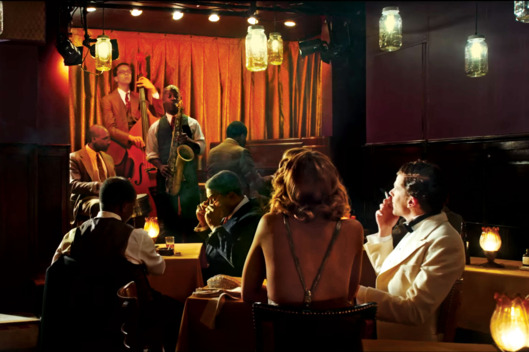 Now 81 years old and entering his sixth decade as a filmmaker, Woody Allen is still a prolific director. Over the years his output has been a bit hit and miss, with Midnight In Paris not only his best film in the 21st century but a high point of his career. His latest film, while entertaining and enjoyable enough, is lightweight and fairly forgettable stuff and doesn't reach the heights of that masterpiece.
"Life is a comedy, but it is written by a sadistic comedy writer," says our central character Bobby Dorfman (Jesse Eisenberg), who serves as Allen's surrogate here.
A recent college graduate, Dorfmann leaves behind his beloved Brooklyn and heads out west to Hollywood with dreams of making it big. His connection to Tinseltown is his uncle Phil Stern (Steve Carell), a fast talking agent who is one of the most powerful men in the business. Initially Phil is reluctant to show his nephew the ropes, but eventually he employs him in menial tasks. He also introduces him to his pretty secretary Veronica (Kristen Stewart) and asks her to show him around town and help him get settled. While Bobby is entranced by the glitter of Hollywood, Veronica seems a bit more cynical and unimpressed.
As they tour through the Hollywood hills and the movie star homes, a romance develops between Bobby and Veronica. The only trouble is she is also Phil's secret mistress. Disillusioned, Bobby leaves LA and returns home to Brooklyn where he ends up managing Club Hangover, one of the glamourous nightclubs owned by his gangster brother Ben (Corey Stoll, from This Is Where I Leave You and Non-Stop, etc), where he rubs shoulders with powerful politicians and gangsters. And he marries the beautiful socialite Veronica (Blake Lively, recently seen in The Shallows, etc). All seems to be going well until his former flame from Hollywood reenters his life.
Cafe Society is more of a romance rather than an out and out comedy, and it is a bit cliched although there are quite a few laughs to be found. His screenplay is witty and filled with a palpable longing for the past and seems his most personal film for quite some time. The usual older man/younger woman dynamic that has been a feature of Allen's films for quite some time rears its head again, but is nowhere near as offputting as it has sometimes been in some of his other movies. The subplot featuring Bobby's gangster brother Ben is actually the stronger narrative here and is more interesting than the romantic triangle subplot, and has plenty of potential. It also provides most of the laughs.
As usual Allen has populated his ensemble cast with actors who fill the roles perfectly, and they are all fine. Eisenberg serves as Allen's surrogate here, and although he captures some of his mannerisms, idiosyncratic ways and neurotic dialogue, he seems a little too sure and confident. Over the past year Stewart has found herself playing meatier roles that have allowed her to show great range and depth as an actress, and here she shines, giving one of the best performances of her career. This is her third film with Eisenberg (after Adventureland and American Ultra) and they share a great rapport and chemistry. Carell, who replaced Bruce Willis, is cast against type here as the philandering Phil, and he also delivers a strong performance. There is also something a little creepy about his character. Jeannie Berlin and Ken Stott provide plenty of humour as Bobby's constantly bickering parents.
Cafe Society is Allen's bittersweet love letter to the Hollywood of the 30s and the vibrant New York jazz age of the same era, and is steeped in the ambience and suffused with a strong sense of nostalgia. This was an era of grand dreams and bright new possibilities and the film reflects these more optimistic times. And Allen's love of jazz is obvious with the jazz infused soundtrack. Veteran three time Oscar winning cinematographer Vittorio Storaro (Apocalypse Now, etc) has bathed the film in a warm golden palette that enhances the nostalgic mood.
The voice over narration provided by Allen himself comes across as a bit pretentious at times, but it provides some witty insights into the characters and features some nice one-liners. And at a briskly paced 96 minutes Cafe Society doesn't outstay its welcome.
★★★