Reviewed by GREG KING
Director: Angelina Jolie-Pitt
Stars: Brad Pitt, Angelina Jolie-Pitt, Niels Arestrup, Melanie Laurent, Melvil Poupaud, Richard Bohringer.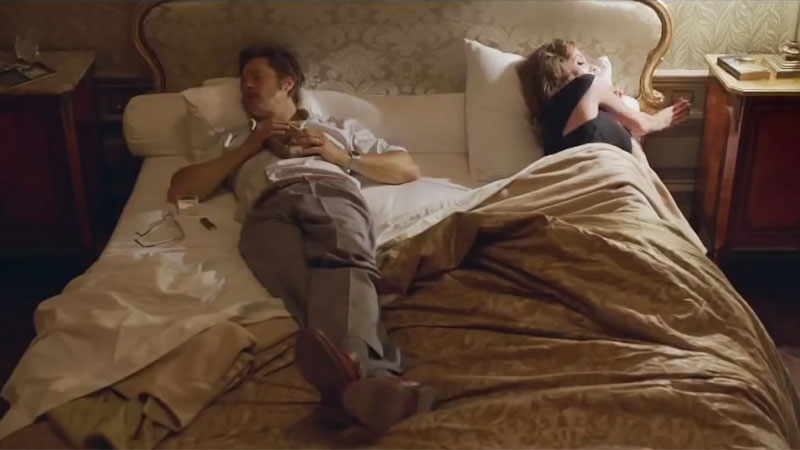 A glamorous American couple holidaying in Europe arrive at a small seaside village, and settle into a beautiful little hotel overlooking the Mediterranean. But it is soon clear that their marriage is in crisis. Roland (Brad Pitt) is a writer who is suffering from a severe case of writer's block, and he finds inspiration at the bottom of a bottle. Vanessa (Angelina Jolie) is a former dancer who is battling a severe case of depression. The cause of her grief is not revealed until late in the film.
While Roland drinks at a local bar and strikes up a conversation with the bar owner (Niels Arestrup, from Une Prophet, etc), Vanessa prefers to wallow in her own misery in the hotel suite. But then she discovers a hole in the wall, which enables her to spy on the young couple next door. Lea (Melanie Laurent, from Inglorious Basterds, etc) and Francois (Melvil Poupaud) are a young couple on their honeymoon and their love making and sense of sexual liberation soon touches Vanessa and Roland. As they spy on the couple next door they somehow grow closer, and a healing process begins.
Themes of grief, intimacy and voyeurism are the key elements of this slow paced, sparse and subtle drama, which marks Jolie's third film as a director. She has gone for something more intimate and personal this time around, and the vanity project By The Sea is a change of pace following the grand scale of her previous film Unbroken, an inspirational story of courage and survival set against the backdrop of World War Two. By The Sea is a dissection of a strained marriage, but in tone and style it harks back to the doomed romanticism and lyricism of the European art house cinema of the 60s and early 70s, and directors like Antonioni and Bertolucci.
Jolie, who also wrote the film, has opted to set the film in the 70s because it was a colourful and alluring time and allows her to focus on the characters and the emotions they experience during their journey. This is a subtle, delicate and textured work that puts the emotions of the characters front and centre. However, this is a film that will not appeal to everyone, especially given its meandering pace, its occasionally self-indulgent nature, an overly generous running time of 132 minutes and periods of inertia.
But as with Kubrick's study of sexuality in Eyes Wide Shut, in which audiences chose to interpret some of the drama as an insight into the real off-screen relationship between its stars Tom Cruise and Nicole Kidman, so too will some audiences be tempted to read beneath the surface here for some insights into the off screen relationship between Mr and Mrs Pitt, one of the few remaining power couples in Hollywood. This is the first time that the couple have appeared together on screen since 2005's action comedy Mr And Mrs Smith.
For his part Pitt delivers a restrained performance, while Jolie seems to wallow in the part of a psychologically tortured heroine, a character seemingly ripped straight from the pages of a Tennessee Williams' southern Gothic play. There are lots of uncomfortable silences between Vanesa and Roland that speak volumes about the troubled state of their marriage. But the audience will always wonder where the fiction leaves off and the real glimpses into "Brangelina" start.
By The Sea is an aesthetically beautiful film though, although its stunning visuals do not completely compensate for the lack of involving drama or emotional fireworks. The film has been shot in deliberate style by cinematographer Christian Berger, who has worked extensively with Michael Haneke, whose lighting enhances the claustrophobic atmosphere of the interiors. By The Sea was shot on this island of Malta, and Berger also makes the most of the picturesque locations and the deep blue sea, making the sun drenched idyllic seaside village another character in the drama. And Gabriel Yared's lush string driven score enhances the intimate nature of the drama.
★★☆