Reviewed by GREG KING
Director: Tim Brown
Stars: Bill Nighy, Victoria Hill, Milan Burch, Kelton Pell, Martin Sacks, Ben Wood, Anthony Gooley, Julia Billington.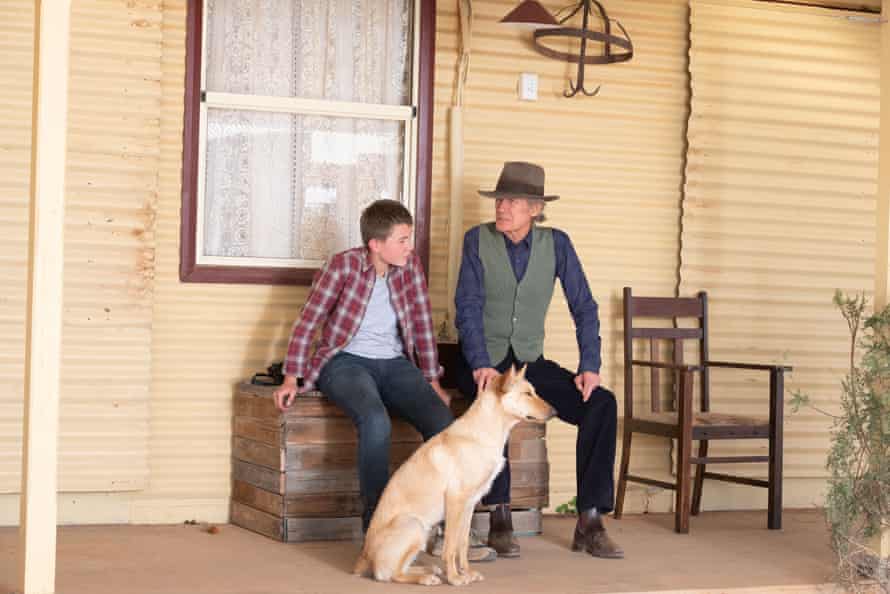 A genial but slightly old fashioned feelgood family centric drama that paints a rather cliched picture of Australia's outback and its characters.
Following the death of his beloved father New York teen Ridley (Milan Burch) and his mother Gloria (Victoria Hill, from Dance Academy, etc) travel across the world to spend time with Spencer, the grandfather he has never known. Gloria hopes that the change of scenery and the new environment will help Ridley overcome his grief at losing his beloved father. Spencer (played by Bill Nighy) owns a sprawling sheep station known as Buckley's Chance (named after an infamous escaped convict) in the remote western region of New South Wales. Spencer is dealing with plenty of emotional baggage and regrets over a past incident that caused an irrevocable split between him and his son who fled to New York twenty years ago.
Spencer tries to reconnect with Ridley, whom he affectionately nicknames Riddles, despite the boy's protests. During an overnight camping trip which is meant to be a bonding experience in which Spencer can share some of his knowledge about surviving in the bush, Ridley rescues a dingo which has been trapped in a barbed wire fence. The dingo befriends Ridley and he names it Buckley.
A major subplot surrounds Cooper (Martin Sacks, from tv series Blue Heelers, etc), a fellow farmer, who is pressuring Spencer to sell off some of his valuable land to a mining corporation for the benefit of the whole community. One night Ridley sees two of Cooper's goons sneak into Spencer's barn and try to set it alight. They are scared off, but inadvertently take Ridley, who is hiding in the back of their truck, with them. Ridley manages to escape their clutches, but becomes lost in the harsh desert.
While Spencer and Gloria frantically arrange a search party to find the missing boy, Ridley finds companionship through the dingo Buckley, who protects him from some of the dangers of the outback.
Buckley's Chance has been directed by Canadian filmmaker Tim Brown (Devil In The Dark, etc) and follows many of the familiar tropes of the foreigner lost in the hostile Australian outback – from Walkabout through to Wake In Fright and in particular shares many elements similar to the recent Red Dog sequel True Blue. Its view of outback Australia is certainly cliched. The script has been written by Brown and Willem Wennekers (From The Vine, etc), and is a tad predictable, and the film fails to reach any great heights of tension or drama. It deals with universal themes of grief, regrets, finding your place in the world, isolation, survival, and delivers a positive message that "you can't have strength without struggle."
However, Buckley's Chance benefits from some superb cinematography from veteran Ben Nott (who shot Danger Close, etc). The film was shot on location near Broken Hill, and Nott captures some great panoramic vistas of the harsh outback.
The role of the laconic, curmudgeonly and gruff Spencer is played by a tired and bored sounding Nighy, who struggles to master the distinctive Australian accent. Kelton Pell (Redfern Now, etc) is good and brings gravitas to his performance as Jules, Spencer's sage farm hand. The performance from newcomer Burch is a little uneven but he grows in confidence as the film progresses. He has an appealing presence. Ben Wood and Anthony Gooley provide some comic relief as the hapless goons.
★★☆