by GREG KING
The third British Film Festival screens at Palace Cinemas around Australia from October 28, and according to festival director Kim Petralis, the growth of the festival in three short years has been quite staggering. When the festival started off in 2013 they had a humble 123 sessions nationally. This year, Petralis says that they are up to 768 sessions this year. The admissions have risen from 18,000 in 2013 to to 32,000 last year, and according to Petalas it's really become one of our major festivals and it's about to hit the heights of the long established festivals like the Spanish, the French and Italian Film Festivals.
"It really gives people an opportunity to see films as premieres before they're released theatrically," he says. "There are also a number of titles in the festival that don't get the opportunity for a theatrical release. This festival really gives audiences a chance to get in early for some of those films that will be released at Christmas or early in 2016 and catch some of the really worthy films that won't be released."
The opening night film is Youth, the new film from Italian director Paolo Sorrentino, which stars quintessential British actor Michael Caine, Harvey Keitel and featuring Jane Fonda in a small role. Sorrentino's The Great Beauty won an Oscar for Best Foreign Language Film, and Youth was nominated for the Palme d'Or at this year's Cannes Film Festival, so it comes with great acclaim. Youth has been filmed in English, it has been beautifully shot and uses all of Sorrentino's cinematic techniques, including the way he uses music. Jane Fonda actually comes into late in the film but she effortlessly steals scenes.
Other highlights include The Program, which is a dramatisation of the Lance Armstrong story. We all know the Lance Armstrong story, but here director Stephen Frears gives us a different interpretation. This is an exceptionally well made film with strong performances.
Suffragette, which recently opened the London Film Festival, is another powerful and moving film. Starring Meryl Streep, Carey Mulligan and Helena Bonham Carter, this is a powerful film about the early feminist movement and the fight for the right to vote in Britain. The film serves as a stark reminder that the vote for women was not something that evolved naturally, it was something that had to be really fought for.
Spooks: The Greater Good is a feature length version of the popular television series. It delivers some wonderful action film, and features some great London scenery. It also stars Kit Harington from Game Of Thrones.
Film buffs will enjoy a couple of great documentaries in the program. Filmed In Supermarionation is a fabulous documentary about Gerry and Sylvia Anderson, who were absolute pioneers in live action puppetry, and they were best known as the creators of the hit tv series Thunderbirds. Anyone with an interest in 60s pop culture and some of the great tv series of the time will certainly appreciate this film as it goes behind the scenes and shows how vibrant and how exciting those times were.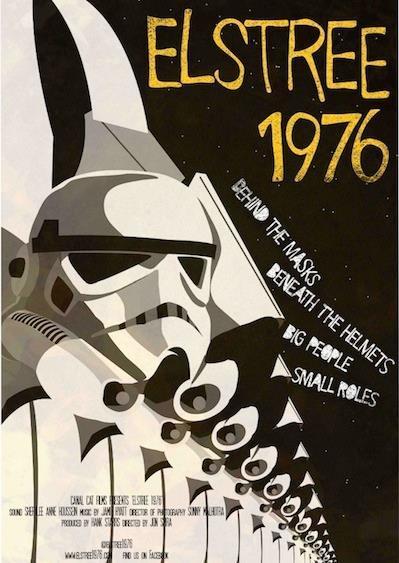 Elstree 1976 looks at the famous Elstree film studios in London where the classic Star Wars was shot. A lot of people don't realise that George Lucas shot Star Wars at the old Elstree Studios. Elstree 1976 showcases ten extras who had roles in the original Star Wars (including David Prowse who actually played Darth Vader). They initially thought they were making this small low budget sci-fi film, which ended up becoming a cultural phenomenon. They have since become something of a phenomenon in their own right and now make a living attending fairs like Cinecom and these big collectors' fairs all around the world. It's a really interesting documentary. Given the imminent release of the eagerly awaited new Star Wars film, this one will be a must for fans.
Brooklyn is a charming cross cultural romance that stars Saoirse Ronan, who is a terrific young Irish actress. The film is written by the classic British novelist Nick Hornby who wrote About A Boy, etc. Set in the 1950s this is a beautiful romance that will touch a chord with Australian audiences because we come from such a multicultural background here. People are torn between two countries, and we get a powerful sense of what Saoirse's character goes through loving both her homeland Ireland and her new life in New York.
This year the festival features a sidebar called Love Actually, a specially curated retrospective of ten films representing romance in a each decade of the 20th century. This is something that Petalas has been working on for 12 months. The program features classic films like Joseph Losey's 1971 romance The Go-Between and Ken Russell's bold challenging film adaptation of D H Lawrence's novel Women In Love, which was very controversial in its day. The program also includes David Lean's elegiac and epic Ryan's Daughter, a breathless romantic drama set on the windswept Irish coast, which originally played at the Capitol Cinema in Swanston Street for close on two years when first released; The Prime Of Miss Jean Brodie with Maggie Smith in her Academy Award winning performance; My Beautiful Laundrette is another beautiful and bold film from the 1980s; and John Schlesinger's Sunday Bloody Sunday was also very controversial when it first came out. It's a very confronting film dealing with a love triangle, but this very powerful film still holds up incredibly well.
The closing night is The Man Who Knew Infinity, starring Dev Patel (from Slumdog Millionaire) as Indian mathematician Srinivasa Ramanujan. This terrific drama tracks Ramanujan's life from very humble beginnings in Madras to his life and great renown at Cambridge University. It also features Jeremy Irons in one of his best performances in years as a Cambridge professor who becomes Ramanujan's mentor. The film comes direct from the Toronto Film Festival, and according to Petalas it could be up for serious awards next year.
The British Film Festival 2015 screens at palace Cinemas from October 27 through to November 18. In Melbourne it runs from October 28; in Sydney it runs from October 27; in Canberra it screens from October 29; in Brisbane it screens from October 29; in Perth it screens from October 28; in Adelaide it screens from October 28 and in Byron Bay it screens from October 29. Check the website at britishfilmfestival.com.au for screening details and session times.
Greg spoke to festival director Kim Petalas to find out more about this year's program.
https://www.mediafire.com/listen/z75cybu5qlnsqzm/201001_001.MP3