The Breath of Fresh Air Film Festival screened in Launceston, Tasmania, from May 17-20.
ALL FILMES REVIEWED BY GREG KING
PECKING ORDER.
Last year we saw Chicken People, a US documentary set against the background of competitive chicken raising, and we met three people obsessed with raising their chickens and competing in best of show competitions. This quirky and off beat New Zealand documentary explores some similar territory in warm and witty fashion. Pecking Order centres around the Christchurch Poultry, Bantam and Pigeon Club, a club which has a long and proud history. But in the lead up to the 2015 National Championships and the club's sesquicentennial celebrations, the club is rocked by political unrest and tension, scandal, infighting and the clash of personalities. Politics rears its ugly head as an internecine battle ensues for the position of club president, and this overshadows the club's preparations for the competitions ahead. This is the kind of subject matter that could provide plenty of rich material for a Christopher Guest-like mockumentary, but thankfully New Zealand based director Slavko Martinov (Propaganda, etc) plays it straight, and he doesn't denigrate his eccentric characters or take cheap pot shots at them for easy laughs. This is observational filmmaking, and Martinov adopts a fly-on-the-wall approach to this strange subculture. We meet a number of these endearingly eccentric chicken fanciers, ranging from the veterans like Doug Bain through to the younger Rhys Lilley, a preteen who has won numerous awards himself. And despite its parochial setting, this surprisingly entertaining documentary has broad appeal.
POP AYE. 
A quirky and gentle road movie from Thailand, Pop Aye is sure to please audiences of a certain age or sensibility. Middle aged architect Thana (Thaneth Warakulnakrah) is in the midst of a mid-life crisis. He is fed up with his job and his marriage to his sexually frustrated and unhappy wife, who feels resentful towards him for his lack of ambition and drive. Then a chance encounter with an elephant on the street of Bangkok sets him on a course that will change his life and his attitude. This is a meandering journey as the odd couple meet a number of interesting misfit characters along the way. Pop Aye is the debut feature film for Thai writer/director Kirsten Tan, and she maintains an unhurried and leisurely pace throughout that suits the material. This is a film with a strong humanist touch and a gentle streak. But there is also a melancholy tone to the film as it captures the changing face of Thailand, and that sense of disconnect between the urban lifestyle and pace and the relative quite of the rural life. The film has been beautifully shot by cinematographer Chanon Chotrungroj, who captures some lovely landscapes. Matthew James Kelly's upbeat guitar-laden score also adds to the film's tone. Warakulnakrah, a rock musician making his acting debut here, brings a loneliness and poignant quality to his performance as Thana. And Bono, the elephant that plays the titular Pop Aye is really cute and has a wonderful personality that shines through.
FACES PLACES.
Diminutive 88-year old filmmaker Agnes Varda (The Gleaners And I, etc) returns to the screen with this whimsical road journey documentary, her first feature film in nine years. Here she teams up with 33-year old French visual artist and film director known simply as JR, known for his large scale photographic murals, and the results are a delight to watch. There is plenty of playful banter between Varda and JR as they explore their views of the world, but there is also obviously a mutual respect there. The tone of the film is set right from the opening with its clever animated title credit sequence. Together Varda and JR travel across the country in JR's customised van, visiting towns, talking to the people they meet and taking lots of photographic portraits along the way. They chat to farmers, dock workers, factory workers and generally celebrate the curious folk they encounter and their fascinating stories. There is almost an aimless meandering quality to the material, which gives the film an almost episodic feel. The film has been deftly edited together by Maxime Pozzi-Garcia and Varda herself. Despite its generally upbeat mood, an air of melancholy and sadness pervades the latter sections of the film though as we are made aware of the passing of time and the loss of traditions, and also Varda's failing health is more obvious.
MOUNTAIN.
"The mountains we climb are not just rocks and ice, they are our dreams and desires." So says Willem Dafoe, who narrates this documentary that explores our obsession with climbing mountains and conquering lofty peaks. Mountains now exert some sort of seductive spell over us, and that is what filmmaker Jennifer Peedom sets out to explore in this documentary. Peedom previously gave us the superb BAFTA nominated documentary Sherpa, which criticised the more commercial nature of the Everest climbing industry and captured the tragedy of the climbers killed during a freak storm there in 2015. Unlike that film, Mountain is more of a tribute to the explorers and thrill seekers who risk their lives to scale these peaks. This extremely visceral film features some astonishing cinematography from high altitude cinematographer Renan Ozturk (who collaborated with Peedom on Sherpa). He captures some superb and beautiful scenery that would look spectacular in the giant IMAX format. The sparse, poetic and impressionistic narration was written by best-selling author Robert Macfarlane (2003's Mountains Of The Mind, etc), and adds further context. It has been delivered in rich tones by Dafoe. But some of it comes across as a tad pretentious and a little too philosophical in its musings.
Peedom also gives us some exhilarating Warren Miller like shots of some extreme sportspeople and their daredevil stunts – free climbing, BMX riding, base jumping, extreme skiing in which people try to outrun avalanches, and parachuting off high peaks. The film has been shaped by editors Christian Gazal (Sherpa, etc) and Scott Gray (Top Of The Lake, etc) who try to match the music and images. The editors have culled some 2000 hours of footage shot in 15 different countries down to the brisk 74 minutes we see on screen. But there is a random nature to much of the juxtaposition of images and footage here, and despite the brief running time the film does seem to outstay its welcome. And some of the material is repetitive, especially as some of the footage capturing climbers scaling Mount Everest revisits Sherpa territory. Mountain is a unique collaboration between a filmmaker's vision and the Australian Chamber Orchestra, which makes this cinematic odyssey and immersive experience. The visuals are accompanied by an orchestral score, mixing classical music with original music composed by Richard Tognetti, the chief conductor of the Australian Chamber Orchestra, and recorded live at the Sydney Opera House. The score lends an emotional core to the visuals. Mountain is certainly beautiful to look at and offers up a meditation on the grandeur of nature.
THE OTHER SIDE OF HOPE.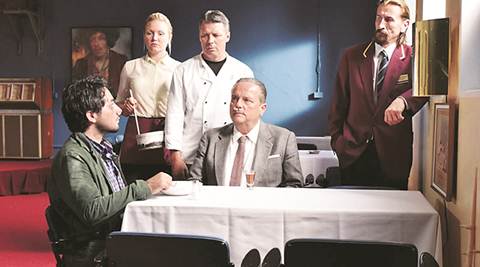 The latest film from idiosyncratic Finnish auteur Aki Kaurismaki, The Other Side Of Hope was the opening night attraction at the 2017 Scandinavian Film Festival. This comedy is full of his usual droll humour and dead pan style and absurdist touches. Kaurismaki often pokes fun at the Finnish working class and their daily struggles in his films. The Other Side Of Hope is the second film in an unofficial trilogy exploring the plight of illegal immigrant and refugees in contemporary Europe, and it follows on from 2011's wonderful Le Havre, in which an aging shoe shine man took pity on a young African refugee. Here we meet Syrian refugee and asylum seeker Khaled (Sherwan Haji) as he attempts to find a new life in Helsinki. He is given a chance by the grumpy Wilkstrom (Kaurismaki regular Sakari Kuosmanen), a former travelling salesman who wins at poker and decides to buy a run-down restaurant called The Golden Pint. This is essentially a culture clash comedy that explores the unlikely friendship that develops between these two men from vastly different backgrounds. The restaurant's quirky staff bring some offbeat touches of idiosyncratic humour to the material. The film deals with the topical issue of illegal immigrants and refugees and the violence and racism that they often suffer at the hands of fascist groups. While this is sometimes grim stuff Kaurismaki brings a sympathetic and compassionate and humane approach to the material and it is tinged with a sense of hope and optimism. He has a deep affection for his characters. This is unapologetically political in nature, yet it explores ideas that are familiar to Kaurismaki's oeuvre. His films are something of an acquired taste with his dry humour, his long static takes and leisurely pacing, and audiences attuned to his sensibility will find much to enjoy here.
THE SQUARE.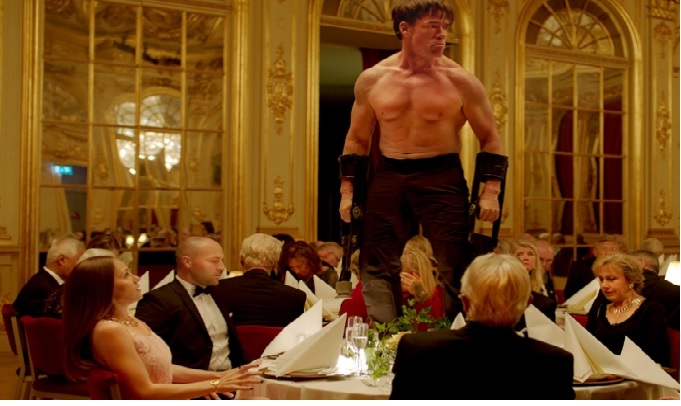 The latest film from Swedish director Ruben Ostlund (2014's Force Majeure, etc), The Square is a sharp and surreal and subversive take on the emptiness of modern culture, art and pretentious artists, the creative process, the media, privilege, social class, hypocrisy and politics, guilt, and political correctness. Although set in Sweden, these themes have a universal quality. The Square won the Palme d'Or prize at the Cannes Film Festival in 2017 and is Sweden's entry for the Best Foreign Language Film at the Oscars. But this sprawling, oblique, challenging and confounding film is less successful and accessible than his Force Majeure, and is likely to polarise audiences. This is a film of ideas and an exploration of the heartless nature of contemporary society. Ostlund weaves a number of themes and narrative strands through the bloated and torturously long 145-minute film, and a lot of the material could have been left on the editing room floor. Some of these strands are more successful than others. Ostlund allows some of his ideas to bounce around without direction and the film often loses focus. Ostlund eschews a straightforward narrative structure, giving the has an almost episodic structure. The film itself is often downbeat in tone but leavened with a strong streak of black humour that will not be to everyone's taste. The Square is a dense drama that explores the darker side of humanity and the base nature of humanity, and, like misanthropic filmmaker Michael Haneke, Ostlund deliberately sets out to make us squirm with his world view. Motion capture performer Terry Notary (best known for his work in the rebooted Planet Of The Apes trilogy) plays Oleg, who gives us a confronting piece of performance art at a lavish dinner gathering that quickly gets out of control.
The film has been beautifully shot by cinematographer Fredrick Wenzel (Force Majeure, etc), who uses long takes and a static camera to capture the drama. And he often leaves the camera aimed at a scene and holds the shot rather than cut away when it is clearly finished. Like a lot of previous films that have won the top prize at Cannes, The Square is an obscure film that may appeal to the art house crowd but will leave most audiences bemused and confused.
GOD'S OWN COUNTRY.
Wuthering Heights meets Brokeback Mountain? This gay coming out drama set against the backdrop of the picturesque, but bleak windswept Yorkshire moors has invited comparisons to Ang Lee's gay cowboy film Brokeback Mountain. But whereas Lee's film had mainstream appeal, God's Own Country is a far more austere work that will not have the same broad appeal. It is firmly in the tradition of those grim kitchen sink dramas beloved of British cinema of the 60's, but also has the gritty realism of Mike Leigh, etc. God's Own Country probably has more in common with the Israeli film Yossi & Jagger, which explored the relationship between two soldiers in a very macho world and setting. Nonetheless this is a moving, thoughtful, heartfelt and wonderfully nuanced drama that marks an impressive feature directorial debut for actor turned director Francis Lee. But the film also touches on broader contemporary themes such as class, identity, sexuality, a dying tradition of the family farm, and the impact of European immigration in rural England.
This is something of a love letter to the Yorkshire landscape as well, and Lee captures the feelings and emotions of the setting and the characters with verisimilitude. But he doesn't overly romanticise the settings. The film has been beautifully shot in widescreen by cinematographer Joshua James Richards, who comes from a background in short films, and he makes the oppressive and harsh landscapes seem eerily beautiful. And he gives the material a moody and brooding quality. Lee has a strong sense of visual style, and there are some striking visual compositions. A former actor himself, Lee knows how to focus on the performances of his main cast, and they deliver subtle, nuanced and compassionate performances.
A FANTASTIC WOMAN.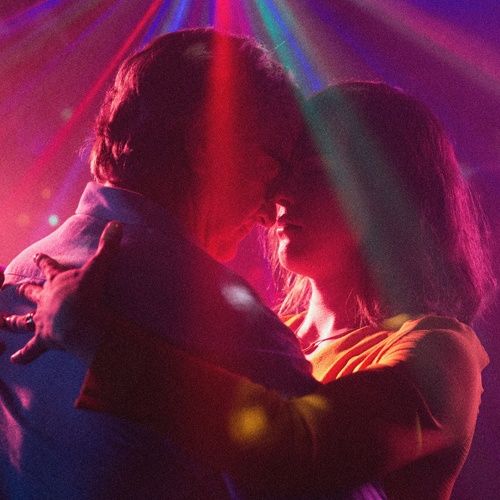 Chilean director Sebastian Lelio makes films that deal with strong female characters who struggle against a patriarchal society. His previous film Gloria offered up a sympathetic and honest portrait of a middle-aged woman looking for love and fulfillment in contemporary Santiago, and he handled the material with a sense of compassion and respect. Those same qualities are evident in his fifth feature film, A Fantastic Woman, which is Chile's official entry for the Best Foreign Language Oscar. The fantastic woman of the title is Marina Vidal (played by newcomer Daniela Vega), who initially seems a graceful, elegant and confident young woman. She works as a waitress by day and as a sultry cabaret singer in a seedy nightclub at night. She attracts the attention of middle-aged businessman Orlando (Francisco Reyes, from Neruda, etc), who is 20 years her senior. She becomes his mistress. Then one night following her birthday celebrations, Orlando suddenly collapses from an aneurism and dies, and he world is turned upside down.
The whole film hinges around Marina, who is a strong and complex character. Fittingly, the transgender Vega dominates the screen from the outset, and she is a revelation. She has a natural screen presence and brings a wonderful mix of sadness, vulnerability and poise and strength to her performance. This is a breakout performance from Vega, whose androgynous figure is perfect, and she brings a rare truth and integrity to the character's emotional journey. She was initially hired to work as a consultant on the film's milieu, but she so impressed Lelio that he eventually cast her in the lead role.
Cowritten by Lelio and his regular collaborator Gonzalo Marza, A Fantastic Woman draws on Vega's own experiences to help shape the screenplay. The film deals with themes of love, grief, marginalisation, sexual identity, tolerance, prejudice, status and social class, resilience, and even homophobia. It is rare to see positive depictions and representations of transgender characters on screen. Lelio's direction of this delicate subject matter is sensitive, measured and the pacing leisurely, and we get plenty of time to know and understand Marina and her struggles for acceptance. There are some surreal touches late in the film that unbalance the drama. The film has been atmospherically shot by cinematographer Benjamin Echazarreta (Gloria, etc), who captures some scenery of the Santiago setting.