Reviewed by GREG KING
Director: Claire Denis
Stars: Juliette Binoche, Vincent Lindon, Gregoire Colin, Issa Perica, Bulle Ogier.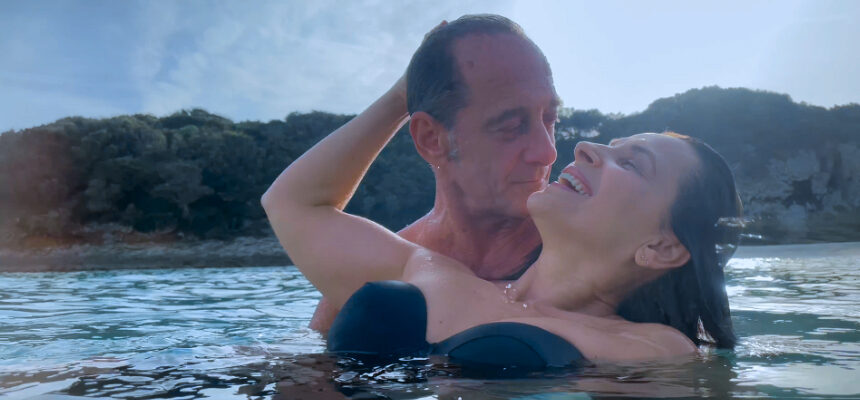 French auteur Claire Denis (White Material, etc) often explores fragile relationships in her films, looking at the tension between her characters and the corrosive effects of the lack of trust. Her latest film Both Sides Of The Blade (aka Fire in some territories) explores a romantic triangle that spirals out of control and the emotional damage caused.  
Sara (Juliette Binoche, an icon of French cinema, in her third film for the director) is the host of a radio talk show, and the contents of her broadcasts reflect Denis' interest in the politics and history of Africa. She is in a relationship with Jean (Vincent Lindon), a former rugby player turned sports agent who has served time in prison due to his crooked dealing with his former business partner Francois (Gregoire Colin, a regular in Denis' films.) Sara used to be in a relationship with Francois, but she broke up with him a decade ago. Jean has a son Marcus (Issa Perica) from a former relationship, and the boy has largely been raised by Jean's elderly mother. She now finds him difficult to handle.
Now Francois has come back into Jean's life and offers him a chance to become a partner in his new sports recruitment agency, checking out hot new sports prospects. An ex-prisoner, Jean has found it hard to get a job, and, as he is keen to get back into the world of sports, he welcomes Francois' offer. Francois is smooth, suave and sophisticated, all the things that Jean is not, and his presence stirs up old emotions and leads to increased tension between Jean and Sara. Obsession, insecurity, repressed longings, secrets and suspicion all play out through their complicated relationship. The atmosphere grows so tense you can almost cut it with a knife.
Both Sides Of The Blade is based on the 2018 novel Un tournant de la vie, which was written by Christina Angot, who collaborated with Denis on the 2017 film Let The Sunshine In, which also starred Binoche. The film gets off to a slow start, and there is barely a word of dialogue spoken for the first ten minutes, but it builds like an erotic thriller. Denis and Angot employ an oblique approach to the narrative which may frustrate some. The film deals with some weighty themes such as gender, power, class and race, but they are touched upon only briefly. There are a couple of sex scenes that seem raw and authentic which add an erotic frisson to the material. Much of the drama plays out in confined settings, which lends a claustrophobic tension to the material as well.
Cesar award winning cinematographer Eric Gautier (The Motorcycle Diaries, etc) uses moody lighting and a greyish palette that reflects the grim tone of the material. He also works in closeup a lot of the time which heightens the emotional tension.
But I found the characters selfish and manipulative and hard to warm to. I also didn't believe the relationship between Sara and Jean. However, both Binoche and Lindon deliver fine performances, and they are able to convey so much with just a look. Binoche is good as a middle-aged woman wrestling with her need for love, security and intimacy, but she is a somewhat selfish person and there is a coldness to her persona. Lindon has an intense presence, but he brings both a vulnerability and suppressed rage to his performance.
Both Sides Of The Blade boasts a couple of impressive tightly controlled performances, but the film kept me at a distance. This is one that fans of the filmmaker will appreciate but it is not a film for everybody. 
★★☆