Reviewed by GREG KING
Director: Luca Guadagnino
Stars: Taylor Russell, Timothee Chalamet, Mark Rylance, Andre Holland, Chloe Sevigny, Michael Stuhlbarg, David Gordon Green.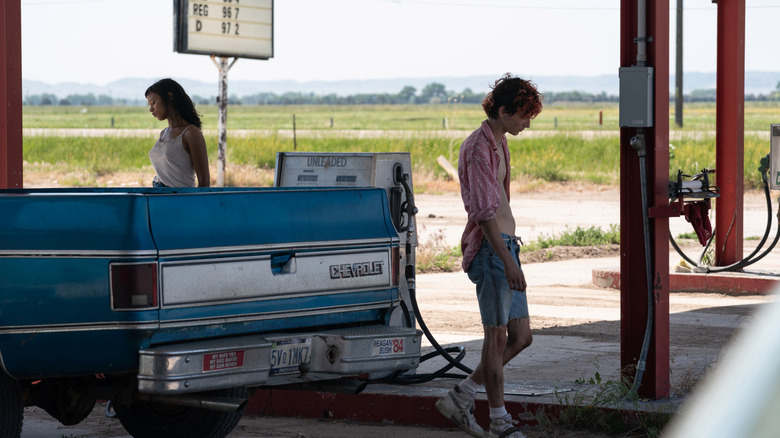 Bones And All reunites director Luca Guadagnino with his Call Me By Your Name star Timothee Chalamet, but this is a romance of a very different and unique kind. Based on the 2016 YA novel written by Camille De Angelis and set in the mid-80s, this is a cannibal themed teen romance, coming of age drama and road movie.  
The film centres around Maren Yearly (Taylor Russell, from Waves, etc) a teenaged girl on the cusp of womanhood who is trying to resist her genetic urges. She is a cannibal (or an "eater" as they are referred to here), who first acquired the taste for human flesh when she was three years old. Her father Frank (Andre Holland, from Moonlight, etc) is aware of her nature and has tried to shelter and protect her. But after she sneaks out of home one night to attend a slumber party, she sinks her teeth into one of the girls there. Father immediately packs up and they leave town, as they have done so many times before. But when she turns 18 he abandons Maren, leaving behind her birth certificate and a cassette tape in which he has documented much of the family history. Maren sets out to find her mother, who abandoned the family many years earlier.  
As she travels across the country she first encounters another drifter and eater in Sully (Mark Rylance, cast against type and very creepy and menacing), who is able to smell others of their ilk. He invites her to stay with him, but she feels uncomfortable in his presence and flees his attentions. Shortly afterwards she meets Lee (Chalamet), a drifter with his own issues and troubled backstory, who stands up to a bully in a convenience store. The two travel together and a strong friendship develops between the pair.
The pair also encounter another couple of eaters in Jake and Brad (played by film director David Gordon Green and Guadagnino regular Michael Stuhlbarg, who played Chalamet's sympathetic father in Call Me By Your Name) as they gather around a campfire. Jake revels in the virtue of eating a person whole, bones and all. But there is something disturbing about the pair and Lee and Maren sneak away during the night.
Bones And All has been adapted by Guadagnino's regular collaborator David Kajganich (who also scripted his recent remake of Suspiria), and the film serves as a metaphor for addiction. As it explores this hidden subculture of cannibals, the film taps into many of the usual tropes of the horror genre, but forges its own path as it also deals with themes of alienation, family, love, loneliness, and the need for acceptance and a sense of belonging. Bones And All also has elements of other doomed romance dramas such as Romeo And Juliet, and the zombie romance Warm Bodies, and there is also a touch of Bonnie And Clyde to these two misfits and outsiders. There is also something of a queer undertone to a couple of scenes, especially when Lee seduces a carnival worker in a cornfield in order to satisfy his hunger.
Guadagnino downplays much of the gore, but there is still plenty of blood and gore and this is not a film for everybody. Guadagnino suffuses the material with a sense of foreboding. This is a road movie and like so many others of its ilk, film has been beautifully shot by cinematographer Arseni Khachaturan, whose evocative and lyrical imagery captures the American heartland. The visuals are accompanied by a superb soundtrack from Trent Reznor and Atticus Ross as well as 80s cuts from the likes of Duran Duran to Joy Division and A-Ha.
With two Oscar nominations to his name already the charismatic Chalamet is easily one of the best young actors of his generation and he seems to look for edgy material and challenging roles out of the mainstream. Here he delivers a solid performance as the angst-ridden Lee. He and Russell develop a wonderful rapport and a strong chemistry, and their performances are both sensitive and convincing. But it is Rylance who is memorable as the creepy Sully, who refers to himself in the third person, and he exudes menace and malevolence. He is cast against type here, and his role is a far cry from his recent more affable role in the comedy Phantom Of The Open. Chloe Sevigny contributes an effective cameo as Maren's mother.
Bones And All is strong stuff, and while not for the squeamish it is a stylishly directed film featuring strong performances and gorgeous visuals.
★★★★