Reviewed by GREG KING
Director: Ryan Coogler
Stars: Letitia Wright, Lupita Nyong'o, Danai Gurira, Tencoh Huerta Mejia, Angela Bassett, Martin Freeman, Dominique Thorne, Julia Louis-Dreyfus, Winston Duke, Florence Kasumba, Michaela Coel, Isaach De Bankole, Richard Schiff, Robert John Burke, Lake Bell, Anderson Cooper.
I must admit that I am over the surfeit of bombastic but increasingly anodyne special effects driven superhero movies that currently seem to dominate cinemas. And with both Black Adam and this sequel to 2018's hugely successful Black Panther screening in cinemas, I feel like I'm being bludgeoned into submission.
This sequel to Black Panther is underwhelming and ultimately a bit of a disappointment that fails to reach the heights of the original. The film apparently underwent a drastic change as the sudden and unexpected death of star Chadwick Boseman forced writers Ryan Coogler and Joe Robert Cole to rework their script. Rather than merely recast the role of T'Challa, Coogler opted to take the film in a new direction. However, Boseman's presence can still be keenly felt throughout the film, and there are a couple of touching tributes to the late actor and his eponymous character.
When the film opens Wakanda is mourning the sudden death of T'Challa due to an undisclosed illness. Queen Ramonda (Angela Bassett) assumes the throne to give the kingdom continuity. T'Challa's younger sister Shuri (Letitia Wright) blames herself for not being able to save her brother and has kept herself occupied in the lab following his death, and feels hostile towards the outside world.
With T'Challa's death Wakanda's enemies have sensed weakness and are maneuvering to take advantage. Mercenaries attack a Wakandan outreach post looking for Vibranium, the rare mineral that has been the source of the kingdom's wealth and advanced technology. Despite T'Challa's speech to the United Nations at the end of Black Panther in which he ended their long standing policy of isolationism, the Wakandans are still suspicious of the outside world and distrustful of how they would use Vibranium.
But then there is another attack on an exploration rig in the Atlantic Ocean that has stumbled upon a deposit of Vibranium, the first to be discovered outside the borders of Wakanda. These events also affect Talokan, a hitherto unknown underwater civilization ruled over by Namor (Tenoch Huerta Mejia, from The Forever Purge, etc), the wing-footed amphibious ruler, who is desperate to keep the kingdom secret from the rest of the world. He delivers an ultimatum to Ramonda, urging her and Wakanda to join him in fighting back against what he calls "the surface world". He informs her that Wakanda is not the only kingdom that lives off Vibranium, and if Ramonda refuses to join forces, then he will wage war against Wakanda.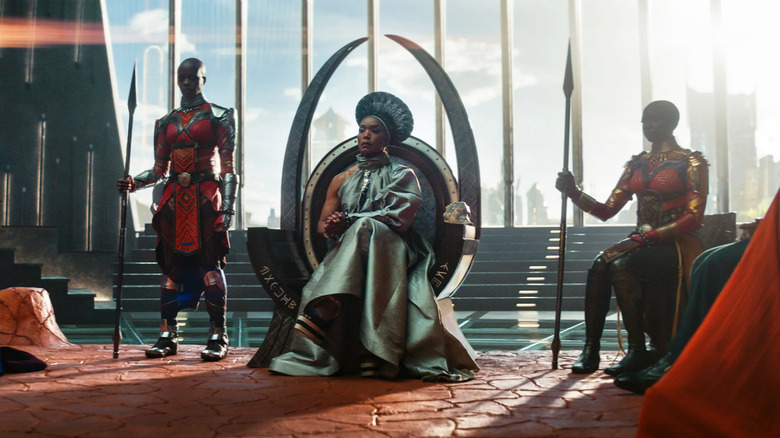 A scientist has apparently created a device that can detect Vibranium and Namor wants to destroy her to prevent others from accessing the technology. Ramonda sends Shuri and her loyal lieutenant Okoye (Danai Gurira) to Boston to find and protect the scientist from Namor. It turns out that the scientist is actually a teenage university student named Riri Williams (played by Dominique Thorne). Riri is set to get her own spin off tv series as part of the extended Marvel Cinematic Universe, so her role here serves as a backdoor pilot for the forthcoming Ironheart series. But then Namor's army of underwater warriors capture Shuri and take her prisoner, forcing Wakanda to negotiate a peace deal.
The messy plot grows more convoluted, and Wakanda Forever seems unnecessarily bloated with too many subplots running through the film. Its running time of 162 minutes is amongst the longest of any film in the whole Marvel Cinematic Universe. There are places in the film where the pace flags, most noticeably in the meaningless subplot centring around CIA agent Everett Ross (Martin Freeman), which adds little to the overall film and distracts from the tension as Wakanda faces yet another threat from outside.
Wakanda Forever also continues to explore familiar themes of redemption, loss, mortality, power, grief, and what it takes to be a good leader. Coogler still manages to shoehorn in some themes around the colonialisation of Africa, the dark history of exploitation and slavery, but the emphasis is on the action, and there is no shortage of that in the film's overly generous 162-minute running time. Coogler and Cole take the material in a different direction to the first film, and with Shuri, Nakia (Lupita Nyong'o) and Okoye taking over the bulk of the action here Wakanda Forever becomes more of a female centric action film with its emphasis on strong female characters of colour who drive the action. Here Black Panther: Wakanda Forever is stepping into territory also recently explored in The Woman King. It will be interesting to see how the die-hard fan boys respond to the female centric action. 
Coogler's muscular direction of the action sequences provides a couple of exciting set pieces as Wakanda's elite Dora Mailaje warriors do battle with Talokan warriors, but these epic and destructive showdowns are becoming all too familiar within the subgenre. As expected from a Marvel film however, the visual imagery, CGI and special effects are superb. Technically the film looks great, thanks to the stunning cinematography from Autumn Durald Arkapaw (Palo Alto, etc). There is also some stunning production design from regular collaborator Hannah Beachler (Black Panther, Creed, etc) who creates Wakanda's impressive throne room and Namor's underwater lair. However it is hard not to compare the Talokan people with the natives from James Cameron's epic Avatar.
Coogler has assembled a stellar ensemble cast, most of whom return from the original, to bring the familiar characters to life. However, despite a melancholy touch to proceedings due to the death of Boseman, there is little emotional connection to the characters here, unlike the first film.
Wright is good as Shuri who grows in strength and confidence and eventually comes to assume the mantle of the Black Panther as she saves Wakanda from its enemies. Nyong'o and Gurira reprise their roles as the formidable female warriors Nakia and Okoye respectively, and both have a strong presence. Bassett has gravitas and a commanding presence as Queen Ramonda, while Winston Duke has a formidable presence as M'Baku, the leader of the Jabari tribe who once again steps forward to challenge for the throne. Thorne has a suitably feisty quality as Riri. Huerta delivers a more nuanced performance as Namor, who is a more complex, misunderstood and sympathetic villain given his backstory – he is the descendant of a 16th century tribe that was driven underwater by the arrival of the brutal conquistadors. Julia Louis-Dreyfuss (from Seinfeld, etc) appears as the enigmatic government agent Valentina Allegra de Fontaine, Ross's former wife and now head of the CIA whose agenda is never quite clear here. But the whole subplot involving her and Ross feels irrelevant and does little beyond blow out the running time.
Is it called Wakanda Forever because it seems to go on forever?
★★☆