Reviewed by GREG KING
Director: Cate Shortland
Stars: Teresa Palmer, Max Riemelt.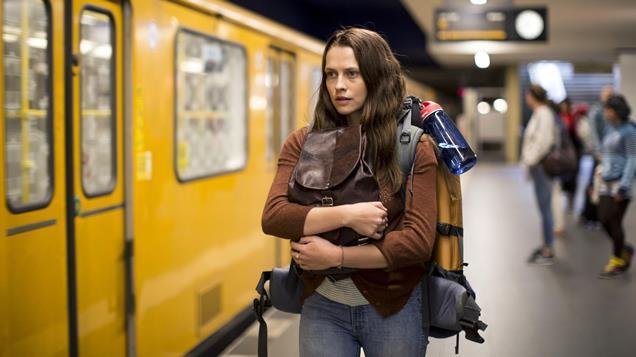 Filmmaker Cate Shortland burst onto the scene in emphatic fashion in 2004 when her debut feature Somersault cleaned up at the AFI Awards in what was obviously a very lean year of the local film industry. Her latest film, her third feature, is Berlin Syndrome, a slow burning claustrophobic psychological thriller and twisted fairy tale that is largely a two-hander. Berlin Syndrome marks Shortland's first foray into genre filmmaking and is, arguably, her most accessible film to date.
Australian tourist and backpacker Clare (Teresa Palmer, from Hacksaw Ridge, etc) arrives in Berlin. WE get the sense that she is running away from something. While photographing some of the city's distinctive architecture and sights she meets a seemingly sympathetic stranger in the mild-mannered schoolteacher Andi (German actor Max Riemelt, from The Wave, etc). There is an instant attraction between them, which leads to her spending some time with him exploring the city. He takes her back to his secluded apartment in a slightly rundown part of the former East Berlin. The next morning she wakes up to find herself trapped in the apartment while Andi heads off to work. The doors are doubled-bolted, and all the windows are covered and triple-glazed. Her cell phone has been stripped of its SIM card.
Thus, begins a claustrophobic cat and mouse game between Clare and Andi, and the balance of power subtly shifts as events unfold over the course of a few months. We are aware of the changing of seasons because of falling leaves and snow falling on the ground. Shortland creates a slowly escalating sense of tension here although the often languid pacing may keep many at a distance.
This study of obsession, sex, violence, confinement and power may remind audiences of the recent Room and its claustrophobic setting, or the tense opening scenes of 10 Cloverfield Lane, but here Shortland takes the material in a different direction. This thriller will also remind older audiences of William Wyler's The Collector, which starred Terence Stamp and Samantha Eggar, and was based on a novel by John Fowles. It also serves as a cautionary warning about the dangers of travelling abroad and the perils of backpacking (themes that coloured chilling horror films like Wolf Creek and Eli Roth's graphic Hostel). Thankfully though Shortland handles the material with a sense of restraint and the film is nowhere near as graphic or gory as it could have been.
Shortland cleverly eschews many of the usual tropes of the genre. However, she is unable to sustain the tension for the two-hour running time, and the pace flags at times. Berlin Syndrome is based on the best-selling 2011 novel written by Melanie Joosten. It has been adapted for the screen by Shaun Grant (the recent Jasper Jones, etc), who showed with his screenplay for the disturbing Snowtown that he is no stranger to exploring themes of violence or the darker nature of man.
Shortland draws good performances from her two leads who are effective at fleshing out their thinly drawn characters. Palmer brings a strength and resilience to her Clare who refuses to play the victim, but it is a strangely passive performance given the nature of her plight. Riemelt is charismatic but also creepy and chilling as his Andi reveals his darker side. But he remains an enigmatic character and we never really get to understand his motivation despite some hints as to his dysfunctional relationship with his father.
Shortland develops a very foreboding and uneasy atmosphere. She makes the apartment a very real character in the drama, and Melinda Doring's production design of the interior is superb. Because of the limited set, one could imagine Berlin Syndrome being adapted to the stage at some point. This is also a visually impressive film, and there are some atmospheric shots of Berlin from cinematographer Germain McMicking that provide the film with a strong sense of location.
★★★