Reviewed by GREG KING
Director: Kenneth Branagh
Stars: Jamie Dornan, Caitriona Balfe, Jude Hill, Judi Dench, Ciaran Hinds, Colin Morgan, Lewis McAskie, Freya Yates, Olive Tennant.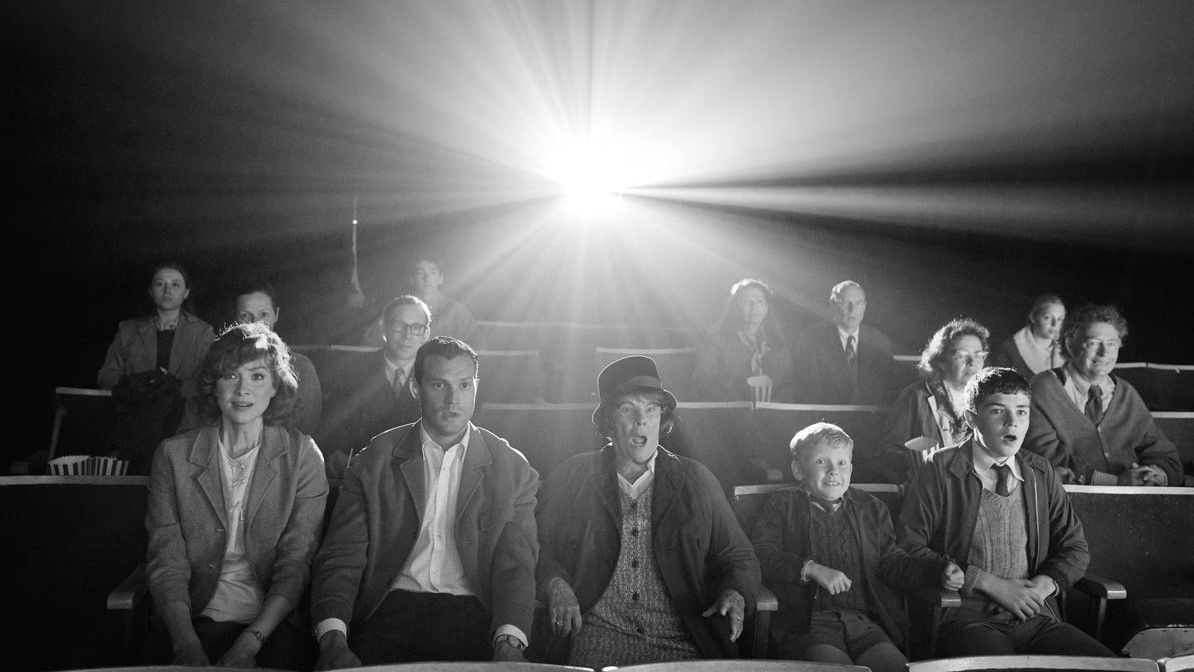 This bittersweet, semi-autobiographical coming of age tale from filmmaker Kenneth Branagh has been filmed in crisp black and white and is evocative of an era. The film is set in Belfast in the summer of 1969, when Branagh himself was nine years old, and depicts the troubles that divided the city with tensions between the Protestants and the Catholics increasing. Belfast is Branagh's most personal film to date and is a love letter to the Belfast of his childhood. 
The events are seen mainly through the eyes of young Buddy (newcomer Jude Hill), a precocious youngster who sees the troubles from his naïve perspective as something of an adventure. We first meet Buddy while he is playing in the street with a number of other local kids. Buddy loved engaging in fantasy, reading comic books and watching old movies on television and in the local cinema. His working class Protestant family lived in a close-knit community on Montcollyer Street where everyone knew everyone else and looked out for each other. His father (Jamie Dornan, from Fifty Shades Of Grey, etc) worked in London and travelled home every other weekend to spend time with his family. But his gambling has led to financial problems and some conflict between Buddy's parents. Dad also stands up against the bullying Billy Clayton (Colin Morgan) who is determined to drive the Catholics out of this neighbourhood, and refuses to join his gang of thugs.
But soon the tranquility of this neighbourhood is disturbed as the quiet streets are turned into a war zone with petrol bombs and looting raids on shops. The once quiet streets are barricaded with barbed wire and makeshift roadblocks, while armed troops patrol the streets and helicopters circle overhead. With tension increasing, Dad thinks about relocating his family to London to keep them safe, which upsets Buddy. Buddy loves his grandparents (Judi Dench and Ciaran Hinds), who offer love, support and wisdom. Grandpa even teaches Buddy a few subtle tricks to impress a girl in his class at school.
Belfast is essentially a family drama, and is sentimental, warm and engaging, and the mood is generally upbeat and full of laughs and tender moments. Much of the script was written during the 2020 lockdown, allowing Branagh a period of reflection and introspection. He has deliberately chosen to tell this story and examine the troubles from a more innocent child's perspective, and this is an effective story telling device as it has taken out much of the harsher, gritty elements of this troubled time. Branagh suffuses the material with a more sentimental edge and an innocence as he views this period of history through rose-coloured glasses.
The film has been evocatively shot in black and white by his regular cinematographer Haris Zambarloukos (Murder On The Orient Express, etc), whose swirling camera takes us in and around the action. The film opens with a colourful sweeping montage of aerial shots of contemporary Belfast before fading into black and white. The only other scenes shot in colour are at the theatre or in the cinema. Belfast is atmospheric and evocative of an era, with plenty of cultural touchstones including a strong soundtrack featuring Van Morrison, some authentic period detail and production design.
Caitriona Balfe (Ford Vs Ferrari, etc) is strong as Buddy's protective mother who does her best to keep him safe. She does a good job of conveying her frustration and fears and captures her fierce devotion to her family. Dornan is solid as Pa who refuses to take sides in the conflict, which puts him at odds with Calyton. Hinds brings a mischievous quality to his role as grandpa, while Dench, as usual, is good as granny. Buddy is brought to life by newcomer Hill, whose wonderfully natural, vivacious and unforced performance is the emotional heart and soul of the film.
Buddy's love of cinema that would shape his adult life is reminiscent of Terence Davies' semi-autobiographical films Distant Voices, Still Lives and The Long Day Closes. And the films seen on the television, including classic western dramas High Noon and The Man Who Shot Liberty Valance, further reinforce one of the film's key themes of standing up for what is right and echo Buddy's father's stance against the violence tearing his once tightknit community apart.   
★★★☆