Reviewed by GREG KING
Director: Hiromasa Yonebayashi
Stars: voices of Tom Holland, Mark Strong, Olivia Colman, Saoirse Ronan, Geraldine James.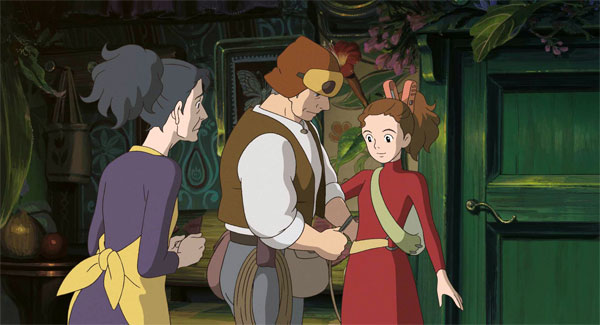 Arrietty is the latest film from Japan's Studio Ghibli, and it maintains the high standards we have come to expect following such superb animated films as Howl's Moving Castle, Spirited Away, etc.
However, studio veteran Hayao Miyazaki has not directed Arietty. Rather he has left the chores to his protégé Hiromasa Yonebayashi, a former animator who makes his feature debut here. Nonetheless, Miyazaki's fingerprints are still all over the film, through his role as both writer and producer, and the distinctive look. The film uses traditional hand drawn animation, and features painstaking attention to detail, glorious backgrounds, a lush visual style, vibrant watercolours and wonderful characterisation. It also has a quite touching human story, which is one of the hallmarks of Studio Ghibli fare.
Arrietty is an enchanting and enormously appealing adaptation of Mary Norton's novel The Borrowers. But this lovely animated tale remains closer to the source than Peter Hewitt's 1997 live action film starring John Goodman, and featuring lots of special effects. (There is also apparently a BBC production on the way, starring Stephen Fry.) Arrietty plays it straight, and lacks the frenetic pace, humour and clever visual effects of Hewitt's film. Arrietty also has a more sombre tone as it deals with universal themes of family, tolerance, friendship, the simple pleasures of childhood, and there's even an ecologically friendly message.
Sho (voiced by Tom Holland) is a sickly and lonely young boy who moves into his aunt's house to gather his strength before a life saving heart operation. There he encounters the small Clock family, a family of "borrowers," four-inch-tall people who live anonymously inside the walls of a family residence. They exist through borrowing simple, often discarded, items to make their home. A cube of sugar may not be missed by humans, but it will go a long way for the Clocks. The head of the Clock family is Pod (Mark Strong), a fearless adventurer and resourceful forager who regularly ventures out to gather the family's needs. Matriarch Homily (Olivia Colman) is an inveterate worrier who stays at home and maintains the domestic duties.
But they need to maintain their existence in secret because they fear that humans will destroy them. The human world has plenty of dangers for these diminutive creatures. Fourteen-year old Arrietty (voiced by Saoirse Ronan, from Atonement, Hanna, etc) is on her first outing with her father, when Sho spies her. He is intrigued by her presence, and a strange friendship develops between the pair. However, the surly old housekeeper (Geraldine James) also discovers the presence of the little people, and threatens them with extermination. Pod reluctantly determines that the family must leave the house and find a new home.
As with many other recent films from the studio, there are two versions of the film, including one in Japanese with English subtitles, for the purists. The dubbed version is fluid and features a solid vocal cast, and has been produced under the auspices of Eric Fellner and Tim Bevan, who also produced the 1997 version. French artist Cécile Corbel sings the haunting theme song.
Arrietty is not the typical Hollywood style animation replete with lots of action, pop cultural references, stunt vocal casting, 3D visuals, and clever in-jokes, but it is nonetheless a real treat for audiences looking for something with heart and soul and intelligence.
★★★☆