Reviewed by GREG KING
Director: Kleber Mendonca Filho
Stars: Sonia Braga, Maeve Jinkings, Irandhir Santos, Zoraide Coleto, Pedro Queiroz, Humberto Carrao, Carla Ribas.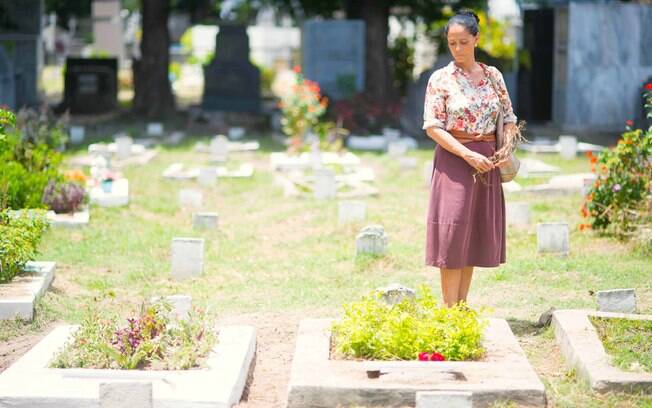 The Aquarius of the title is a two-storey 1940's apartment block in the upper-class seaside district of Boa Viagem Avenue in the Brazilian suburb of Recife. The eponymous apartment block has been the home for Clara (played by Brazilian actress Sonia Braga), a middle-aged former music critic and breast cancer survivor, most of her life. It holds some wonderful personal memories for her. The apartment was where she lived with her husband and raised their three children. The shelves within the apartment are crammed with her extensive collection of vinyl records and other possessions she cherishes, including a credenza that once belonged to her favourite aunt.
But the building has lost most of its grandeur now, and indeed looks pretty shabby when contrasted to the sleek glass and concrete high rise towers that now dominate the sea front. A construction company wants to redevelop the building and have managed to buy up all of the apartments – apart from Clara's. All of the other residents have succumbed to the generous offers from the developers and have moved out. Clara refuses to sell, because this is her home and holds so many memories and such history. Clara is now the sole resident. But she has a small circle of friends, including Roberval (Irandhir Santos), the local lifeguard at the beach, her loyal housekeeper Ladjane (Zoraide Coleto), and her nephew Thomas (Pedro Queiroz), who shares her passion for music.
Her steadfast refusal to sell puts her at odds with the aggressive development company in the person of the handsome and suave Diego (Humberto Carraro), the son of the developer, who has returned home from the US with a university degree in business. His surface charm belies his sleazy approach to business ethics. It also creates some tension with her three children, particularly her daughter Ana (Maeve Jinkings), who is divorced and in desperate need of some financial assistance.
The company's often less than subtle attempts to drive Clara from the building add a frisson of tension to the material. She begins to feel increasingly uncomfortable and vaguely threatened whenever she leaves her home.
Aquarius deals with themes of family, real estate speculation, corporate corruption, urban development, class struggle, nepotism, modernisation, the destruction of the past, memory and history. It illustrates how modernisation often strips away the past. One of the producers is Walter Salles, who brought us films like Central Station, which was critical of contemporary Brazilian society.
But for the most part Brazilian filmmaker Kleber Mendonca Filho adopts an understated approach to the material. Much of the focus is on Clara, and the David and Goliath-like struggle to save her apartment block takes a back seat for much of the film. Aquarius is the sophomore feature for Filho (after 2012's Neighbouring Sounds), who comes from a background in short films. But his films have explored injustices, and Aquarius is no exception. He takes his time to explore the rich themes here and his casual pacing allows us to immerse ourselves in Clara's world. Nonetheless this is a film with a social conscience, and his slow burning sense of anger is effectively conveyed, especially in the third act. His trenchant criticism of class divisions in contemporary Brazil and his sympathetic look at the struggles of a middle-aged woman will remind audiences of Anna Muylaert's The Second Mother and Fellipe Barbosa's's Casa Grande.
The film has been shot in classical style by his regular cinematographers Pedro Sotero and Fabricio Tadeu, who often work with long takes and close-ups. The film opens with atmospheric black and white shots of the beachfront neighbourhood to give us a sense of the environment and to put the story into its context. Clara's apartment has been beautifully designed by Julian Dornelles and Thales Junqueira, who give it a very real sense of warmth and its own personality.
The film hinges around the restrained and subtle but effective and vital performance from Sonia Braga, who is on screen for most of the film's 142-minute running time – apart from the opening sequence which introduces us to the younger Clara and shows her close personal connection to this same apartment. Some of her possessions within the apartment hold intimate personal memories that she is reluctant to part with.
This is very much a detailed character study, and the character of Clara is fleshed out through glimpses of her going about her life, which subtly reveals her personality and her history. Braga came to the attention of western audiences with her alluring and seductive performance in Kiss Of The Spider Woman thirty years ago. Filho apparently flew to New York to convince Braga to take on the role. Clara is a strong, passionate, intelligent and independent woman, and gives Braga arguably her best screen role. She must consider herself unlucky to have missed out on an Oscar nomination for her performance here.
★★★