Reviewed by GREG KING
Director: Oliver Parker
Stars: Cate Blanchett, Minnie Driver, Rupert Everett, Julianne Moore, Jeremy Northam, John Wood, Peter Vaughan, Lindsay Duncan, Jeroen Krebbe, Michael Culkin.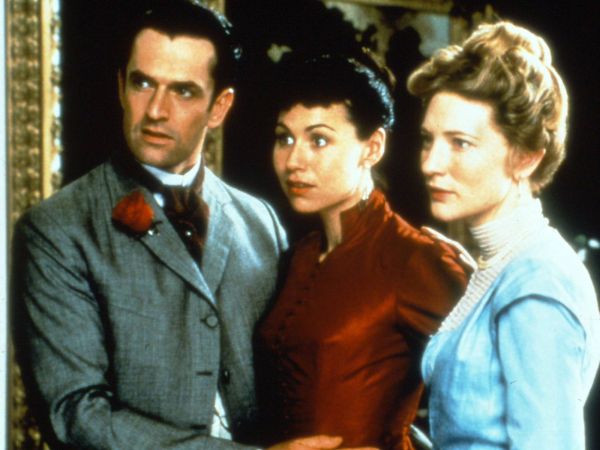 Oscar Wilde's sophisticated wit, genial bon mots and acerbic one liners shine in Oliver Parker's solid, if somewhat uninspired screen adaptation of his play An Ideal Husband. Parker seems more comfortable with the demands of adapting Wilde's quaintly old fashioned, Victorian-era drawing room comedy than he did with his recent version of Shakespeare's Othello (featuring Kenneth Branagh and Laurence Fishburne).
An Ideal Husband is faithful to Wilde's play and still retains whiffs of its theatrical origins, but Parker beautifully enervates the script and the drama. He has also assembled a solid international cast, who relish the witty dialogue and deftly bring the urbane characters to life.
The central plot centres around a scheme to blackmail upright and rising politician Sir Robert Chiltern (Jeremy Northam, from The Winslow Boy, etc) into offering his support to a dubious enterprise during a speech in Parliament. The scheming Mrs Cheveley (Julianne Moore) knows the secret behind Sir Robert's wealth and threatens to expose him if he refuses to co-operate. Sir Robert is more concerned about the effect the revelation will have on his devoted but morally principled wife Gertrude (Aussie actress Cate Blanchett, recently seen in Pushing Tin.) In desperation, Sir Robert turns to his friend Lord Goring (Rupert Everett) for help. Despite his wealth, Lord Goring is an idle bachelor who enjoys shirking any sense of responsibility whatsoever, much to the disgust of his father (John Wood).
All sorts of questions concerning morality, duty, and responsibilities are raised. There are plenty of comic mishaps and misunderstandings along the way before everything is happily resolved. Everett is beautifully cast as Wilde's witty and debonair alter ego here, and his suave and sure way with the clever one liners ensures that the film comes alive whenever he is on screen. Northam seems quite comfortable in effete period pieces, and delivers a solid performance as the troubled Chiltern. Blanchett delivers a nicely restrained and understated performance as Chiltern's loyal wife, but is easily outclassed by Moore's manipulative and scheming Mrs Cheveley. Again proving that she is the best American actress doing British pictures these days, Minnie Driver is superb as Mabel, Chiltern's flighty younger sister who has a crush on Lord Goring.
The settings and production design are quite exquisite and lavish, and add to the overall warm atmosphere that pervades the film. An Ideal Husband is not spectacular as a piece of cinema, but it is witty and entertaining enough to satisfy audiences.
★★★