Reviewed by GREG KING
Director: Paul Weitz
Stars: Jason Biggs, Chris Klein, Thomas Ian Nicholas, Natasha Lyonne, Tara Reid, Eddie Kaye Thomas, Mena Suvari, Eugene Levy, Shannon Elizabeth, Chris Owen, Seann William Scott.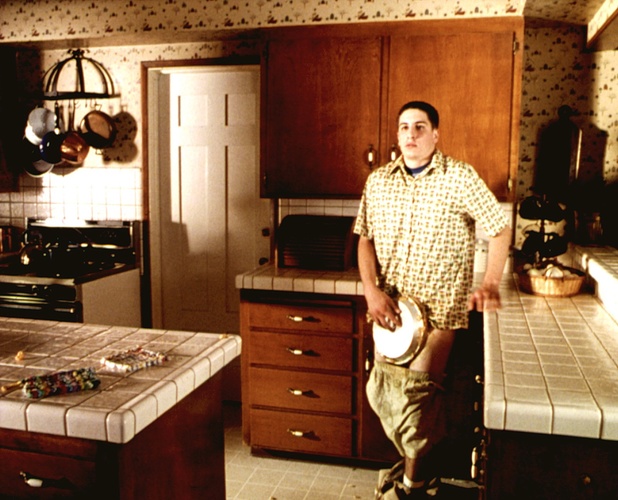 A Porky's for the '90's?
Although this raunchy but very funny adolescent comedy explores problems of adolescent angst and the sexual follies of youth, it does so with more honesty, intelligence, sympathy and insight than one expects from a movie squarely aimed at the MTV generation.
The plot centres around four high school seniors who make a pact to lose their virginity by prom night – a mere three weeks away. After all, if Sherman (Chris Owen, from the coming of age drama October Sky), the school's biggest geek, can get laid, why can't these four handsome studs? Although sex is the prime object of their quest, the four lads end up discovering more important values, such as friendship, honesty, and love, along the way.
The closest thing American Pie has to a central character is Jim (Jason Biggs), who finds his sexual awakening has also become a matter of major concern to his overly concerned father (a droll Eugene Levy). Jim's stocks plunge to an all time low when his humiliating attempt to seduce a foreign exchange student is broadcast to the entire school body over the internet. Kevin (Thomas Ian Nicholas) finds his long-term relationship with Vicky (Tara Reid) threatened by the sudden pressure to have sex. The hygiene-conscious Finch (Eddie Kaye Thomas) circulates rumours concerning his sexual prowess in order to make himself more appealing, but comes unstuck after an embarrassing prank. Meanwhile Oz (Chris Klein) joins the singing club to impress Heather (Mena Suvari), and ultimately finds he has to choose between his jock friends and a chance at happiness with her. American Pie thankfully avoids the cliché of having the prom night become the climactic moment of the film, and opts for a far less formulaic way of resolving its plot. The largely unknown cast throw themselves into the material with enthusiasm, and their performances bring the characters alive nicely.
First time film makers, writer Adam Herz and director Paul Weitz, deliberately push the boundaries of good taste here, but nowhere near as relentlessly as did the Farrelly brothers with last year's enormously enjoyable but tasteless There's Something About Mary. American Pie features some of the best, and grossest, visual gags since Cameron Diaz tried out a new brand of hair gel, and should prove a real winner with adolescent audiences.
This is essentially a bloke's movie, about secret men's business and featuring plenty of locker room humour – but it's all done with a modicum of sensitivity that, strangely enough, appeals to broader audiences. At the preview I attended, teenage girls were laughing just as hard as the guys, while many teenage boys were shrinking with knowing embarrassment.
So, what's American Pie really like?  Like warm apple pie, basically!
★★★