Reviewed by GREG KING
Director: Danny Boyle
Stars:Ewan McGregor, Cameron Diaz, Holly Hunter, Delroy Lindo, Ian Holm, Ian McNeice, Stanley Tucci, Dan Hedaya, Tony Shalhoub, Maury Chaykin, Judith Ivey
Running Time:103 minutes.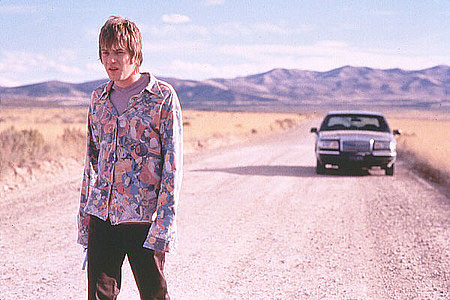 Angels are occasionally sent to earth to change an ordinary person's life has been a favourite theme for film makers. Although this quirky, visually dazzling but sporadically inventive comedy/drama is probably the kind of film that Frank Capra would have made had he taken drugs, A Life Less Ordinary ultimately owes more than a passing nod of gratitude to Michael Powell and Emeric Pressburger's 1946 comedy A Matter Of Life And Death (aka Stairway To Heaven).
This highly anticipated new film from Andrew MacDonald, John Hodge and Danny Boyle (the Scottish trio behind cult favourite Trainspotting) is a dark-edged romantic comedy that subverts the normal conventions of the genre. The trio have a healthy disrespect for formulas and conventional narrative structures, and they treat their subject matter with a great deal of irreverence. Inevitably, A Life Less Ordinary will be compared to the trio's previous films, and will be found wanting in many aspects. The whole thing is something of a disappointing hodge-podge, a messy mix of styles and influences that is nowhere near as strong, inspired or as compelling as the trio's first two films. Somewhat ironically, this is a rather ordinary and sometimes formulaic film, and there are numerous moments in which the energy, inventiveness and pace flag.
The fun begins when the angel Gabriel sends angelic enforcers O'Reilly and Jackson (played by Holly Hunter and Delroy Lindo, respectively) to earth with the impossible mission of making a seemingly incompatible couple fall in love, thus proving that romance is not quite dead in this modern cynical and shallow era. The chosen couple are Robert (Ewan McGregor), a janitor with aspirations of becoming a famous writer, and Celine (Cameron Diaz), the spoiled daughter of millionaire businessman Naville (Ian Holm). This mismatched pair have absolutely nothing in common, but these unusual angels work their miracles in unexpected ways.
Fired from his job, Robert kidnaps Celine and holds her captive in a remote cabin somewhere in Utah. Unfortunately, Robert is a pretty hopeless kidnapper, driven by desperation rather than greed, and soon Celine takes charge of the whole affair, with the sole aim of punishing her domineering father. She obviously gets a buzz out of the sense of danger and adventure created by the whole enterprise. There are times when the plan to unite Robert and Celine seems to be careering off the rails and events are being controlled by forces less angelic. One of the more remarkable aspects of the film is the way in which the two female characters dominate these odd couple pairings. Both Celine and O'Reilly are more confident, competent and in control of events.
This offbeat film is the British trio's first American feature, and they offer a unique and somewhat jaundiced outsiders' viewpoint of modern American culture and attitudes. Boyle has a wonderfully distinctive and bold visual style, which is nowhere more in evidence than in those scenes set in a heaven that is suffused in an almost unbearably bright whiteness. His vision is aided by some strong contributions from many regular behind-the-scenes collaborators, such as cinematographer Brian Tufano, editor Masahiro Hirakubo and set designer Kave Quinn. Not unexpectedly, the action is occasionally punctuated with some wonderful flights of fantasy, like the karaoke sequence. There are, however, a couple of quite graphic moments, such as the scene in the dentist chair, which may cause some audiences to wince uncomfortably.
The generous budget has enabled Boyle and co to secure an impressive, heavyweight supporting cast of veteran actors, who all seem to be having a lot of fun with the material. McGregor again displays all the cocky, down to earth charm that has become a trademark of his performances, and he brings a certain charisma to his role as the likeable loser. Diaz is strong, sexy and slyly funny in one of the more interesting roles of her career. Holm is wonderfully nasty as the unrepentant and unforgiving Naville; Ian McNeice has a droll presence as his faithful but sinister butler; Stanley Tucci is delightfully oily as Celine's dentist and creepy suitor; while Dan Hedaya is surprisingly cast against type as the archangel Gabriel, who sets the bizarre chain of events in motion. Hunter brings a credible machismo to her physically demanding role as the angel O'Reilly, who is involved in many of the tough action scenes that would normally fall to the male characters. Boyle maintains a furious pace throughout, although the film is somewhat less claustrophobic and confronting than either of his past two efforts. And, as with Trainspotting, the whole slick package is accompanied by a fantastic soundtrack that is, ultimately, more satisfying and energetic than the movie itself.
★★☆